DANIEL GAITAN Lee Newspapers

The jury retrial of Mark Jensen, accused of poisoning and suffocating his wife to death in 1998, continued Wednesday with additional testimony from the woman he was having an affair with and first responders.
Julie Jensen was a loving and doting mother with a new job on the horizon but in fear of her husband – that he was going to try and poison her.
Kelly Brooks told the jury that she started an affair with Mark Jensen in the months before the death of his wife.
Brooks said she met Mark Jensen in 1998 while he was working to expand a St. Louis, Mo.-based financial firm into Racine County in Wisconsin.
Mark Jensen, who was convicted in February 2008 for the murder of 40-year-old Julie Jensen inside her Carol Beach home in Pleasant Prairie, is standing trial again after years of appeals and battles in state and federal courts.
People are also reading…
This is the second week of what is expected to be a five-week trial.
Was it suicide or homicide? Julie Jensen died more than 20 years ago. Her husband, Mark Jensen, is on trial – again.
Mark Jensen, according to prosecutors, killed his wife over three days in early December 1998 by poisoning her with ethylene glycol, more commonly known as antifreeze. He is accused of suffocating her while she lay in bed in order to be with a mistress.
Prosecutors allege Mark Jensen killed Julie Jensen out of anger over an affair she had with a co-worker, along with other marriage issues.
They also allege that the former stock broker searched the internet for ways to make Julie Jensen's death look like a suicide and terrorized her for years with strategically placed pornography, emails and phone calls.
The defense presented its opening statement in the Mark Jensen trial. Jensen is accused of killing his wife with antifreeze in 1998.
Mark Jensen, however, has maintained his innocence for decades.
His attorneys have argued Julie Jensen was deeply depressed and committed suicide after framing her husband for her death.
Testimony from ex-wife
Brooks offered additional testimony Wednesday after testing for several hours Tuesday afternoon.
Brooks, who eventually divorced Mark Jensen after their marriage in 2002, testified Tuesday that she knew Mark Jensen was married and had children when she began having a relationship with him in the summer of 1998.
She said the two discussed their marriage troubles.
Brooks also was questioned at length about intimate emails the two sent each other during their affair, including ones showing a strong emotional attachment between them.
Brooks said she spoke with Mark Jensen on or about the day his wife died. She also visited Mark Jensen at his home in January 1999 and moved to Wisconsin later that year.
On Wednesday, however, Brooks said she and Mark Jensen would get into "pretty good fights" when he insisted upon asking her about the genitals of her previous sexual partners.
He allegedly documented such information in a notebook, even though such conversations made her "uncomfortable."
Mark Jensen, center, arrives for the seventh day of his trial at the Kenosha County Courthouse on Wednesday, Jan. 18, 2023.
SEAN KRAJACIC, KENOSHA NEWS


Special prosecutor Robert Jambois argued throughout the trial that Mark Jensen had a very "bizarre" and "strange" preoccupation with male appendages, stemming from Julie Jensen's affair with a co-worker.
In 1991, Jambois said thousands of such images were found on Mark Jensen's home computer, and that pornography was placed around Julie Jensen from 1991 to 1998 at the couple's home.
"Mr. Jensen's preoccupation with penises is a major part of the state's case," Jambois said Tuesday. "It demonstrates why the defendant was so upset about this one affair that Julie had had … that it occupied him throughout the course of his entire relationship with her."
First responders testify
Dave Wilkinson, an emergency medical technician and firefighter with the Village of Pleasant Prairie, responded to the Jensen home on the afternoon of Dec. 3, 1998, the day Julie Jensen was found dead.
David Wilkinson, of the Pleasant Prairie Fire Department, testifies during Mark Jensen's trial at the Kenosha County Courthouse on Wednesday, Jan. 18, 2023. Wilkinson was a first responder at the scene of Julie Jensen's death in 1998.
SEAN KRAJACIC, KENOSHA NEWS


Wilkinson said he found Julie Jensen face down in bed with rigor mortis, rigidity and pooling of blood on the face and left side of her body.
An electrocardiogram revealed there was no electrical activity in the heart, which is also evidence of death.
According to a report prepared by Wilkinson and reviewed by him in court, Mark Jensen directed emergency responders to the bedroom.
Paul Ratzburg, a former Pleasant Prairie Police Department officer who responded to the Jensen home on Dec. 3, i.e. tested Wednesday morning.
He shot a nearly 20-minute video of the Jensen home that day.
Portions of the video, which were played for the jury, show Julie Jensen face down on a pillow with her left arm beneath her.
In the video, Ratzburg said he observed no signs of forced entry.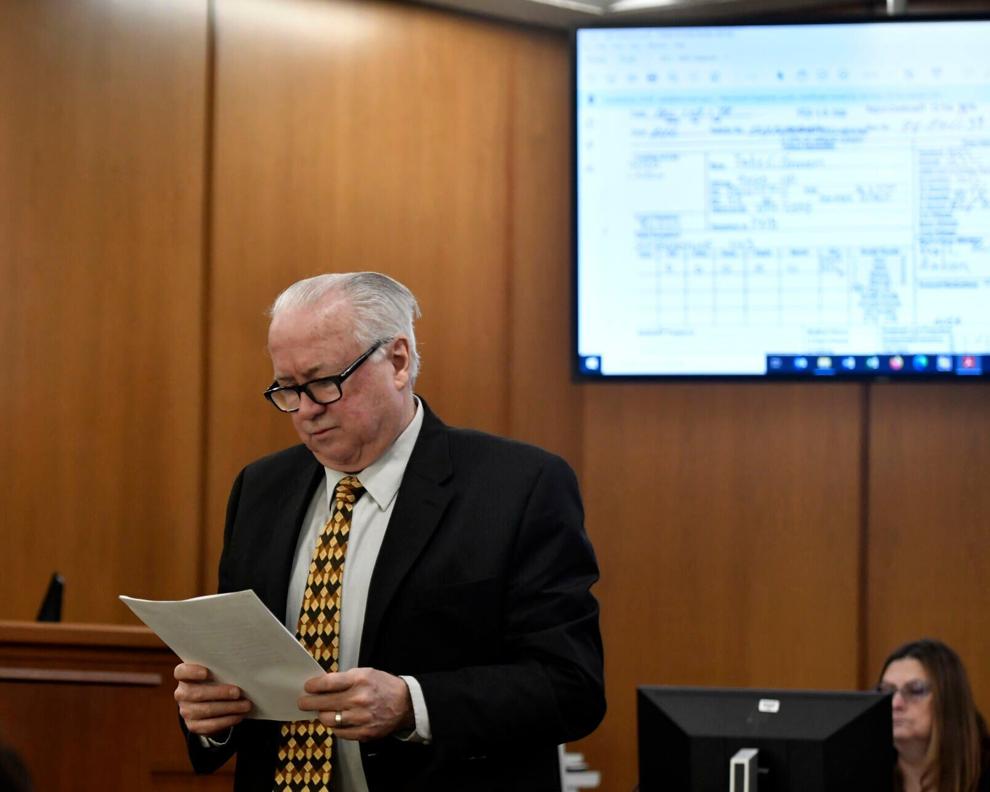 Special Prosecutor Robert Jambois looks over a document while questioning David Wilkinson, of the Pleasant Prairie Fire Department during Mark Jensen's trial at the Kenosha County Courthouse on Wednesday, Jan. 18, 2023. Wilkinson was a first responder at the scene of Julie Jensen's death in 1998
SEAN KRAJACIC, KENOSHA NEWS


Jambois, the original prosecutor and a former Kenosha County District Attorney, is serving as special prosecutor before Judge Anthony Milisauskas, now the third Kenosha County Circuit Court judge to preside over the matter.
Mark Jensen is represented by a team of defense attorneys led by Bridget Krause.
A Kenosha County judge vacated Mark Jensen's his conviction in April 2021 after the Wisconsin Supreme Court ruled Jensen deserved a new trial.
The court found that a letter Julie Jensen wrote incriminating him in the event something should happen to her could not be used by the prosecution as it was in the first trial.
In early 2022, the US Supreme Court helped pave the way for the new trial when it declined to hear an appeal of the Wisconsin Supreme Court's ruling.
The so-called "letter from the grave" in which Julie Jensen wrote that "if anything happens to me" that her husband "would be my first suspect" will not be allowed into evidence during this trial.
The high-profile case has sparked headlines across the nation.
Mark Jensen, who is charged with first-degree intentional homicide in his wife's death, remains in custody on a $1.2 million cash bond in Kenosha County. He faces life in prison.
Read the report from the day of the 2008 guilty verdict of Mark Jensen from the Kenosha News archives here.
Sign up for our Crime & Courts newsletter
Get the latest in local public safety news with this weekly email.