RACINE — Dante Cottingham, 44, has spent much of his life incarcerated, which includes nearly 27 years for first-degree intentional homicide.
He arrived to Green Bay Correctional Institution in 1995 at 18 years old. It was where he grew up.
Cottingham was paroled in March of 2022 and has come home to Racine with a message he speaks from the heart: teens like him are falling through the cracks of the system and landing in prison.
Cottingham is not saying he did not deserve the punishment he received for the shooting death of another young man. Instead, he looks back at himself as a teen and sees someone who was not a lost cause, someone who might have been helped early on if anyone had cared enough to put out a hand to guide him on a different path.
"There is a solution," Cottingham said. "There was a solution for me, and I was the worst of the worst."
People are also reading…
Moonless nights
Cottingham once described his youth as like "walking through a forest in the middle of a moonless night."
You take wrong turns, he said, and eventually trip and fall.
Due to issues in his home, he was running the streets by the time he was 12 or 13 years old and associating with gangs.
Cottingham describes his teen self as angry and confused but also afraid.
"I met some teens as confused as I was, who also felt unconnected," Cottingham said.
With these teens, he committed a few batteries and stole a car, which landed him in Lincoln Hills youth prison at age 14.
The state has paid more than $25 million on lawsuits related to alleged abuse and neglect at Lincoln Hills, including allegations that guards broke a boy's arm, crushed a boy's toes, were slow to respond to a girl's suicide attempt, frequently used pepper spray following minor rules violations and often placed people in extensive solitary confinement.
Cottingham's stint was years before what went on in the juvenile facility became public knowledge.
Cottingham described Lincoln Hills as violent, cold and mean. There was not anyone on staff who looked like him or understood the neighborhood where he came from, he said.
Worse, Lincoln Hills was a four-hour drive from Racine, so Cottingham only saw his mom once in the six months he was incarcerated at Lincoln Hills. This was a time in his life when Cottingham was at a crossroads.
Instead of help for the issues he was experiencing, Cottingham made gang connections and increased his street credibility for being locked up.
"I came out in 1993 worse," he said.
However, he was not a lost cause, even then. At that age, Cottingham explained, it was still possible to reach him.
He remembers one day sitting on the couch at his mother's house after his return from Lincoln Hills, trying to image a future for himself.
"I had never tried that before," Cottingham said. "I tried to imagine something beyond what I was doing … and I literally hit a blank wall."
He would not try that experiment again for more than a decade.
Green Bay
When he was 17 years old, Cottingham shot and killed another young man. He pleaded guilty to murder and at 18 years old was sent to the Green Bay Correctional Institution.
Cottingham was so young, he did not understand what life with the possibility of parole after 25 years meant. He spent a year thinking the judge was going to send a letter that would free him so he could return home with his mom.
"I did not believe my sentence," Cottingham said.
Instead, for seven or eight years he lived in prison much the same life he lived on the streets, associating with violent people and gangs.
Officials at Green Bay responded by putting Cottingham in solitary confinement for one year followed by administrative confinement for two years. Essentially, he was in the hole for three years.
There are no TVs in the hole and little to distract the mind. Cottingham said initially he tried to keep himself busy and distracted. He read books, did pushups and called through the door to other inmates, but that didn't last.
"At some point, the things you use to distract you become boring," Cottingham said.
Cottingham came to believe the purpose of solitary confinement was to destroy him by driving him mad.
Instead, he began examining his life – honestly. Cottingham paced the room thinking, occasionally crying and trying to come to terms with how he got where he was.
"There's got to be more to me than this," he told himself.
Cottingham looked for the motivations behind his actions and questioned why he was so angry and confused as a young man.
He also took a hard look at how his actions impacted other people.
"I didn't like a lot of the things that I saw," Cottingham said.
But he also wondered about the criminal justice system that began locking him up at 14 years old.
Since a person's brain will continue to develop until the individual is 25 years old, and the part of the brain that controls impulse is the last to develop, Cottingham began to see a real disconnect between the criminal justice system and the science of human development.
Cottingham now believes juveniles cannot intellectually participate in the system and cannot cooperate in a legal defense that is beyond their comprehension.
Additionally, he felt the criminal justice system does not adequately take into account a juvenile's adverse childhood experiences, also known as ACEs.
Cottingham said there were many factors of his life that were left out of the pre-sentence investigation report, which focused on the things he did and not the things that were done to him from an early age.
Rather than breaking him, Cottingham's soul searching turned him into a new man.
"My history cannot be who I am," he told himself.
Restorative justice
Cottingham left solitary confinement with a new mindset.
He was invited to participate in a restorative justice program where he sat with the victims of violent crime as they described what happened to them and the effects of the violence they were exposed to. Cottingham began to see matters from a different perspective.
He also started taking classes offered to the incarcerated and began the process of educating himself. However, Cottingham remained angry at the system he had come to believe was dysfunctional.
"In segregation, I saw my path could have been redirected," Cottingham said, expressing his frustration at the lack of help for a kid like him to be shown another way.
From prison, Cottingham wrote about the need to help young people and touched on the topic again when he became one of the first incarcerated people in the country to have his own podcast, which he used to raise awareness of mass incarceration.
Cottingham promised himself if was ever a free man again, he would be to young people "exactly what he needed" when he was young.
Illinois is poised to enact sweeping cash bail reform on Jan. 1. 
Second chances
Cottingham was released from prison in March 2022 and went to work keeping the promises he made to himself.
Currently, Cottingham is a certified peer support specialist. He is a peer recovery coach at Ascension SE Wisconsin Hospital—St. Joseph Campus in Milwaukee, where he works in the emergency room with men, women and youth who have overdosed.
Cottingham is also a student at Marquette University as part of the Education Preparedness Program, which allows directly impacted people the opportunity to attend Marquette and pursue an education. He would ultimately like to earn his degree in social work.
Cottingham's goal is to acquire space in Racine where people are comfortable coming and getting the services they need, such as someone to walk and talk with them, someone who looks like them, someone who understands the language of their neighborhood and who understands what they have been through.
"One of the main things that's important to me is to make sure I use everything I've been through," Cottingham said. "I know for a fact my path could have been redirected, so it's my mission to redirect as many paths as possible."
Based on his experiences, Cottingham says what troubled teens need is for someone to care.
"They need you to give a damn," he said.
He said it's important to put aside fear, show up, talk to them, see them, and listen to them without placing blame.
Young Black men in particular need to be shown the community cares about them.
To the folks who say, "I don't see color," Cottingham said, "You have to see color, because color is connected to what we're going through. Color has a significant role in or struggle."
EXPO
Cottingham is now the local organizer for Ex-incarcerated People Organizing (EXPO) of Wisconsin.
"We are dedicated to dismantling all forms of oppression through mass incarceration," he said.
EXPO meets on the first Thursday of every month. While the organization is made up of formerly incarcerated people, the organization welcomes anyone who wants to end mass incarceration.
"I am absolutely certain we will have an impact on mitigating the circumstances that led to mass incarceration in the state," Cottingham said.
Currently, the organization is working to "Unlock the Vote," which means returning voting rights to formerly incarcerated people.
Additionally, the organization supports formerly incarcerated people on their journey to establishing their new lives.
For more information on EXPO, visit https://expowisconsin.org/.
To read more about the impact of restorative justice, visit https://restorativejusticewi.org/.
In photos: Racine Correctional Institution Fall 2021 Graduation Ceremony
Racine Correctional Institution Fall 2021 Graduation Ceremony
An audience member stands at attention during the National Anthem before the ceremony.
Lauren Henning
CNC projects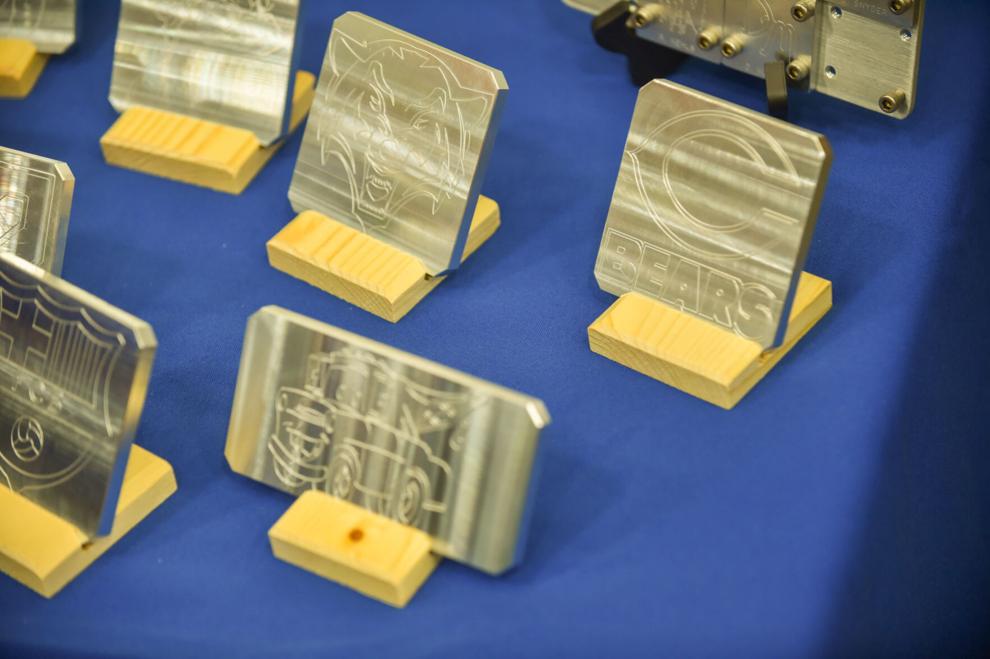 The RCI CNC graduate projects were displayed during the ceremony. Among the projects were designs carved into metal: the Chicago Bears logo, the outline of the character Mater from Pixar's "Cars," the logo of the FC Barcelona soccer team.
Lauren Henning
Racine Correctional Institution Fall 2021 Graduation Ceremony
An RCI inmate/graduate plays guitar during Thursday's graduation ceremony.
Lauren Henning
Master's Degree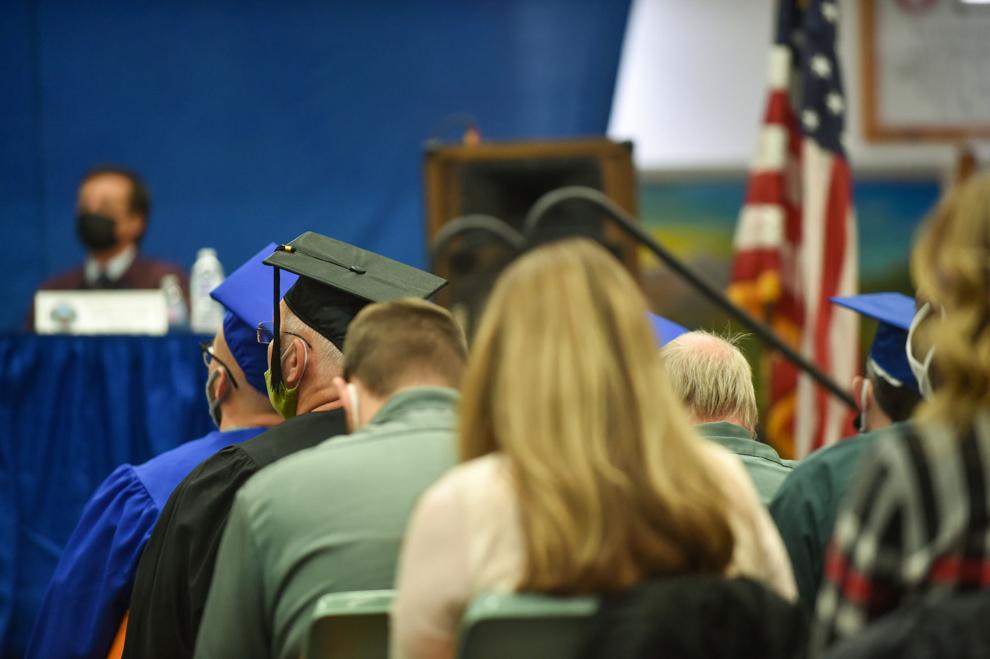 The lone Master's Degree recipient at Thursday's graduation ceremony, in black at left, listens to one of the guest speakers.
Lauren Henning
Racine Correctional Institution Fall 2021 Graduation Ceremony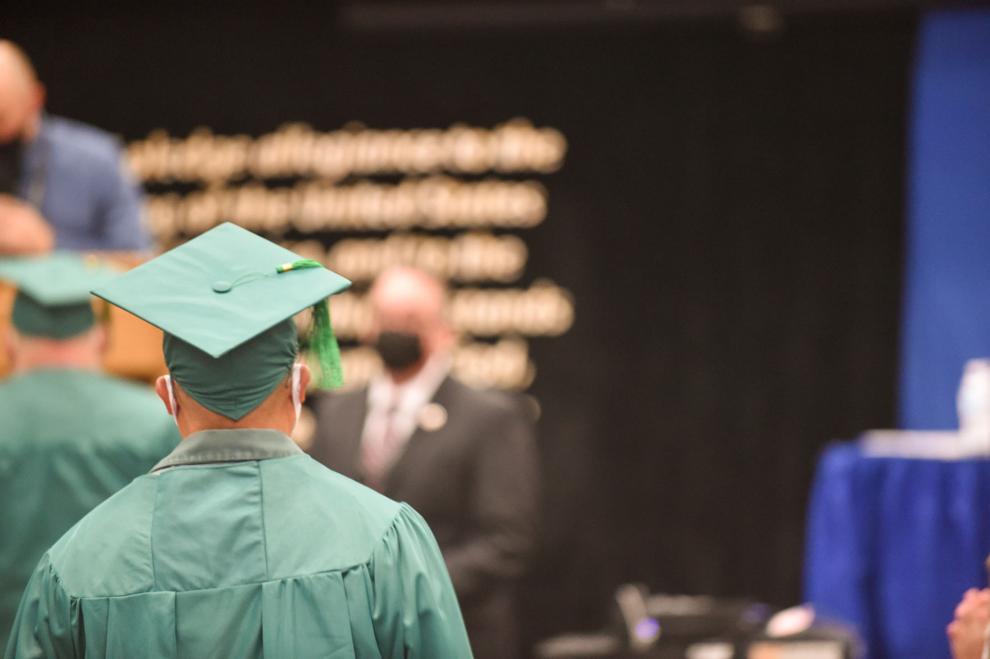 Graduates walk the center aisle to receive their diplomas during a ceremony at Racine Correctional Institution on Nov. 4. The University of Wisconsin System is aiming to expand bachelor's degree program options within the Department of Corrections. 
Lauren Henning
Prose and Cons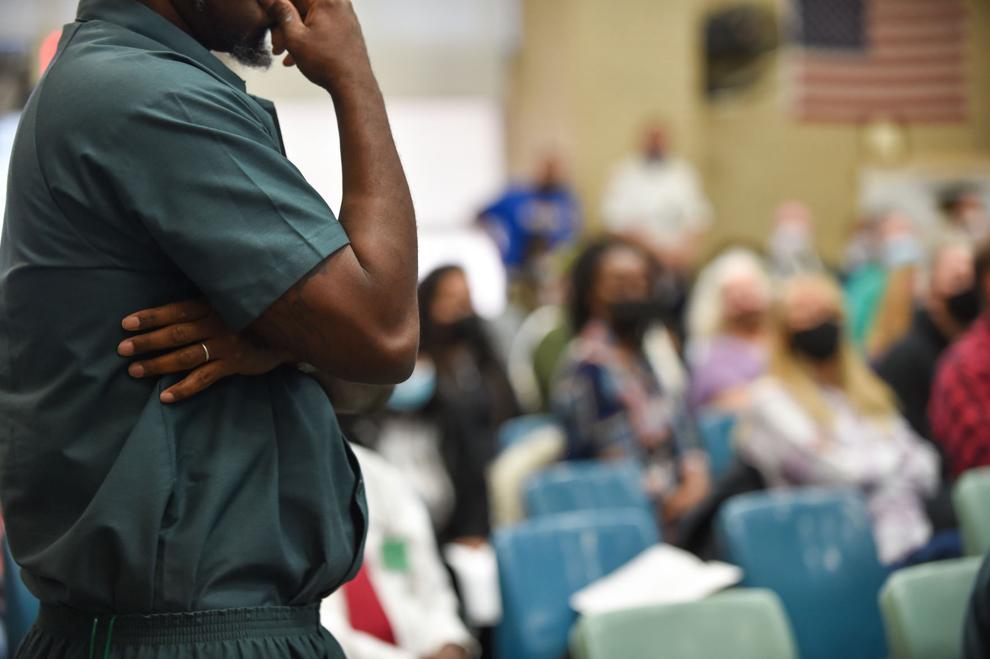 An inmate with a band on his ring finger performs as part of a creative writing group named "Prose and Cons," which gave a spoken word presentation during Thursday's graduation at Racine Correctional Institution.
Lauren Henning
RCI Color Guard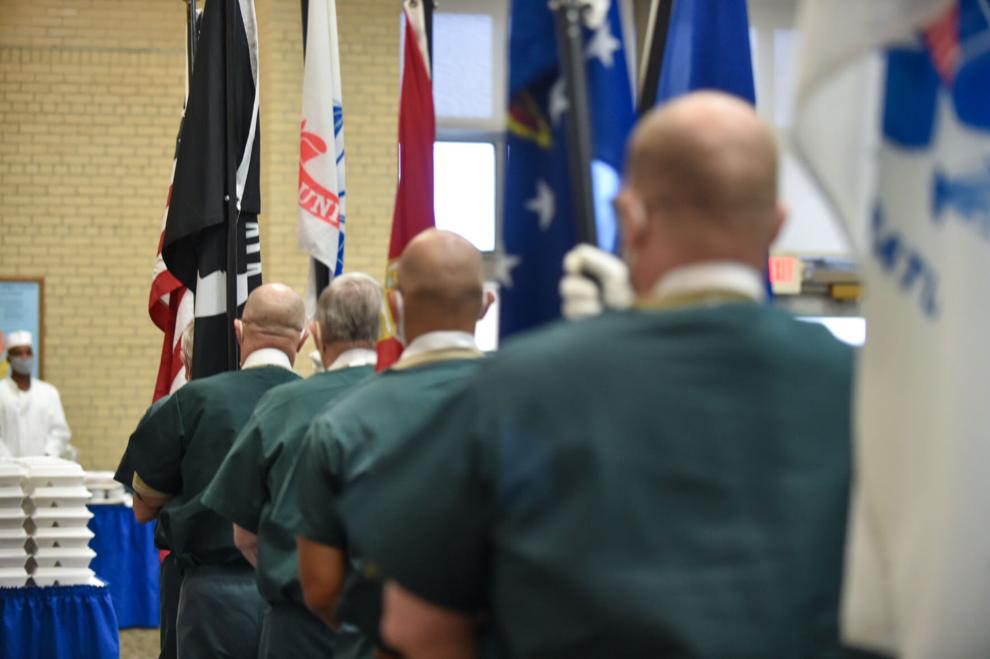 The RCI color guard retires the colors after the ceremony.
Lauren Henning
RCI Color Guard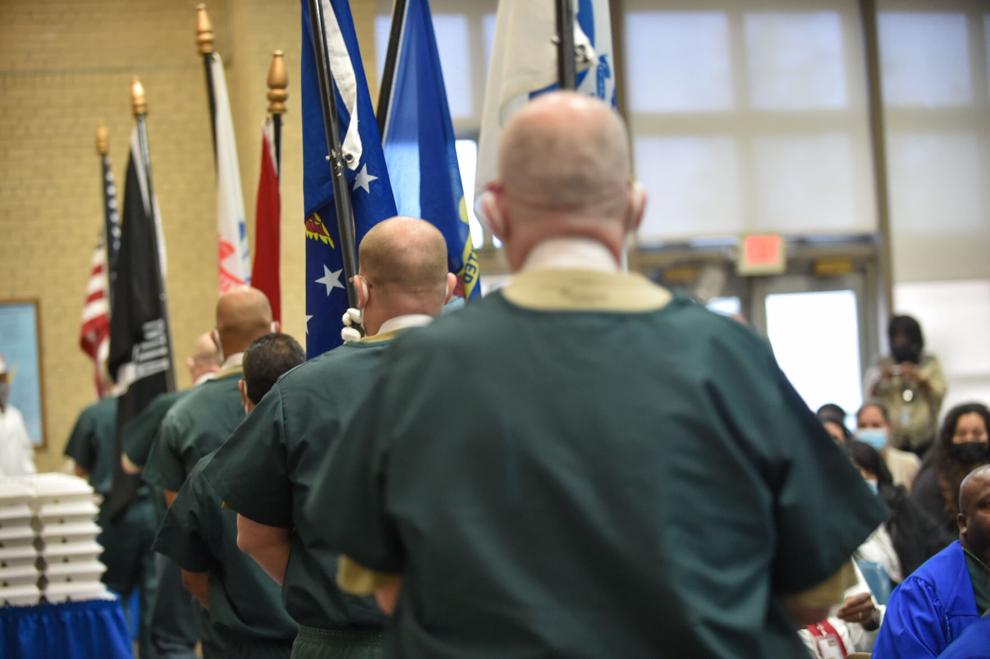 The Racine Correctional Institution color guard, still wearing their prison garb, retires the colors after Thursday's graduation.
Lauren Henning
RCI Color Guard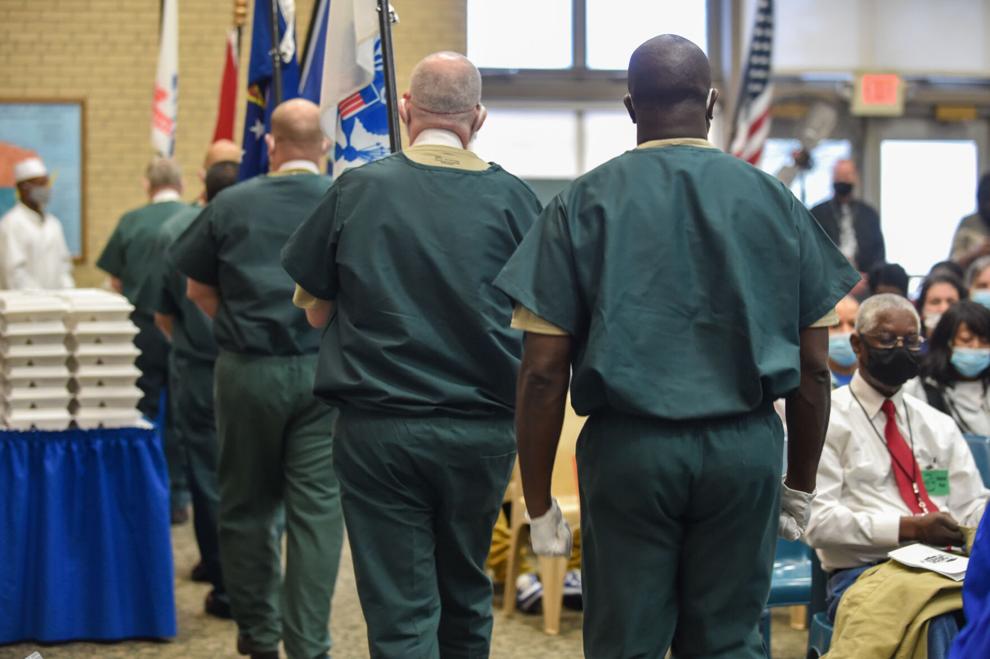 The RCI color guard retires the colors after the ceremony.
Lauren Henning
RCI Color Guard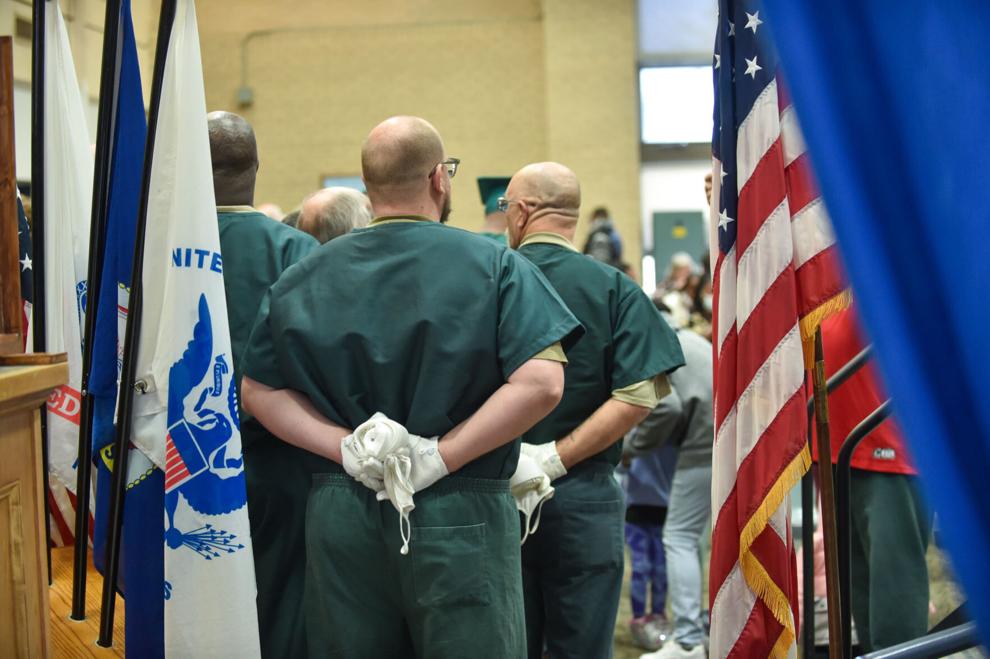 The RCI color guard poses together for a picture after the ceremony.
Lauren Henning
Racine Correctional Institution Fall 2021 Graduation Ceremony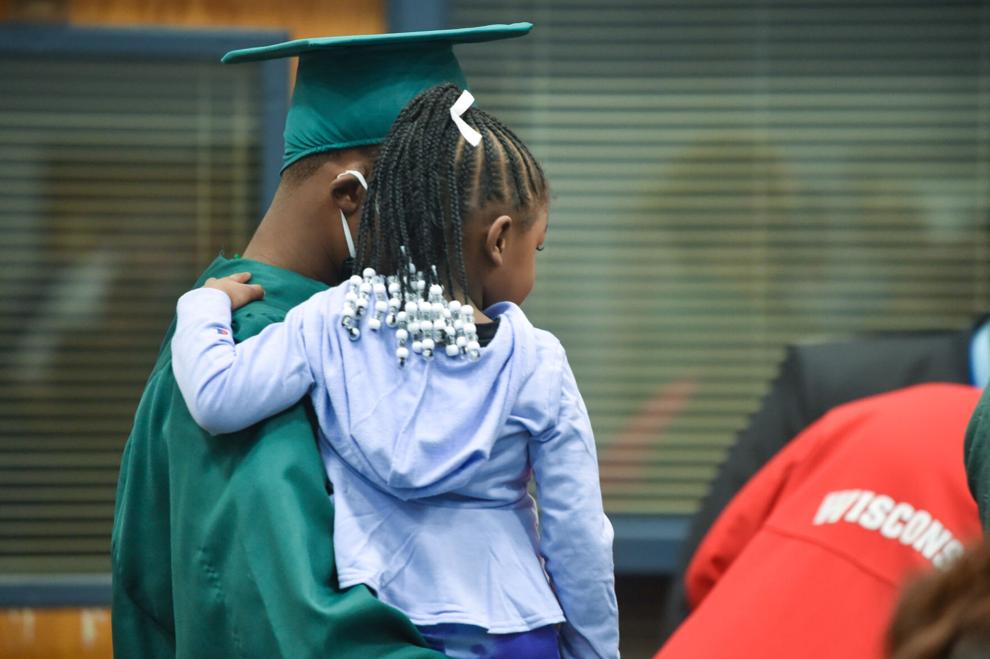 A graduate holds a young loved one following the graduation ceremony at Racine Correctional Institution Thursday. A Journal Times reporter/photographer was directed to not take photos that included anyone's faces at the ceremony.
Lauren Henning
Sign up for our Crime & Courts newsletter
Get the latest in local public safety news with this weekly email.