GREEN BAY — The Green Bay Packers' season-ending loss was still sinking in, and Aaron Rodgers was getting dressed. That's when general manager Brian Gutekunst made his way over to the four-time NFL MVP's loose to talk.
"It wasn't very deep," the veteran quarterback said of the conversation.
Clearly, in the aftermath of the Packers' 20-16 loss to the Detroit Lions on Sunday night at Lambeau Field, much deeper conversations are coming — about Rodgers' desire to return for a 19th NFL season and 16th as the team's starting quarterback; about whether Gutekunst wants the future Pro Football Hall of Famer back under center or is ready to hand the reins over to 2020 first-round pick Jordan Love; and about whether Rodgers wants to continue playing football but would like to do so elsewhere.
People are also reading…
Variations on all those questions were posed to Rodgers during a 20-minute Q&A session with reporters that focused more on his uncertain future than on the team's lackluster performance in a win-and-you're-in game with a playoff berth within its grasp .
And while head coach Matt LaFleur made his position clear — asked if he expects Rodgers to return, LaFleur replied, "In my mind, absolutely, but I think ultimately he's going to decide that" — Rodgers was in no way definitive.
In fact, his news conference was essentially a Rorschach test for Packers fans.
If you're among those who want him to return and still believe in him, you heard enough to strengthen that hope that he'll be back for another run.
If you've grown tired of him and the now 12-season drought since the 2010 team won the Super Bowl XLV title, then you heard plenty to make you think he's headed out the door, be it to retirement or employment with another club.
With that in mind, here is a sampling of some of Rodgers' responses to myriad questions about his uncertain future:
• On what he was thinking as he left the field with his arm around his close friend and longtime receiving target, Randall Cobb: "I just love the man. I've always had a tight friendship with him. Just a lot of gratitude in the middle of disappointment. The best part of this game is the relationships that come out of it because those last longer than the career. I'm thankful for Randall."
• On his timetable for a decision: "It's a little raw right now. It's just a little bit after the game, so I want to take the emotion out of it and have the conversation and see where the organization's at and see how I feel after some time has passed. … I'm not going to hold them hostage. I understand we're still in January here. March is free agency. So I just need some time to, like I said, get the emotion out of it and figure out what's best."
• On if the decision is his alone or if the team must decide if it wants him back, too: "No, I don't think so. I think there's got to be mutual on both sides."
• On if he's open to switching teams to keep playing: "I don't know. I don't like saying never, but I've got to see how I'm feeling first. Once the emotion's out of it, then have the right conversations and see what the best direction is."
• On if missing the playoffs impacts his decision: "Not really. I have a lot of pride in what I've accomplished in this league. In a lot of ways, I don't feel like we should have been even in this position with some of the games we lost, especially in that stretch of five games, but this is the reality we're in.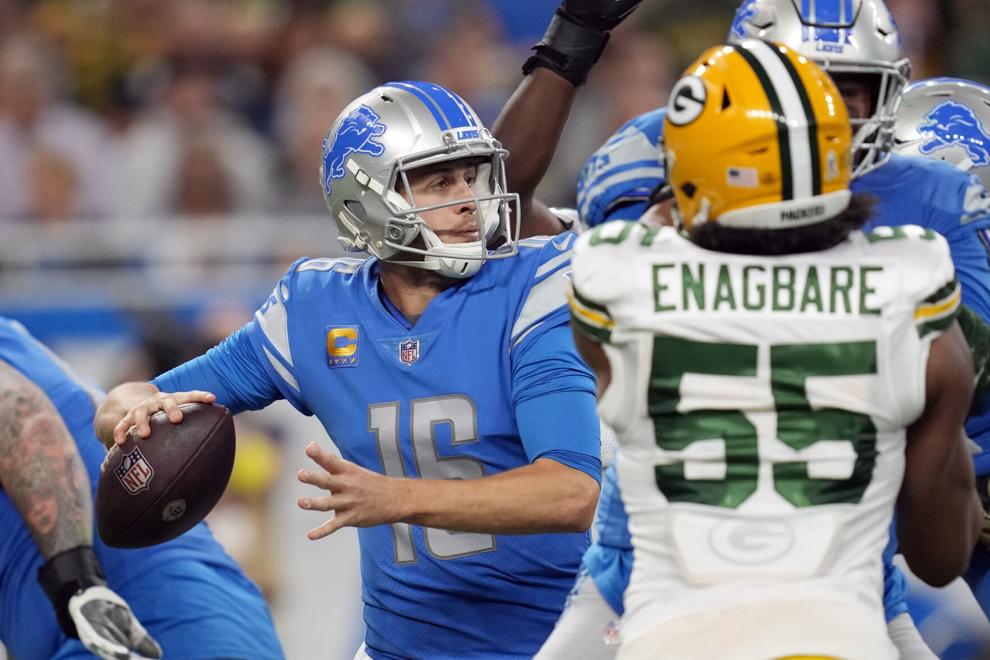 "Obviously we didn't get it done tonight. You want to go out winning the Super Bowl, but it's very rare that ever actually gets to happen. You don't want to lose your last game and miss out on the playoffs, but this has been a great position and a really tough business. It doesn't always end with rainbows for everybody."
• On if he still believes he can play at a high level: "The answer is yes. I feel like obviously losing (wide receiver) Davante (Adams, who was traded to the Las Vegas Raiders on March 17), was a big deal. But we didn't fill that void. I mean nobody can. He's superhuman; he's phenomenal. But there was hope in certain things that was going to fill that void and ultimately that just didn't happen. … But I think that there's a lot of good young talent on the team and if certain guys make the jumps from years one to two this offense could look a little bit different."
• On if losing veterans like Cobb, Marcedes Lewis, Mason Crosby or David Bakhtiari would influence whether he'd want to come back without them: "That's part of it. It definitely is part of it. Big Dog, who knows what he's going to be thinking? Obviously, Randall, Mason Crosby, Dave — a lot of guys I played a lot of football with over the years. So that would definitely go into it because that's a big part of what we do. It's not just the playing, it's the guys you play with and the chemistry and the love and the friendship that we have for each other because it makes a difference."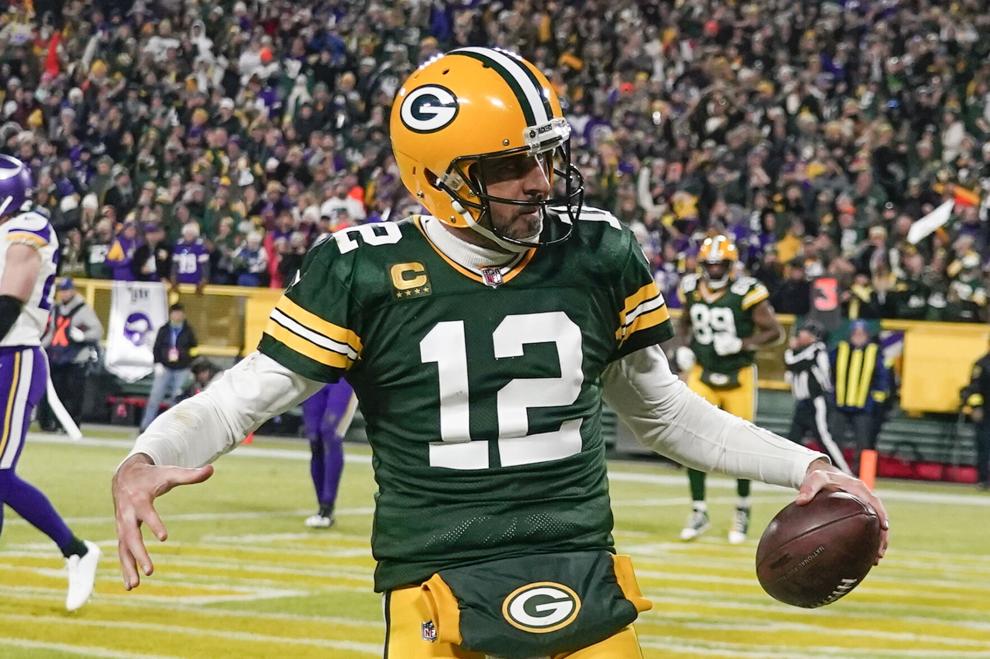 • On the questions he'll ask himself: "It's a feeling. Do I feel like I have anything left to prove to myself? Do I want to go back and gear up for another grind? Or is it time? Is it time to step away? Is it time for another voice to be leading this team? I think I need to get away and contemplate those things. Those are real to me. I have a lot of pride in what I've accomplished in this league, but I'm also a realist and I understand where we're at as a team. We're a young team, there could be some changes with some of the older guys and it could be time to step away. But I could take some time and say, 'Hell no, man, I need to get back out there and go on another run.' But I'll have to see what it feels like once I'm away from it."
• On what would have to happen this offseason for the Packers to compete for a title in 2023: "Probably a couple players away, I think. Could be guys that we have that develop into those players. I think we're really close but a couple players away.
• On if someone as competitive as he is could call it quits and have his last pass as a Packer be an interception, like his predecessor Brett Favre did: "That's a normal thought, but at some point the carousel comes to a stop and it's time to get off, and I think you kind of know when that is. And that's what needs to be contemplated.
"Is it time? So, what's the organization doing? That's part of it as well. But the competitive fire is always going to be there. I don't think that ever goes away. Sometimes it gets transferred I think to other things that might not ever fill that large void, but like I said, I feel good about what I've accomplished in this league and wouldn't have any regrets walking away. But I've got to see what it feels like once I get away from this."
• On if Gutekunst or anyone else in the organization has explicitly told him or indicated to him that the team might not want him back, or if that's just a feeling he's gotten: "Just a feeling. Yeah, it's just a feeling. I think to assume it's a foregone conclusion would be probably slightly egotistical, so I'm going to be a realist here and understand that there's a lot of different parts to this. Like I've said, I was aware of the possibility of them going young if we had gotten to a point where we were out of it. I'm aware of that possibility, as well. Wouldn't be the best reality, but I know it's a possibility."
• On if he could really walk away from the scheduled $59 million he's set to make in 2023: "Yes. Money is energy, and I have made a ton of it and I'm very thankful for this organization, the generational wealth that they've offered me. Hopefully (they) feel like that I've earned a lot of it. But, yeah, for sure, I can definitely walk away from that."
• On why the 2022 offense struggled so badly: "There's a lot of things I could say but I don't feel like saying the right here and right now."
• On what he'll miss if he does call it a career — a question that was followed by a 10-second pause and some misdirection with jokes about a handful of reporters' styles of asking questions: "I'll miss the guys. I'll miss the fans. …Yeah. Thank you."
Be the first to know
Get local news delivered to your inbox!