RACINE — Hovde Properties of Madison is prepared to move forward on the project that will transform what was brownfields on the city's lakefront to market-rate apartments.
However, the developer's agreement with the city will need to be amended for an additional $3.5 million from TID 14.
The company was already slated to receive $2.6 million, a portion of which came from an infrastructure grant and a portion from TID 14.
Construction costs have spiked significantly since the agreement was finalized in September 2021, increasing the cost from about $33 million to more than $40 million.
The Finance and Personnel Committee voted on Monday to recommend that City Council approve the amended developer's agreement.
The council is expected to consider the matter on Feb 7.
People are also reading…
If all goes as planned, Hovde will begin the project in March.
Breakwater — Architectural Drawings of development from the corner of Lake Ave. and Gaslight Drive.
FilePhoto


Funding gap
Hovde provided documents to the city outlining how the cost of construction rose 26% in such a short timeframe.
The company said the change was driven by increases in materials, labor and interest rates, which went from 3.25% to 6.25%.
Additionally, the company had unanticipated environmental costs.
These factors increased the cost of construction by $8.6 million.
The company reviewed the project and was able to reduce costs by $1.6 million and secured another $350,000 from We Energies to offset increased costs in environmental remediation.
That left a $7 million gap.
The company approached the city with the following proposal:
The company would absorb $3.5 million in costs as well as the 3% interest rate financing increase.
The city would pay a $3.5 million developer incentive – in addition to the $2.6 million the company was slated to receive – over a three-year period beginning in the occupancy year.
The funds would be paid out as follows: $3.6 million within 30 days of the city's issuance of the final certificate of occupancy, anticipated in September 2024; $1.5 million on March 31, 2025, and $1 million on March 31, 2026.
Hovde has secured private financing.
No money will be released to the company until the project is complete and certified for occupancy.
redevelopment
It has been more than two decades since the downtown area saw construction of market-rate apartments.
Kathleen Fischer, the city's finance director, estimates the development will provide about $40 million of net new construction in the city.
She said that equates to about $300,000 of additional tax levy capacity that will pay for operations in the city's general fund.
Mayor Cory Mason called the project exciting.
"We know in Racine there are housing shortages at all levels," he said. "We know we need more housing options and this will add 200 apartments right downtown — many with lake views and views of the harbor."
Hovde has named the building "Breakwater."
The property at 233 Lake Avenue was formerly a gas manufacturing plant that required multiple rounds of environmental remediation before development could proceed.
Mason called the brownfield "one of the most complicated we've seen."
He praised Hovde properties for being willing to take on a project with such a complicated issue.
Despite the mitigation, the first floor above ground level can only be utilized for non-residential space, such as parking.
As part of the agreement, the company will participate in Racine Works, which requires 20% of construction hours to be undertaken by a Racine resident.
Additionally, the building is being constructed to the LEED standard, which was created by the US Green Building Council to promote sustainability and reduce greenhouse gas emissions.
TID 21
TID 21 was created in 2018 in anticipation of redevelopment of the site.
A TID earns money in the following way: The city sets a base value when the TID is created. As the property value increases due to the development, the difference between the base value and increased value is set aside for the developer.
The developer may then pledge the TID funds as security for financing.
In this case, TID 21 earned no money because it was a contaminated field that did not increase in value over the course of five years.
The $3.5 million in additional funding will be taken from TID 14, as allowed by the project plan.
TID 21 will begin to earn money once the development is underway.
break water
The plan for the building includes:
A six story building with the top five floors intended for occupancy.
The plan calls for 202 apartments and 201 parking spaces (111 structured and 90 surface). Public parking also will be available to residents.
There will be solar installations on the roof and the surface parking lot.
The company also is constructing a walk between Lake Avenue and the lakefront with a developed green space.
In Photos: Horlick's Malted Milk
The first Horlick Food Co. building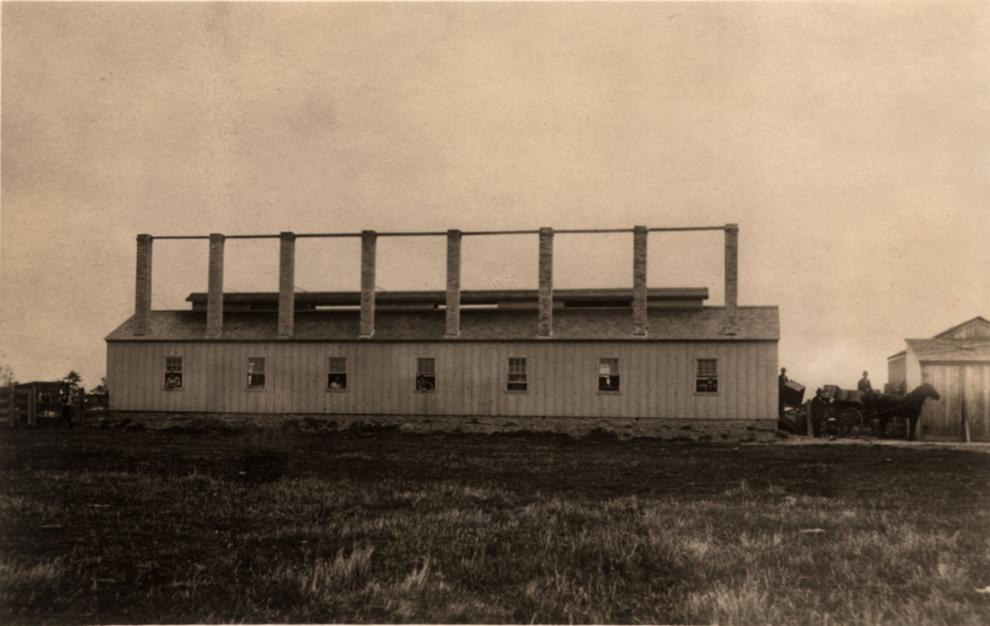 The first Horlick Food Co. building, built by William and James Horlick, stood on the Northwestern Avenue site later occupied by Horlick Malted Milk Corp. and Haban Manufacturing.
Wisconsin Historical Society


Horlick's Malted Milk can
A Horlick's Malted Milk can.
JIM KNEISZEL, JOURNAL TIMES FILE PHOTO


William Horlick Sr.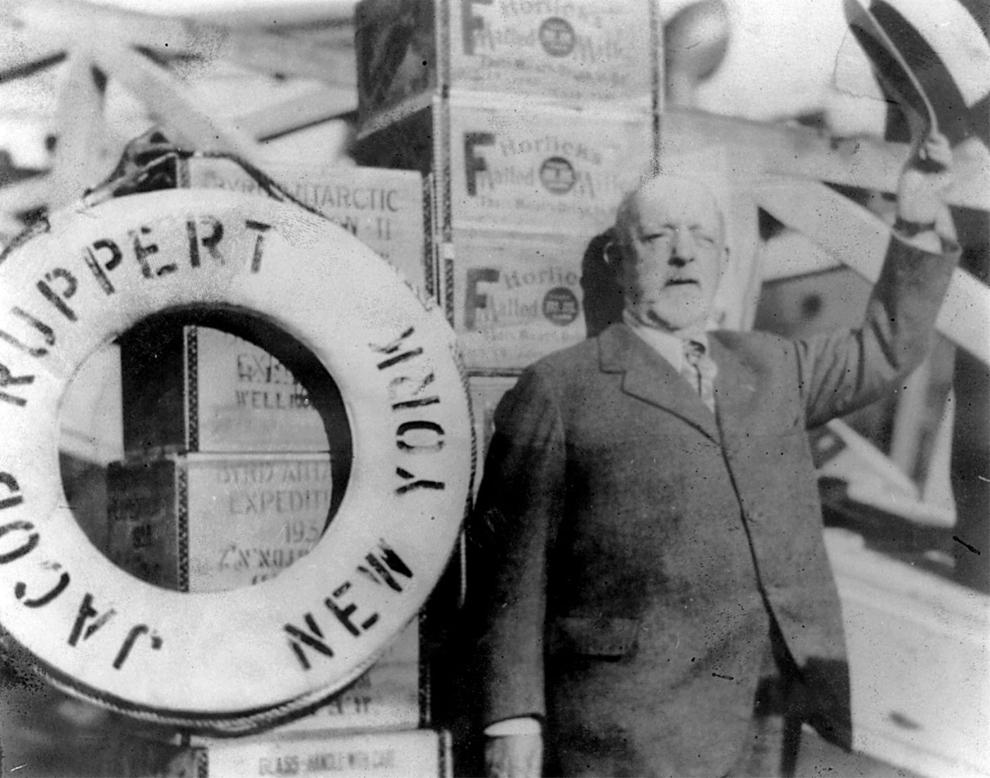 William Horlick Sr., founder of Horlick's Malted Milk, on board a ship loaded with cases of Horlick's signature product for one of Rear Adm. Richard Byrd's Antarctic expeditions. Byrd conducted five Antarctic expeditions from 1928 to 1956.
Courtesy Racine Heritage Museum


Horlick's Malted Milk magazine advertisement – June 1905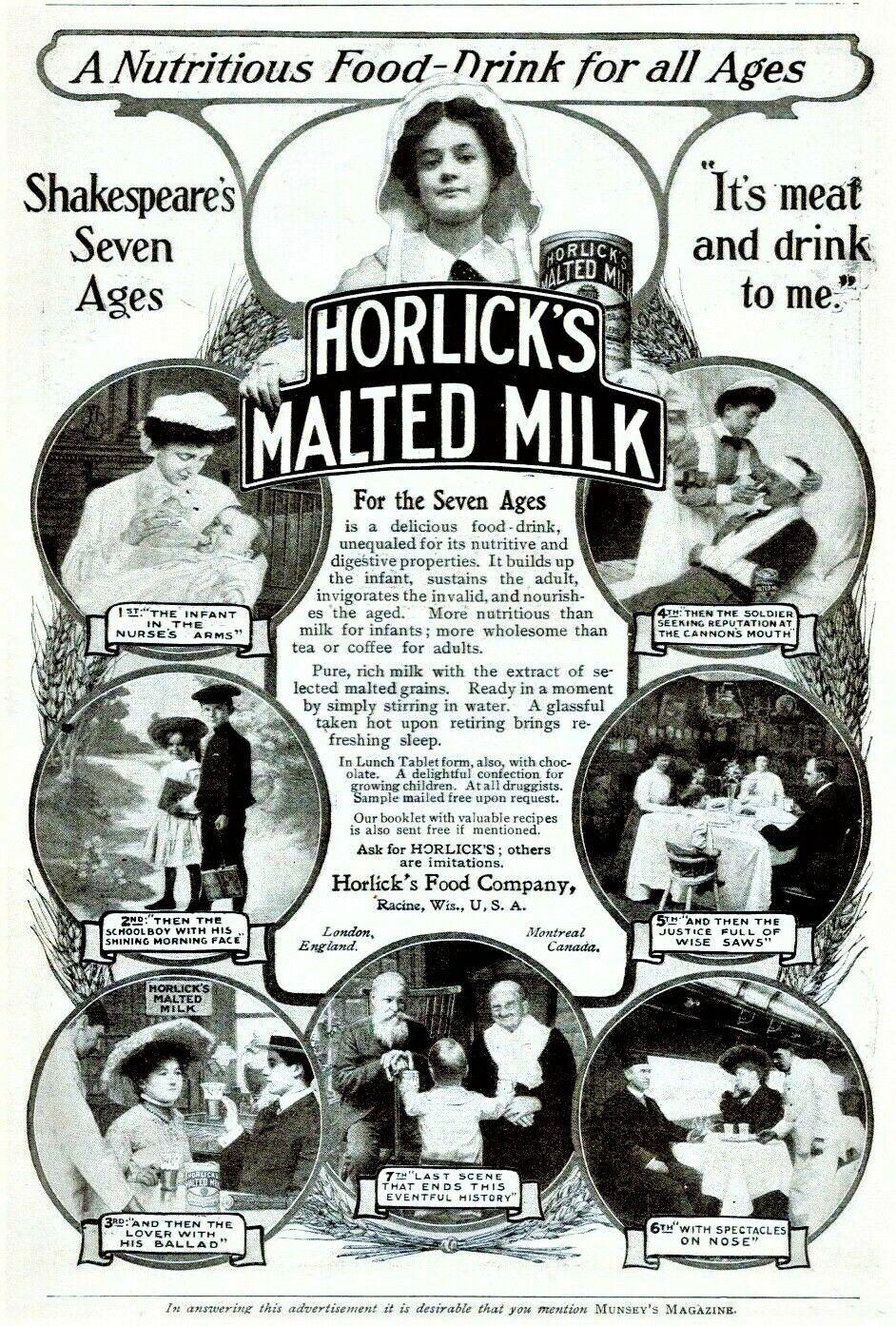 Racine-based Horlick's Malted Milk company was an active advertiser, as seen in this June 1905 ad from Munsey's Magazine, a weekly American magazine founded in 1889 by Frank A. Munsey as a "magazine of the people and for the people, with pictures and art and good cheer and human interest throughout." At the time of this advertisement, Horlick's operated branch distribution offices in London, England and Montreal, Quebec, Canada. A British factory was established in Slough, Bershire, England in 1908.
Eric Johnson
Horlick's Malted Milk Co. postcard, 1909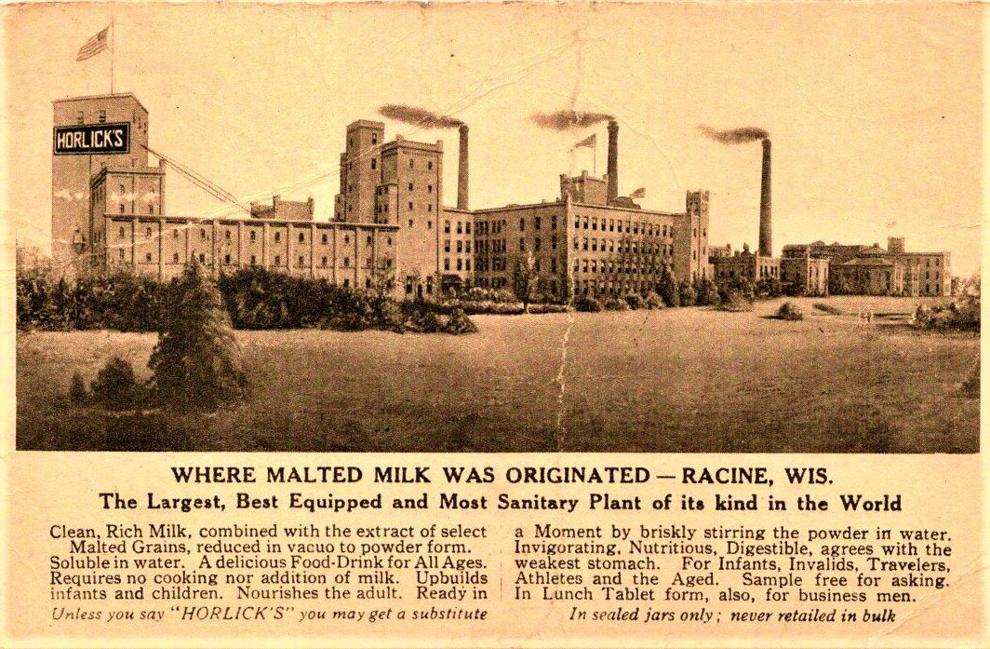 Circa-1909 advertising postcard shows Horlick Malted Milk Company's Racine factory complex, 2100-2234 Northwestern Ave., and extols the many virtues of the company's malted milk. The Gothic Revival-styled plan, still familiar to Racine residents today, is slated for a $100 million mixed-use redevelopment as Horlick District. A $12 million Phase One initiative now underway will see the May 2021 completion of the 60-unit market-rate and affordable housing Horlick Lofts at 2100 Northwestern Ave., and the Spring 2022 completion of the 84-unit market-rate housing Headquarters at Horlick , 2200 Northwestern Ave.
Contributed image


Dec 12, 1918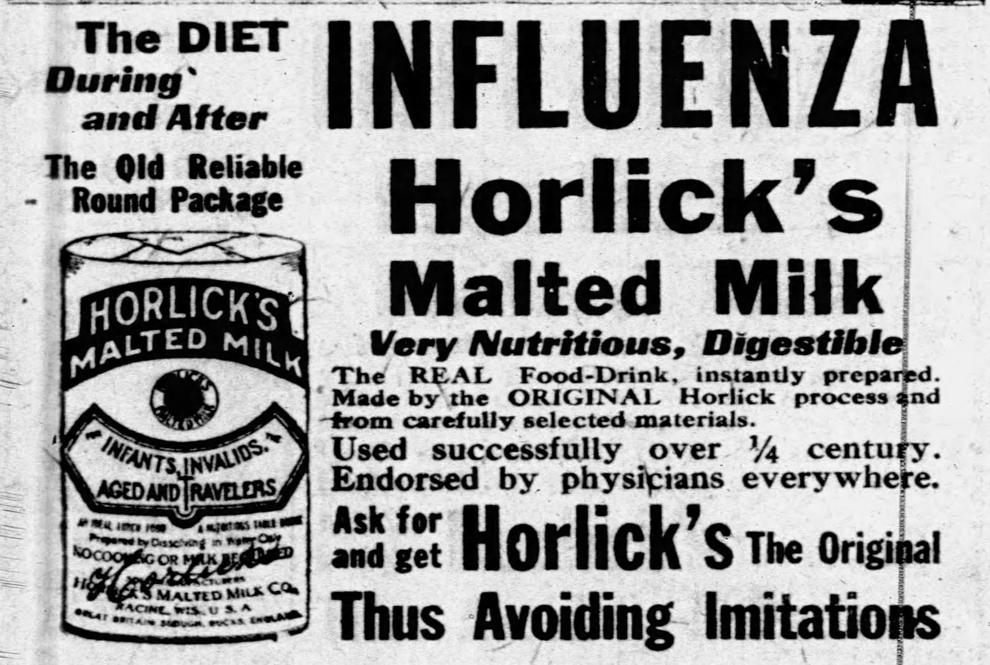 An advertisement for Horlick's Malted milk.
Horlick's Malted Milk – "Lum & Abner" sponsorship on Mutual Broadcasting System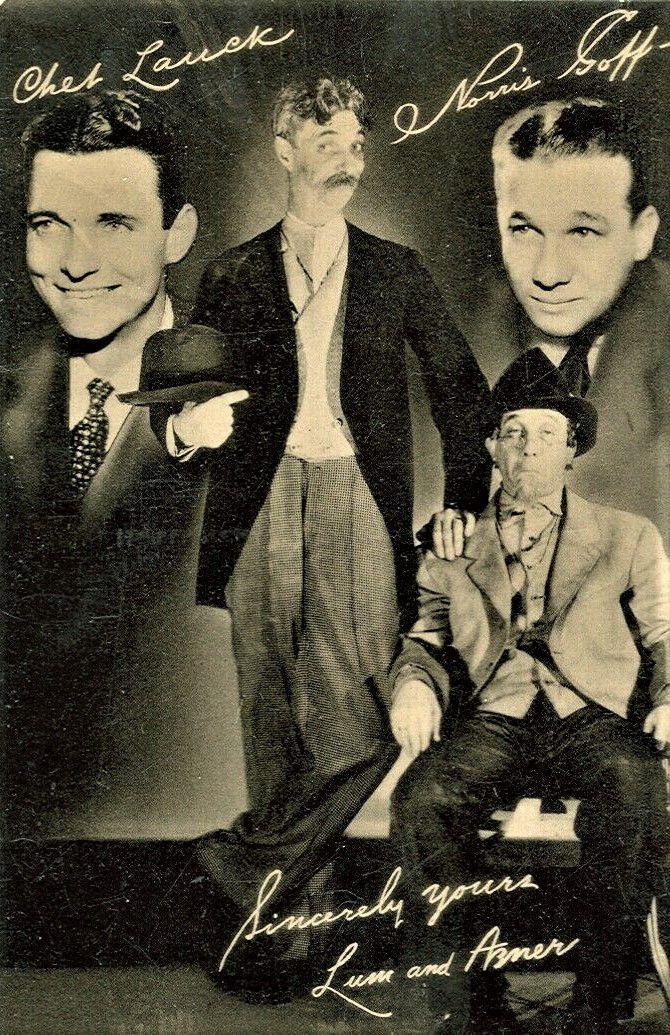 Long active in print advertising, Racine-based Horlick Malted Milk Co. was an early and active network radio advertiser, including Horlick's 1934-37 exclusive sponsorship of Mutual Broadcasting Network's comedy series "Lum and Abner," starring Chester Lauck Ileft) as Clarence " Lum" Edwards and Norris Goff (right) as Abner Peabody. As part of its sponsorship of the program, Horlick's offered listeners a variety of Lum and Abner-themed promotions, including popular annual almanacs. In the late 1930s and early 1940s, Horlick's radio sponsorships had moved to the popular mutual action and adventure series "The Lone Ranger," which enjoyed an audience of 20 million Americans.
Eric Johnson
Horlick's Malted Milk newspaper advertisement – June 1939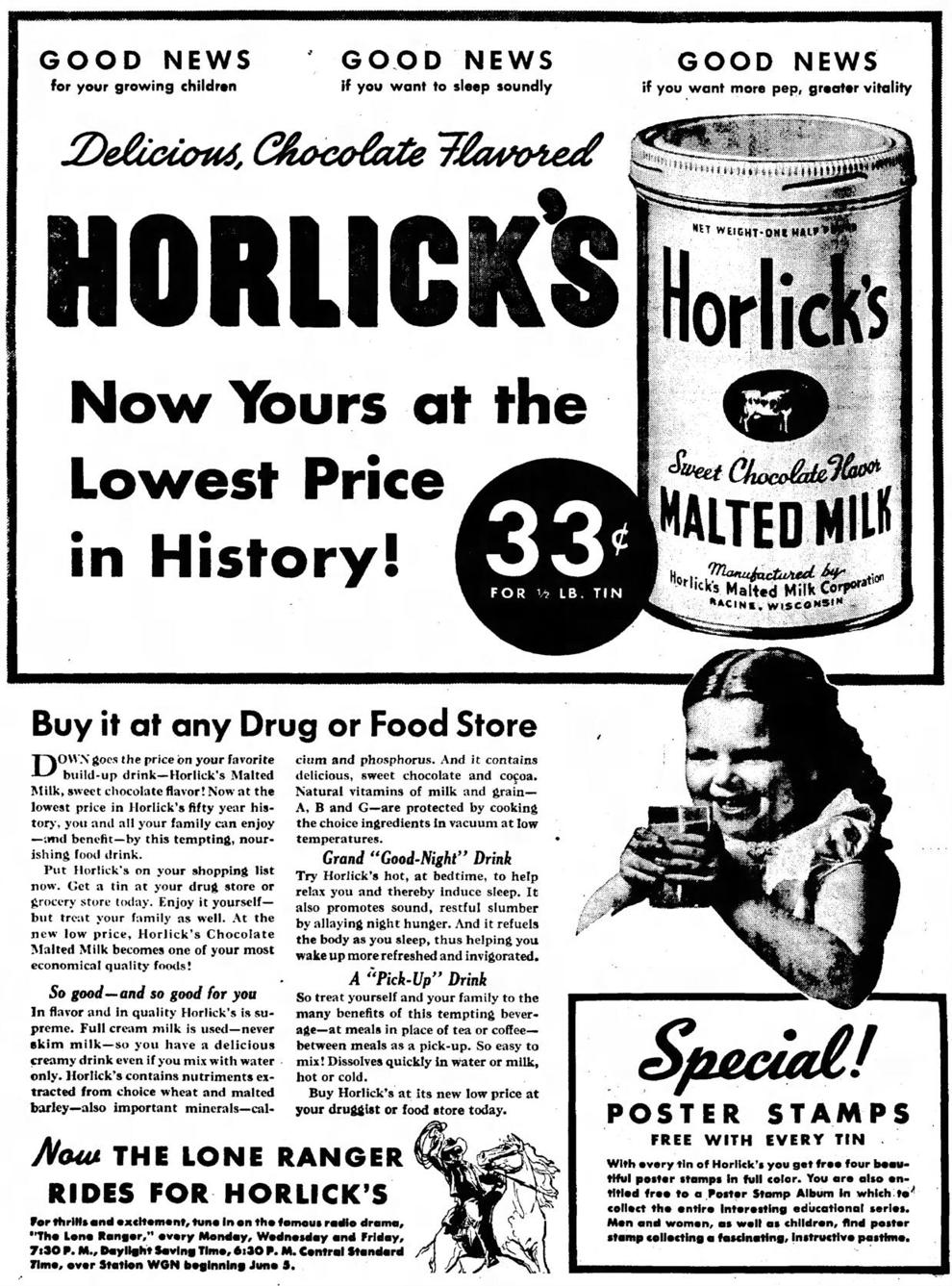 Racine-based Horlick's Malted Milk Co, 2100-2234 Northwestern Ave., was a prolific newspaper and magazine advertiser, as seen in this June 1939 newspaper ad. The company was also an early advertiser on network radio in the 1930s and 1940s, sponsoring popular shows including "Lum and Abner" and "The Lone Ranger."
Contributed image


Horlick's Malted Milk advertisement, October 1957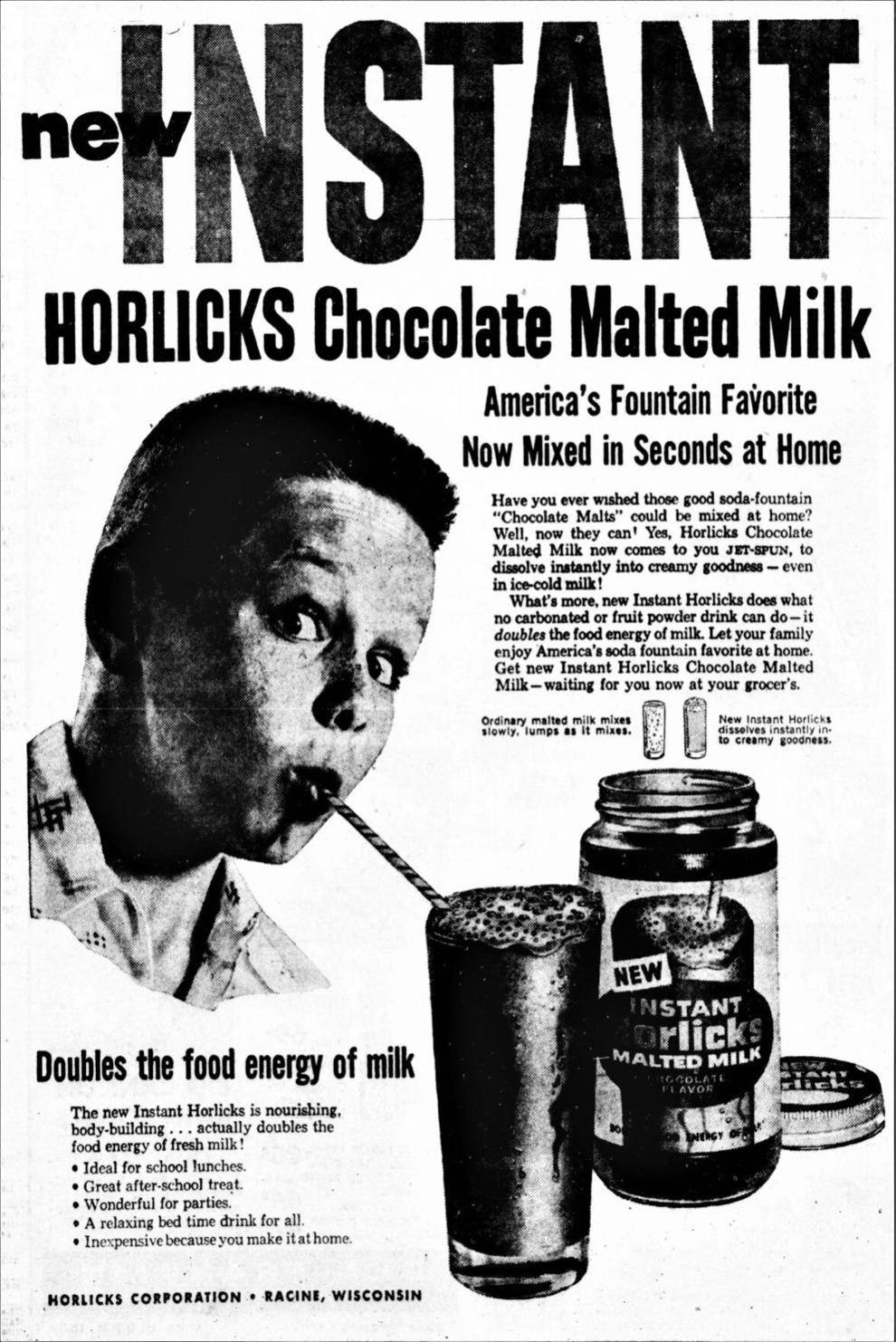 Over its long history, Horlick's Malted Milk Company was a prolific advertising across a variety of mediums including newspapers, magazines, direct mail and radio. Pictured is a Horlick's print ad from October 1957 promoting the company's newly-introduced chocolate-flavored instant malted milk. Other flavors included natural and vanilla.
Submitted image


Horlick's Malted Milk ad, February 1969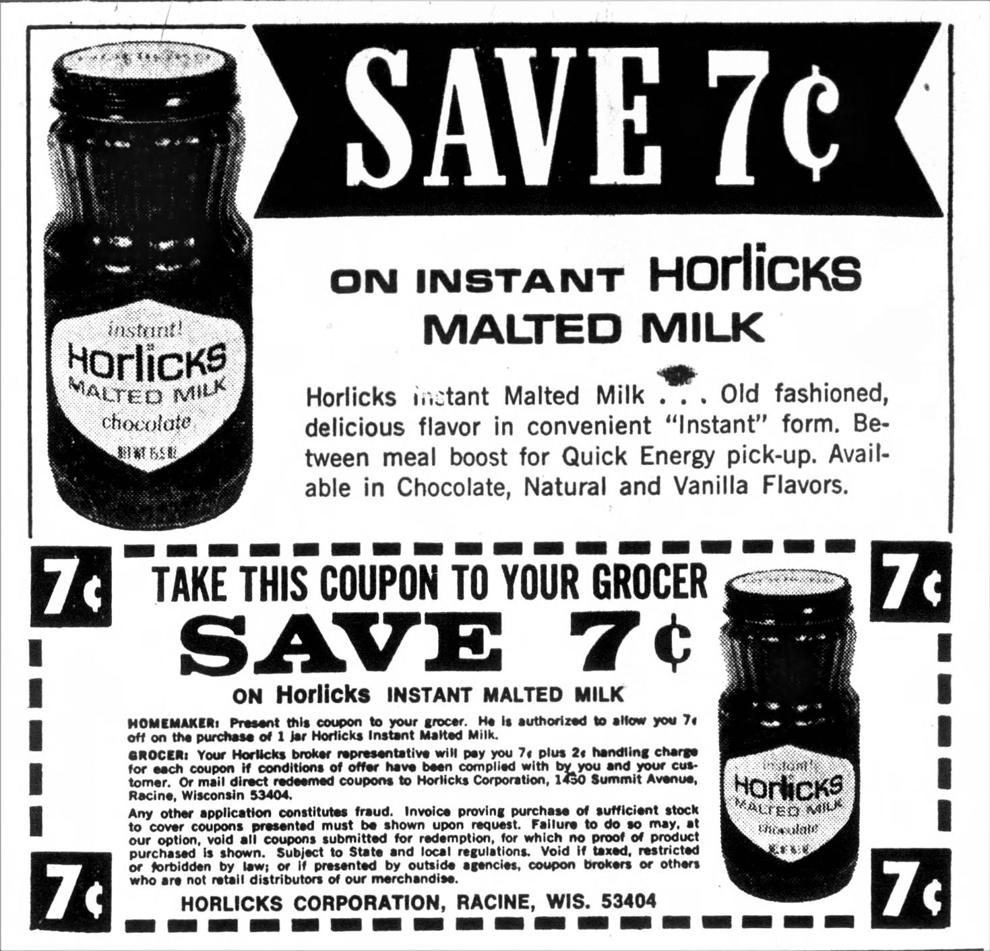 Across its long history, Racine-based Horlick's Malted Milk was a prolific print advertiser, as seen here in this February 1969 advertisement for Horlick's instant chocolate-flavored malted milk. Horlicks, which long enjoyed a brisk retail business at the nation's supermarkets and wholesale trade to soda fountains and lunch counters, saw its sales slide precipitously in the 1960s and 1970s as changing tastes saw consumers increasingly switch to soft drinks and flavored ice milk shakes at drive -ins and other fast food purveyors. Employing 300 in Racine at its peak, the local payroll had dwindled to 63 when Horlick's Racine plant was closed by New Jersey-based parent Beecham, Inc. in March 1975. Said Beecham personnel director Donald Drescher of the decision to close the plant and wind down the Horlick's brand, "It (malted milk) is simply not a popular drink anymore." Horlick's Racine plant and malted milk brand, which enjoyed a long and storied 1882-1975 run in the US, was doomed in large part by three consecutive years of "substantial losses" spurred by sharply rising commodity costs and an all-but-disappeared American market for malted milk products. Still produced abroad, Horlicks Malted Milk continues to be highly popular in Great Britain, Australia and India among other overseas markets. Today, Horlicks is available in the US from online retailers.
Eric Johnson
Horlick's Malted Milk – Racine plant auction ad, May 1975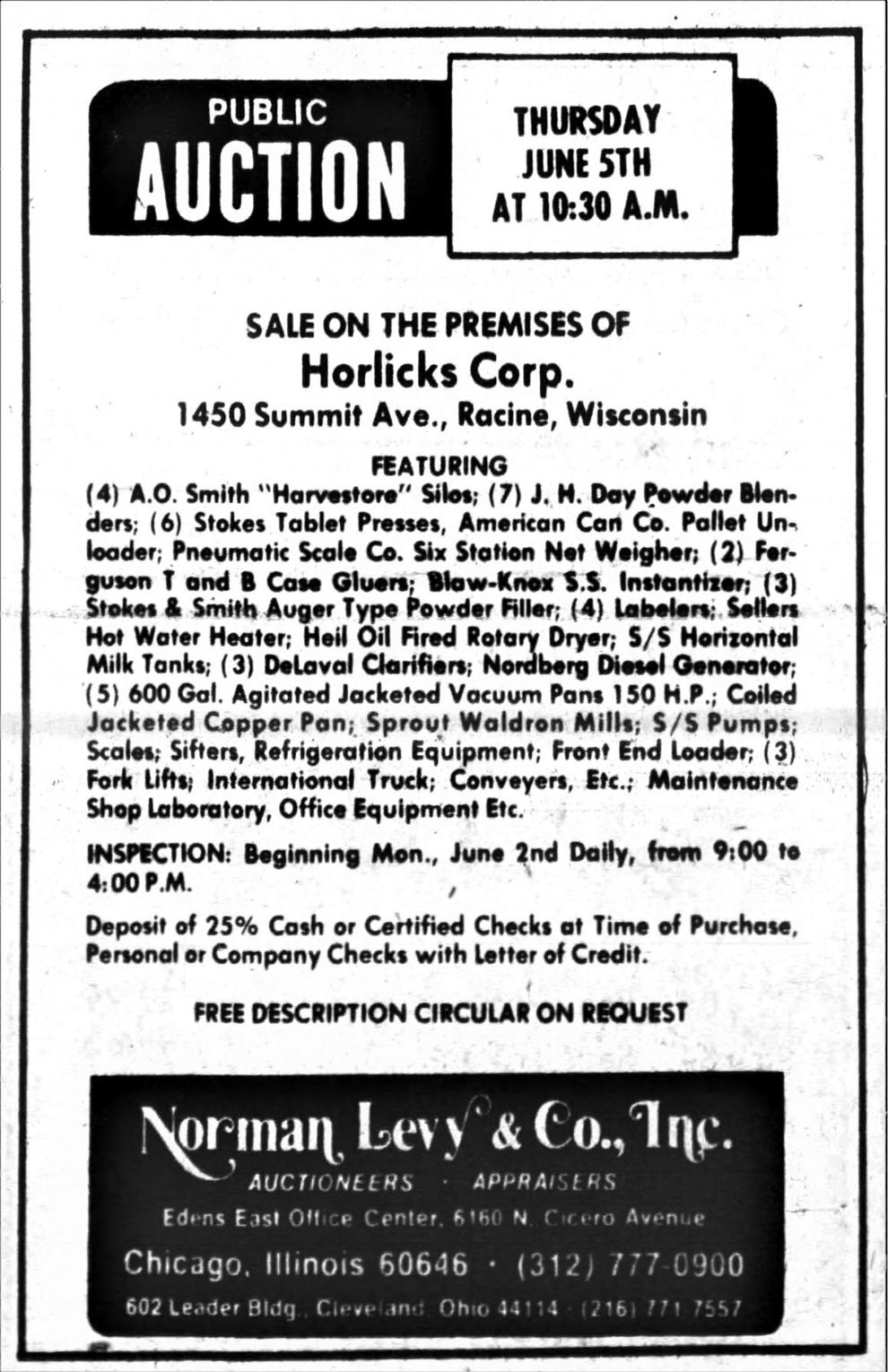 After 93 years of production in Racine, New Jersey-based parent company Beecham, Inc., which bought Horlick's US and British operations in 1969, on Jan. 5, 1975 announced the impending closure and wind-down of its Racine-based manufacturing operations , with the Northwestern Avenue factory ending operations in March. The move, which resulted in the loss of 62 Racine jobs, saw the demise of the time-honored Horlick's Malted Milk brand in the US In this May 25, 1975 Journal Times ad, Chicago-based auctioneer Norman Levy & Co. advertised the upcoming June 5 auction of Horlick's production equipment and office furnishings.
Eric Johnson
Get local news delivered to your inbox!
Subscribe to our Daily Headlines newsletter.