By Pamela Selbert Special to the Post-Dispatch

Our first visit to Madison County, Iowa, 30 years ago, had not been planned around the now-famous 19th century covered bridges there, or the longtime annual festival that celebrates them. Back then, until the night before our visit, we didn't even know about the bridges. We pretty much discovered them by accident but were intrigued.
Late one afternoon, en route across the state, we stopped briefly in Des Moines, and while there learned that the birthplace of our childhood hero — silver-screen cowboy John Wayne — was just 35 miles southwest of town, in Winterset. That was much too close to pass up. So we made an unplanned overnight, and stayed at a bed-and-breakfast nearby.
I don't remember the name of the place or exactly where it was, other than somewhere between the two towns. But there was a book lying on the nightstand in our room, a new release by a writer I'd never heard of, Robert James Waller. It was called "The Bridges of Madison County." Winterset, where John Wayne had entered the world and lived his first two years, happened to be in Madison County.
People are also reading…
This 1960 GMC pickup is a replica of the truck used in the movie. The original still belongs to Clint Eastwood and is on display at his hotel in Carmel, California.
Teddy Yaeger


The book is an easy read, a compelling story — and, sitting in the bathroom so my husband could sleep, I stayed up most of the night learning all about the torrid, star-crossed love affair between photographer Robert Kincaid and Italian-war- bride farm wife Francesca Johnson.
I learned later that the book, Waller's first attempt at a novel had taken him just 11 days to complete. Also, that he had grown up in the area and was familiar with the bridges. But although featured prominently, they provide only backdrop to the story. It left me wanting to know more about them.
This was, of course, a couple of years before the movie "The Bridges of Madison County" came out, so at the time we hadn't actually seen — though reading about it was also pretty intense — the flirting at Holliwell Bridge that led to the passionate romance between Robert (Clint Eastwood) and Francesca (Meryl Streep).
I spoke recently with Teddi Yaeger, tourism and marketing specialist for the Madison County Chamber of Commerce. She said that once the movie introduced the quaint wooden masterpieces to the world, visitors from all over began coming to see them. She notes that the Iowa Department of Cultural Affairs has also, because of the bridges, designated Madison County one of 14 Cultural Districts of Iowa.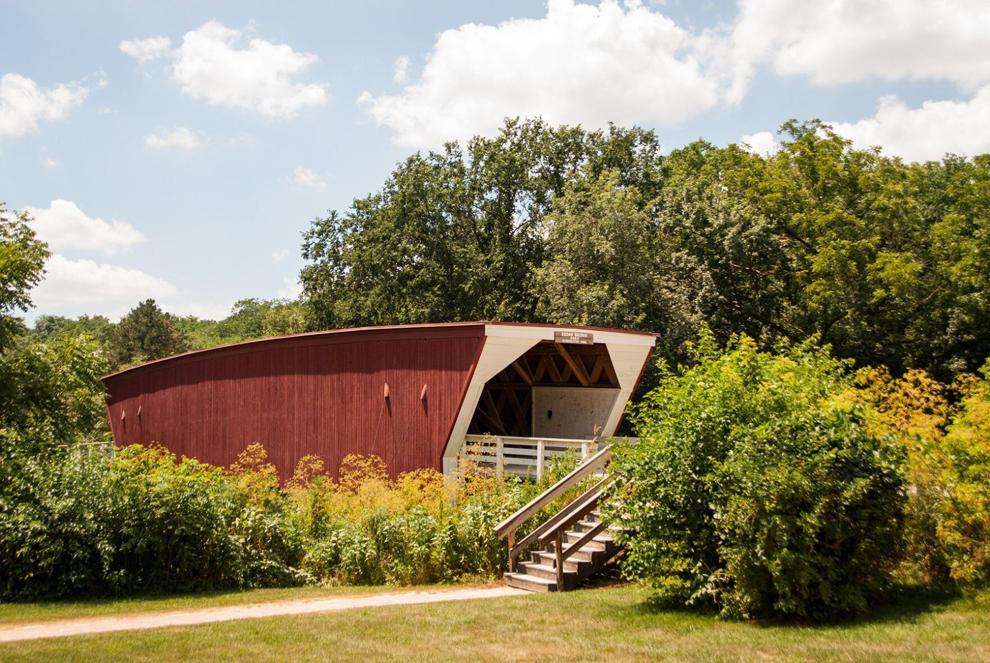 Cedar Covered Bridge was originally built by Harvey P. Jones over Cedar Creek in 1883. It was moved in 1921. A photo of it was used on the cover of the original novel and it was featured in the film. then burned twice by arsonists, it was rebuilt in 2019.
Teddy Yeager, Madison County


She said that for years, after the the annual Madison County Covered Bridge Festival was begun in 1970, it had attracted only local attention. But after the movie's release in 1995, upward of 40,000 visitors began coming for the annual two-day event. More recently it's been drawing about half that number, still significant for a town of just 5,600, she said.
Originally there were 19 covered bridges in Madison County, each with a roof to protect it against the elements (a wood bridge with a roof can last a century; uncovered, about 20 years).
Just six of the bridges remain, all built between 1870 and 1884. Architecture enthusiasts will recognize their construction as a combination of "town lattice truss" and "queen's port" styles, Yaeger said.
Originally, area farmers used many of the bridges, but years ago farming equipment had become too big to fit through them. Once the bridges were no longer used they were moved and replaced, and most were torn down. Those few remaining were renovated in the 1990s with dollars raised by the annual festivals, she said.
The six include the 79-foot long Cutler-Donahoe Bridge, one of two that feature a pitched roof; the four other roofs are flat, a style unique to Madison County, Yaeger says. Originally, the Cutler-Donahoe spanned the North River at nearby Bevington; it was moved to Winterset City Park in 1970.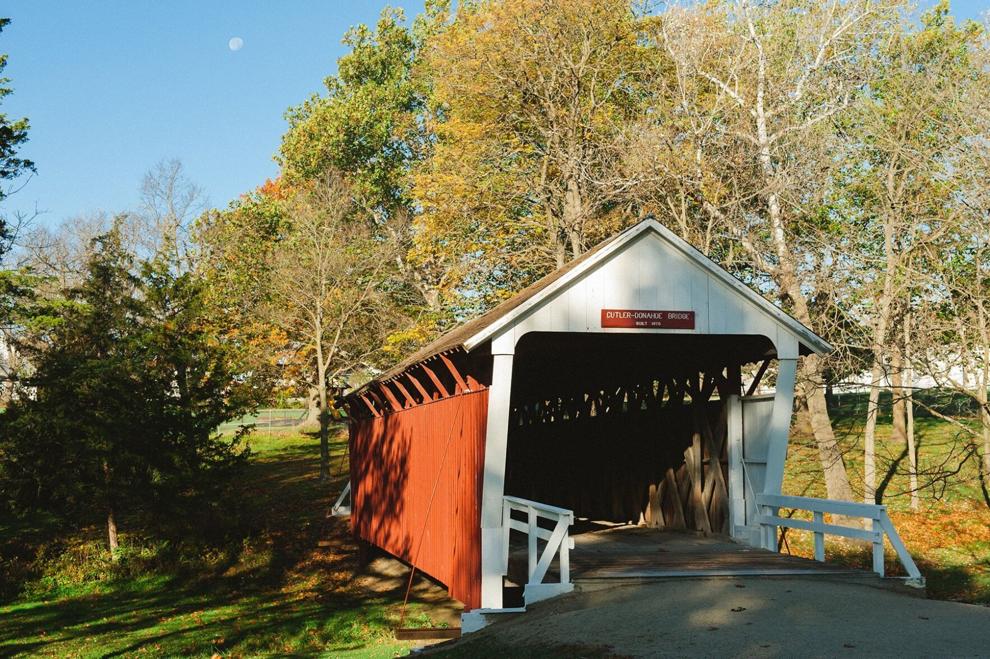 The Cutler-Donahoe Bridge now greets visitors to the Winterset City Park. The 79-foot bridge was built in 1870 by Eli Cox across the North River near Bevington, Iowa, and was moved to this spot in 1979.
Teddy Yeager, Madison County


The 81-foot long Imes Bridge also has a pitched roof. Built in 1870, it's the oldest of the remaining six. Once, it spanned the Middle River at nearby Patterson, but now crosses a "natural ravine" at St. Charles.
The 97-foot long Hogback Covered Bridge is still in its original location in a valley north of Winterset, and the 122-foot long Holliwell (featured in the movie) is the longest of the bridges, and is still at its original site, across the Middle River southeast of town.
The elegant 107-foot long Roseman Bridge, renovated the year Waller's novel came out, is still in its original location. It's the bridge Kincaid is seeking when he stops at Francesca's house for directions. It's also where she leaves a note inviting him to dinner. (Eastwood, who also produced and directed the movie, wanted the bridge to look as it had before renovation, so the Warner Bros. crew was allowed to "distress" it, provided that when filming was complete it would be returned to its renovated state , Yaeger said.)
The six bridges were all listed on the National Register of Historic Places in the 1970s. Today, just five remain on the register. The 76-foot long Cedar Bridge — its photo appears on the cover of the novel — was removed 20 years ago. Yaeger explains.
Built across Cedar Creek north of Winterset in 1883, it was rebuilt 38 years later at a new location over the same creek, where it is today. But twice it's been nearly destroyed by arson, in 2002 and 2017, and although rebuilt to original specifications, in 2004 and again in 2019, it's not original and no longer qualifies.
Maps to the bridges' locations are available in Winterset at the Madison County Welcome Center, 73 Jefferson Street, and at madisoncounty.com.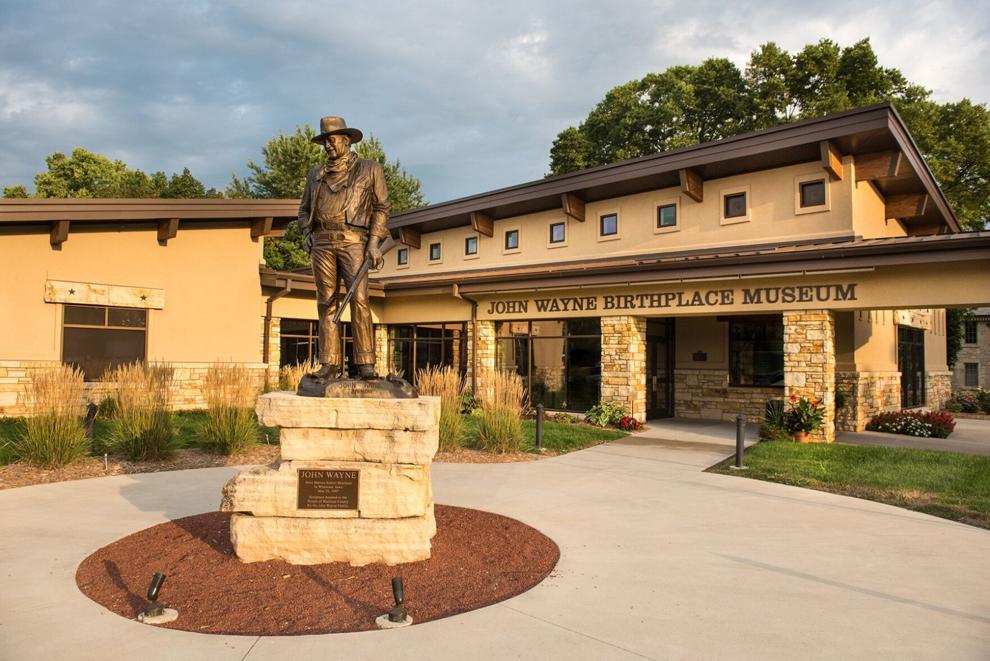 The John Wayne Memorial celebrates the birth of the Duke at Winterset in 1907.
Teddi Yeager co/Madison County


John Wayne's birthplace, and the nearby John Wayne Museum, which opened in 2015, are also popular tourist attractions. Like most kids of the 1950s, I remember the thrill of being taken to see any film the rugged cowboy hero was appearing in (and one always seemed to be showing).
He was born Marion Morrison in Winterset in 1907, the year after his family moved to town. His pharmacist father moved the family frequently, but during their short time in Winterset, they lived in a modest four-room clapboard bungalow. In 1909 they moved on, eventually, in 1914, to California, where the elder Morrison opened a drug store, and the son would become a movie legend.
Over his nearly 50-year career, Wayne appeared in more than 200 films (more than 150 in which he was listed in the credits), said Liz Hansen, director of the 10,000-square foot John Wayne Museum. It's the only museum anywhere to the actor, she says, with many of his personal effects and movie memorabilia on display. ($20; johnwaynebirthplace.museum)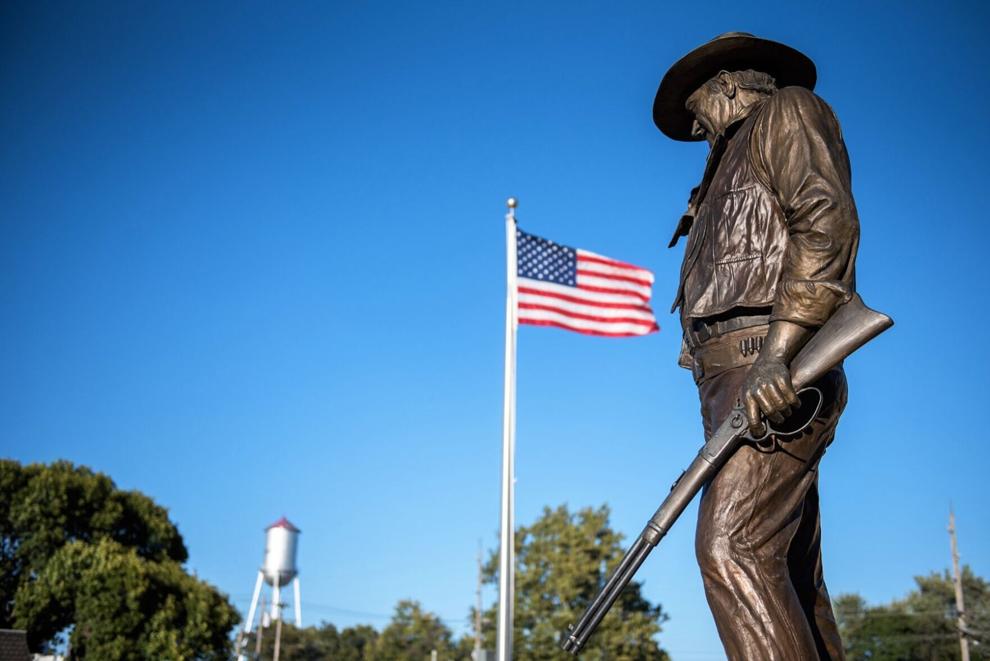 The John Wayne Memorial celebrates the birth of the Duke at Winterset in 1907.
Teddi Yeager co/Madison County


The birthplace and museum will, of course, both be open during the upcoming 53rd Madison County Covered Bridge Festival. The two-day celebration is held 9 am to 5 pm Oct. 8-9 at Madison County Courthouse Square in Winterset.
Festival events include a 5K Bridge Run; covered bridge tours; the 37th Annual Madison County Car Show; antique vehicle parade; arts, crafts and food booths (about 150 vendors, says Yaeger); and Passport to the Past (featuring activities for kids, such as scavenger hunts, old-fashioned games, storytelling, courthouse tours and more). A Civil War skirmish re-enactment, including a cannon firing will be held Saturday. (Yaeger noted that although no Civil War battles took place here, Iowa sent more men per capita to fight for the Union than any other state — 76,534 from Iowa's then population of 674,913.) There will also be live music and other entertainment at several venues throughout the two days.
IF YOU GO
Getting there: Madison County is about 5 1/2 hours from St. Louis by car.
More info: Madison County Chamber and Welcome Center, 73 Jefferson Street, Winterset, Iowa; 515-462-1185; madisoncounty.com
Stay up to date on life and culture in St. Louis.