RACINE — Building Unity was in town Thursday and will be again Friday as part of a three-month Democracy Tour.
Building Unity volunteers distributed information on voting, ensured people had information about the upcoming election, supported strikers from CNH Industrial, and celebrated the first day of National Hispanic Heritage Month.
The nonprofit touts itself as "helping people all over Wisconsin to find each other and come together to build a united movement that leaves nobody out."
On the second stop of the day, volunteers met at the Badger Plaza Shopping Center, 4003 Durand Ave., and were serenaded by a mariachi band as they rallied for democracy.
In honor of the first day of National Hispanic Heritage Month, a mariachi band was on hand to open Thursday's event at Badger Plaza Shopping Center.
Alex Rodriguez
In addition to registering voters, they encouraged people to check their voter registration to ensure there would be no issues on Election Day. They were not promoting any specific candidate.
People are also reading…
Tom Cordon, from Building Unity, addressed those in attendance and said, "Building Unity is about building a people's movement that is for everyone: workers, women, immigrants, LGTBQIA+ people, people with disabilities, people who need help, poor, rich, whoever you are."
"We want to build a movement that leaves no one out because right now the world needs us to come together," Cordon said. "Enough hate. Enough Division."
United Racine, the local organization fulfilling the mission of Building Unity, is helping organize the events.
Democracy Tour today
8:30-9:30 am: Main Project and Cafe, 1014 State St.
10:00am-12:45pm: The Branch, 1501 Washington Ave.
voting
County Supervisor Olga White addressed those gathered to talk about the importance of voting — even during those times when it seems like it doesn't matter.
She reminded those gathered that Latinos faced voting discrimination until 1975, a reference to the Voting Rights Act extension that finally provided protections for voters whose primary language was not English — including Hispanic voters, Alaskan indigenous populations and Native Americans.
"For some of us, that was yesterday," she said.
There has been progress in the last four years, White continued, but there needs to be more progress and "your vote does matter."
County Supervisor Jody Spencer was on hand to talk about some important dates for voting and the options people had for casting their ballots.
"There's a lot at stake in eight weeks and we have some options for voting," she said while promoting vote by mail because it is easy and there is no worry something might come up on Election Day that would cause someone to miss going to the polls.
She promoted the website myvote.wi.gov where people can see who is on the ballot, order their ballot, and track it through the process.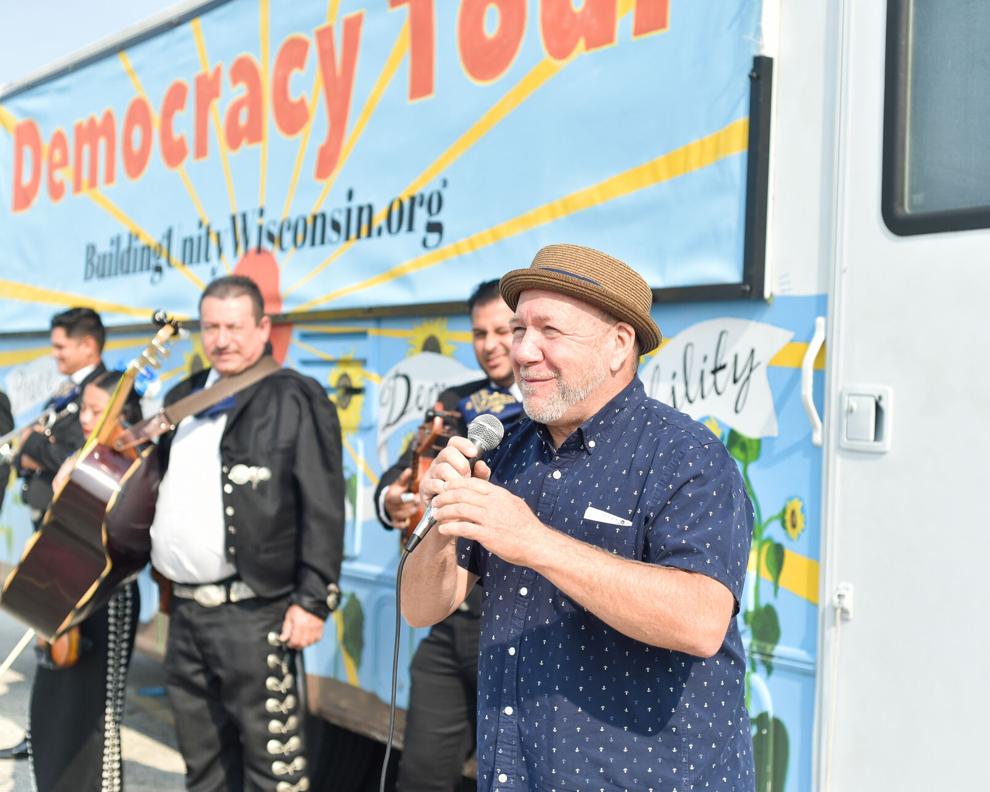 Scott Metzell, from HOPES Center of Racine, tells those in the audience while Democracy may sometimes be noisy, there are ways around the noise to get good information and make informed voting choices.
Alex Rodriguez
Scott Metzel, from HOPES Center of Racine, a mission partner of the Racine Dominicans, said all the affiliated groups are "committed to truth and compelled to justice."
The HOPES Center works on assisting the homeless population of Racine on a number of issues, including obtaining permanent housing and health care, including mental health care.
Metzel noted a number of laws that have assisted him in his work, including the Affordable Care Act and the HEARTH Act, which assists organizations that aid the homeless population.
He pointed out those pieces of legislation and others were made possible by the people who were voted into office.
"Democracy is a noisy thing … especially when it comes to voting," Metzel said.
He pointed out there were ways to obtain an informed vote without all the noise. For example, voters can go to congress.gov to see how their representatives voted.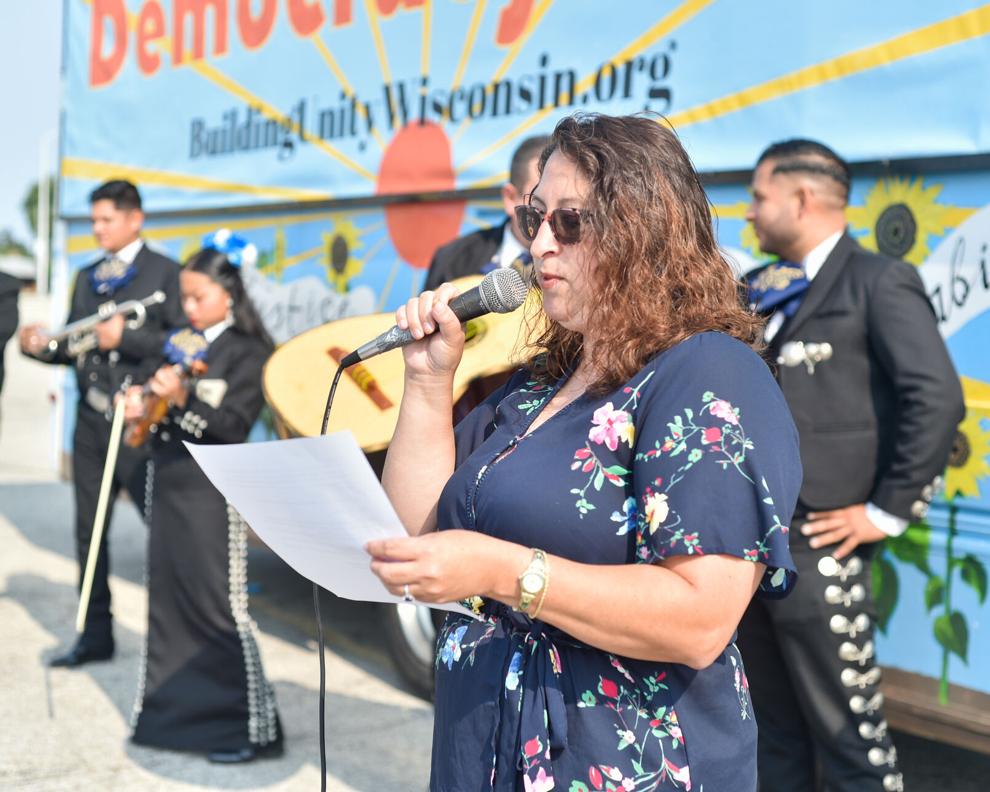 Maria Feliz, co-owner of Beachside Oasis as North Beach, opened Thursday's event at the Badger Plaza with a reminder that September 15 marks the start of National Hispanic Heritage Month.
Alex Rodriguez
"Even though there is a lot of noise," he said, "we have the ability to see how our representatives voted and whether we agree with that or not."
After looking at those votes, the person can then decide whether or not to vote for that candidate.
"We have that ability," he said, "and I hope we use it to make informed votes."
Pick line
The first stop of the day took Building Unity to the picket line where United Auto Workers Local 180 has been on strike since May 2.
Cordon said, "We came to stand in solidarity with you folks and give you an opportunity to speak your peace."
The strikers called out that they did not know what was going on, and they "were being kept in the dark."
Kelly Peters, of Kenosha, took the mic and said they would continue to strike until they had better wages and benefits.
"We've been pushed aside for quite some time, and it's time for us to stand strong and make it happen," she said adding it was "time for the company to come to its senses and get people back to work."
Peters told The Journal Times she has been employed at CNH for 12 years and her son has been employed there for 11 years.
Building Unity's first stop on Thursday was to meet with UAW Local 180 members on the picket line. Strikers insist they want what everybody wants; that is, a dare they can live on. One striker said, "We're not asking for the world here."
Subscribe to our Daily Headlines newsletter.