Editor's note: Posts from the Community is the place for community announcements and event postings. If you have a community-oriented event you feel our readers would be interested in, please submit here.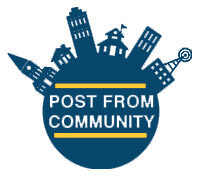 Deaf storytellers will take the stage at Ex Fabula's 4th Annual Deaf Stories Project StorySlam Wednesday, November 9th at 7 pm! This year's event will take place at Anodyne Coffee, Walkers Point, and is free and open to the public.
Deaf Milwaukee community members will share true and personal stories on the theme of "Explosive Encounters" an ASL to spoken English interpretation will be provided for the hearing audience. These stories will be about surprises, confrontations, miscommunications, and accidents – happy or otherwise. Reserve your tickets today!
The Deaf Stories Project is a collaboration between Ex Fabula, The Milwaukee Public Library, and the Milwaukee Deaf community in an effort to center the experiences of Deaf individuals. The project is also supported by Bader Philanthropies and Ex Fabula members. For more information about this work visit our website: www.exfabula.org/dsp.
Ex Fabula is a nonprofit that has been connecting Milwaukee through real stories since 2009. Check out our website for more public event offerings, storytelling workshops, and partnership opportunities.