Filing deadline closes for spring elections; Racine mayor, districts 11 and 13 will be contested races
RACINE — Tuesday was the filing deadline for those looking to have their names included on the ballot for spring elections. For the city, districts with odd numbers, and the office of the mayor will be on the ballot.
The spring primary is Feb. 21 and election day is April 4, 2023.
Racine Mayor Cory Mason discusses economic development, crime prevention, voting rights and other issues Monday while announcing his re-election bid outdoors at Monument Square.
Scott Williams
There will be three candidates for mayor, including the incumbent Cory Mason.
Henry Perez, currently an alderman, and former Racine Civic Center Commission chairman Jim DeMatthew have also announced they will be running for mayor.
Mason announced his reelection on Monday in front of a crowd gathered on Monument Square.
He touted the expansion of development projects since he has been mayor, including the still-under-construction Verdant Hotel, among his successes, which he hopes to continue if reelected.
People are also reading…
"Our progress is just getting started," Mason said. "We can't stop now."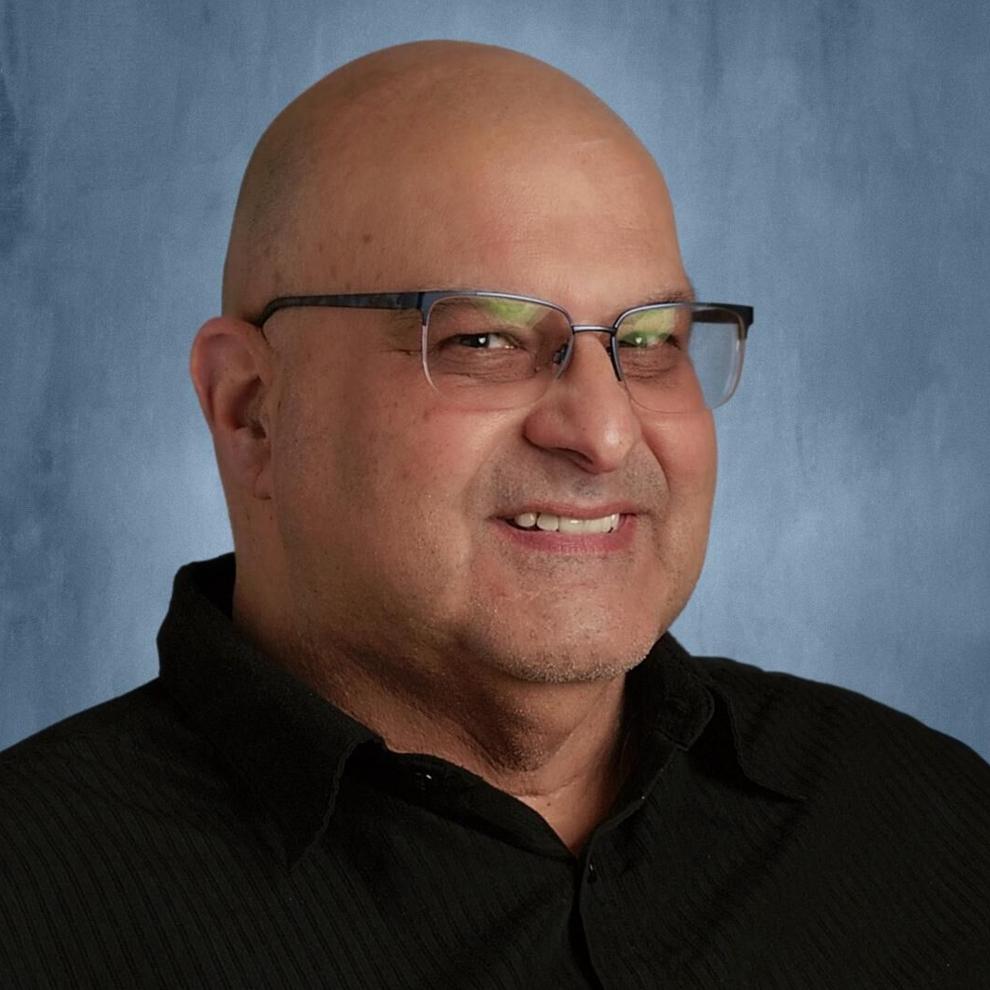 Perez
Perez announced his candidacy in November. He told the Journal Times he was motivated to run, in part, by the spike in violent crime, which he felt could have had a stronger response from the mayor's office.
Perez was a police officer in Miami for 18 years and has frequently been the voice of public safety on city council.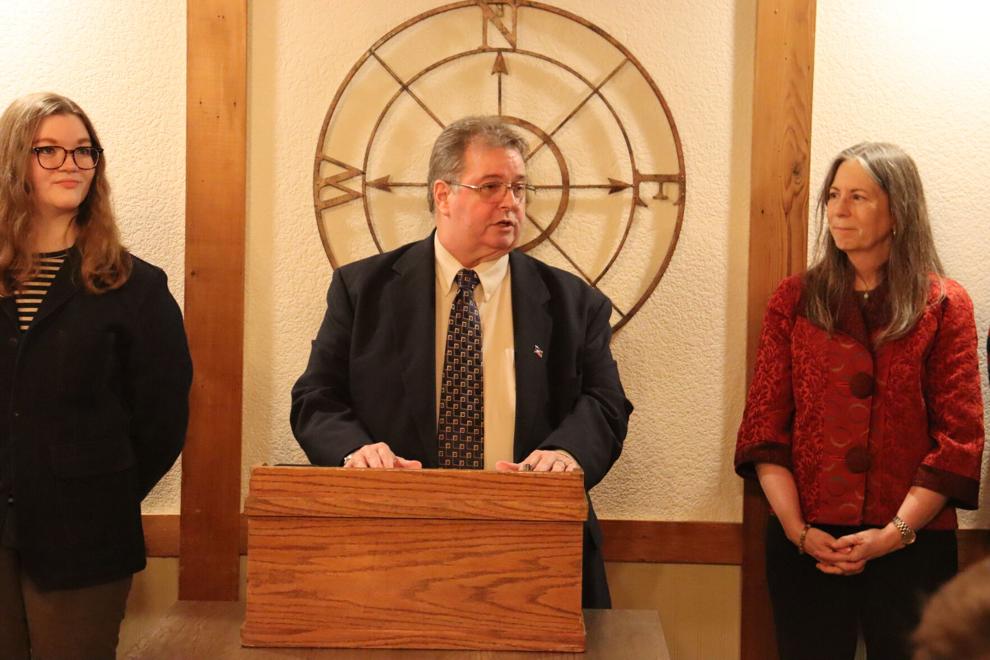 Jim DeMatthew, center, announced on Monday that he intends to run for Mayor of Racine. At left is his daughter, Dana, and at right is his wife, Kathleen.
Dee Holzel
James DeMatthew announced his candidacy for mayor in November, shortly after Perez.
Reflecting on the Racine he knew growing up, with thriving companies and successful schools, he described the city as "fallen on hard times" with high crime rates and a population in decline.
DeMatthew said with the right leadership it is possible to turn things around.
"This campaign is about restoring Racine by supporting public safety, improving amenities, creating our next economy and focusing on growth and development," he said.
3rd District
Olivia Turquoise Davis has filed for the seat that will be vacated by John Tate II, who previously announced he would not be seeking reelection.
Davis said serving on the City Council was a longtime ambition and the time was right.
"I felt it was time to step up," she said.
Davis said she intends to pay attention and see where she can best put her talents on the council.
Jeff Coe, Melissa Kaprelian, Maurice Horton, Terry McCarthy and Cory Sebastian are all running unopposed.
Contested races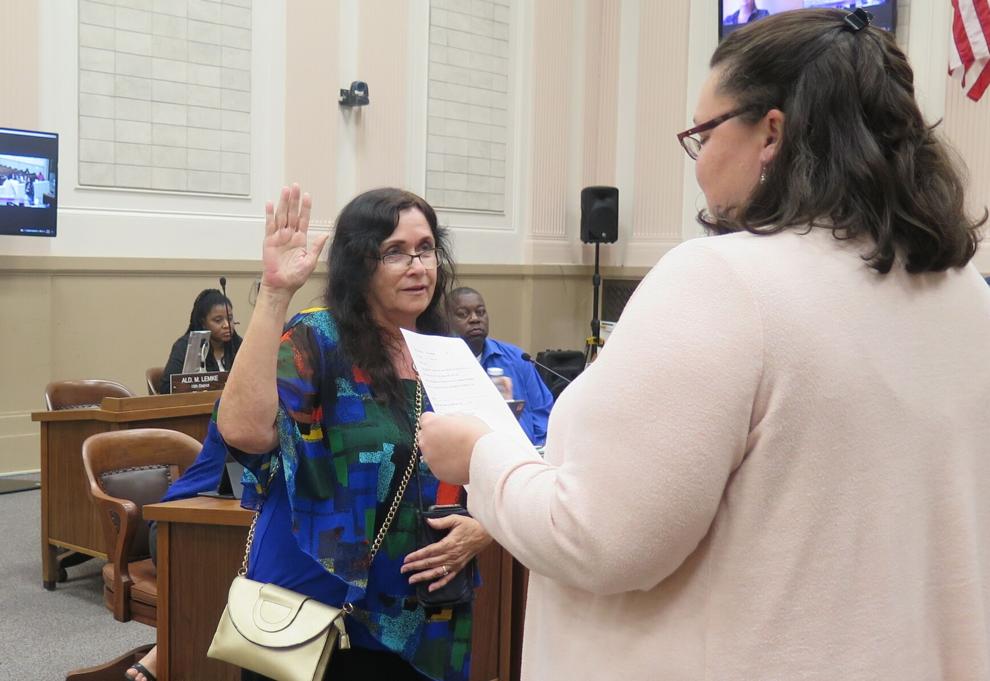 Mary Land, left, was appointed Tuesday by unanimous vote to the Racine City Council. Here, she is being sworn in by City Clerk Tara McMenamin.
Dee Holzel
In district 11, Mary Land is seeking reelection and is being challenged by Michael Hansen.
Land was appointed in October and previously served two terms on the City Council.
She said if elected in April one of the primary issues in her next term would be addressing issues of public safety – in particular having more officers hired and retained, which would go a long way toward providing better working conditions for the city's officers.
Land said she would like to see more youth programs in the city, which helps keep young people out of trouble and away from gangs that have been the cause of so much of the city's violence.
Another program Land supports and would like to see expanded are the residential TIDs that allow people to improve their homes.
That is one step toward growing the tax base, which she sees as important to the city. Land also noted the importance of development within the city, especially housing, which would also help grow the tax base.
For her constituents, she said quality of life issues are always important. The public wants to see the city continue working to maintain the nice parks and other resources, such as North Beach.
Land said serving on the City Council has been a good experience.
"I really enjoy serving the people and helping with their issues," she said.
The boundaries of Land's district changed during redistricting. She said she has enjoyed getting out and meeting the new constituents.
Hansen has also filed to represent district 11.
He said he has been paying attention and decided to run for election to help change the direction the city has taken.
A longtime resident of the city, Hansen points to the 1990s when the city spent money on crime prevention, investing in programs such as Neighborhood Watch.
He feels the money being spent on tax incentives for developers, such as the Regency Mall redevelopment, should be redirected to the community.
Hansen is especially concerned about the tax situation and said the council should be working to lower taxes. Taxes are too high, he said, and should be lowered to a rate that would allow small businesses who have left for other municipalities to return to the city.
He added in his communications with police, fire personnel, and employees from the Department of Public Works he sees how frustrated the city's workforce has become – particularly with the personnel shortages.
"They don't like what's going on," he said.
Hansen expressed his concern about gun violence and said, "I want to make sure people do not have to worry about someone shooting up their neighborhood."
district 13
In district 13, Alderman Natalia Taft is seeking a third term in a contested race that saw Renee Kelly also file for the seat.
Taft said she was "honored and humbled by the ability to serve the city."
"It's been a real privilege," she said to work with the caliber of people on the City Council and staff who were working collaboratively to direct the city to a more positive position.
Taft said there was much to be proud of in the last few years, pointing out the city has had more development in the last five years than it had in the previous 20 years.
Taft is chairman of the Finance and Personnel Committee as well as the city's Wastewater Commission. She said she was particularly proud of the work done by the commission, with special reference to the grants to replace lateral lead pipes.
She described her support for the many programs the city has enacted to assist its residents, such as the Financial Empowerment Center and the many grants to assist homeowners with their property.
"These are programs geared toward helping people," she said.
Taft pointed to efforts by the council to achieve more environmental sustainability as well as long-term fiscal health.
In terms of public safety, she said she has reached out and worked on obtaining a good partnership with the Racine Police Department to "do all the things we need to do to keep our neighborhoods safe."
She pointed to the fact the Racine Police Department was able to apply for funding from the city to purchase ballistics technology that allows officers to match a gun to a crime in a timelier manner, rather than waiting for an outside agency to make the match.
Additionally, she noted the creation of the anti-violence task force that brought the city, county, school district, and other organizations together for a new partnership to address the issue of violence.
She said addressing the violence experienced in the city would take time, but the city was doing everything it could to keep neighborhoods safe.
Taft said the partnerships and collaborations were an important aspect of being a council member and added, "It was a pleasure to work with all of these people because everyone wants what's best for our citizens."
Renee Kelly said she decided to run for a seat on the City Council to address issues that she sees as having gone unaddressed, particularly public safety, which she called her number one issue.
Kelly's home was hit by 13 bullets during the Graceland Cemetery shooting in June. She said having her home affected really pushed her into the public safety sphere – especially after public officials such as the district attorney and police chief did not return her calls when she reached out about her concerns.
She began researching issues of public safety and communicating with her neighbors to discuss the issues in their neighborhood, which they felt were going unaddressed by the current administration.
"So I thought I can do this," she said about seeking public office.
She described herself as having a passion for working with people to resolve issues. She added her workstyle was "boots on the ground" – that is, getting out and working with people.
Kelly said she also has a concern about transparency in government and taxation. She expressed a concern that people were getting taxed out of the neighborhood, and businesses were leaving for municipalities with lower tax rates.
"We need to resolve this," Kelly said.
Get local news delivered to your inbox!
Subscribe to our Daily Headlines newsletter.