'Gotta Raise My Game': Aaron Rodgers Finally Accepts Accountability as Green Bay's Losing Streak Extends to Four After Bills Loss
The Packers are spiraling downward this season. The franchise may not have experienced such a decline after Aaron Rodgers took over. The team suffered another defeat at the hands of the Buffalo Bills, extending their multi-game losing streak. Rodgers is experiencing a difficult time. However, the QB1 is not blaming everyone else. He took the entire accountability on his shoulders.
ADVERTISEMENT
Article continues below this ad
Aaron Rodgers and the team gave a hard fight to the Bills. But they failed to snap their losing streak. With a 27-17 advantage, the Bills decimated them. Green Bay is at a crossroads because of its inability to recover from its dismal winless skid. But Rodgers called he stands accountable for the continuous losses this season.
ADVERTISEMENT
Article continues below this ad
During the Sunday post-game media scrum, Rodgers expressed, "It just depends on how we're going to play. You know, tonight uh limited attempts for most of the game. We're running football, so it just depends on how we want to play it. If there's more opportunities, then uh gotta raise my game. If it's like tonight, you know, just got to manage the game."
NFL Football – Green Bay Packers v New York Giants – Tottenham Hotspur Stadium, London, Britain – October 9, 2022 Green Bay Packers' Aaron Rodgers in action Action Images via Reuters/Matthew Childs
The offensive line for the Packers was lacking star power. Allen Lazard and Randall Cobb were out due to injuries. Therefore, the team was shorthanded. They also sidelined Christian Watson because of a concussion. It was a radical setback for A-Rod because he lacked essential players.
DIVE DEEPER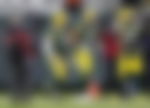 The Packers' defeat to the Bills makes it their fourth consecutive after failing against the Giants, Jets, and the Commanders. It is yet to see if they can ricochet back into the playoff contention.
Aaron Rodgers needs a win to shift into the winning momentum
The Packers' four-game losing streak could be an indication that the franchise may not propel into playoff contention. However, Aaron Rodgers has lost no hope. The QB1 still believes that he needs one win to switch the momentum in their hands.
ADVERTISEMENT
Article continues below this ad
During the Sunday post-game media scrum, the QB1 mentioned that nobody feels bad for us, and they need to understand how to win one game. He believes that if they can get one, the absolute momentum will shift on their behalf. Rodgers also stated that he felt more energized before the matchup and within the locker room than it does in prior weeks.
ADVERTISEMENT
Article continues below this ad
Will the Packers hit the one lucky shot? Or will doomsday land upon them? It is subject to witness.
Watch This Story: Aaron Rodgers has his say on friend and former teammate Davante Adams getting into legal trouble