A new transportation hub recently opened beneath the iconic Grand Central Station in New York City. Grand Central Madison connects the Long Island Rail Road (LIRR), a commuter train that services Long Island, with bustling Midtown Manhattan. The hub will shorten commutes for 45% of LIRR riders.
The 700,000 square-foot terminal, which has been decades in the making, cost more than $11 billion. It is the largest passenger rail terminal to be built in the United States since the 1950s and represents the biggest expansion for the LIRR in more than a century. Visitors and commuters will have access to 25 retail stores and several entrances into Grand Central, which is on the East Side of New York City. In the past, LIRR commuters had to travel to the West Side, adding to their commute time.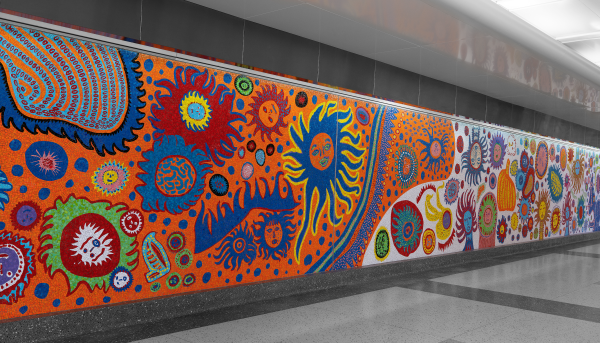 NEW ARTWORK
In addition to its design and construction, the station stands out because of its stunning artwork. MTA (Metropolitan Transportation Authority) Arts & Design oversees all artwork commissioned for the New York City transit system.
I recently spoke with Sandra Bloodworth, director of MTA Arts & Design, via Zoom. She explained that since its founding in 1985, the program has commissioned several works of art for the MTA. The art has been added to refurbished subway stations and transit hubs.
Bloodworth said that the artwork should connect with riders in a special way. "Our goal is to bring art into the stations in order to improve the journey for our customers," she said. "But it's more than that. We want to create work that speaks to the people who are using a particular station."
"A TREMENDOUS RETURN"
Two renowned artists, Yayoi Kusama and Kiki Smith, were chosen to create large glass mosaics for Grand Central Madison. Kusama's art is playful and engaging, Bloodworth said. "It makes you feel good to experience this work," she added.
Smith created "River Light" and four other works. "As you come down into Grand Central Madison from Grand Central Terminal, you experience it as you walk into the concourse," Bloodworth explained. "It's about light on the East River."
Bloodworth said that "River Light" also connects riders with their journey. To get to Grand Central Madison, the LIRR utilizes a tunnel beneath the East River. The mosaic represents the journey riders take.
Art in the transit system "changes the experience riders have in our system," Bloodworth said. "For this very small investment, you get a tremendous return."