Lucas Robinson | Wisconsin State Journal
Before a rapturous crowd at the state Capitol's Martin Luther King Jr. Day celebration, Pardeep Singh Kaleka's message was the need to listen.
For Kaleka, whose father was killed in the 2012 Oak Creek Sikh Temple shooting, that experience drove him to dedicate his life to bringing those of different cultures and creeds together. He also drew a line between the violence of that day and the 1964 bombing of the 16th Street Baptist Church in Birmingham, another deadly attack perpetrated by white supremacists.
"What we had to choose at the time was the choice to listen," Kaleka said of the 2012 shooting. "When I think about the legacy of Dr. King… I think about our ability to listen as what connects us all."
Kalaanjali Indian Dance Company performs during Wisconsin's 42nd Annual Dr. Martin Luther King Jr. Tribute and Ceremony at the Wisconsin State Capitol rotunda in Madison.
SAMANTHA MADAR, STATE JOURNAL


A former Milwaukee police officer, Kaleka now leads the Interfaith Conference of Greater Milwaukee, with his work there garnering him Wisconsin's MLK Heritage Award at Monday's ceremony.
People are also reading…
"We're not just here celebrating the legacy of a man, but we're celebrating the legacy of a great spirit and this spirit connects us all," he said.
But Wisconsin's 42nd annual Martin Luther King Day celebration was not only a look back at the darkness of the past, but a forward-looking affair complete with impassioned speeches, cross-cultural musical acts and the beauty of the Capitol dome.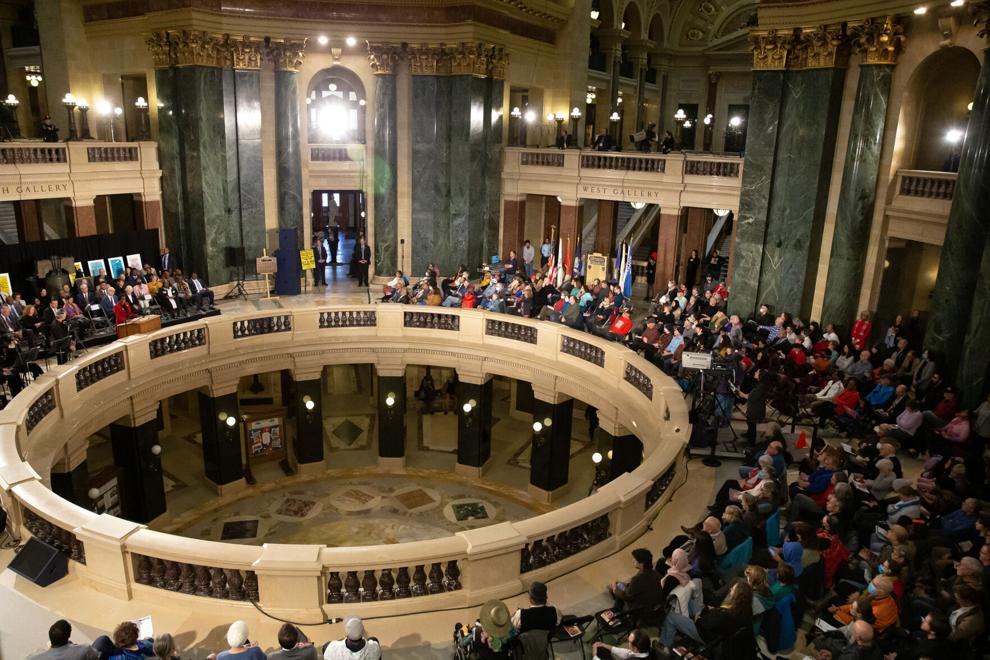 President of Lawrence University, Laurie A. Carter speaks during Wisconsin's 42nd Annual Dr. Martin Luther King Jr. Tribute and Ceremony at the Wisconsin State Capitol rotunda in Madison.
SAMANTHA MADAR, STATE JOURNAL


Marking another proceeding of the longest-running official MLK Day celebration in the US, Gov. Tony Evers made clear that work to combat racism and injustice remains.
"As we reflect on Dr. King's life and lasting legacy, we remember that there is still so much work left to be done," Evers said.
"As Wisconsinites we must work to bridge this divide between where we are today and the sort of future we want to build for our state," the governor said.
Interspersing Monday's speeches was the thump of gospel music from The Brown Sisters of Chicago and civil rights-inspired pieces from the Wisconsin Chamber Orchestra. Keeping true to the event's multicultural message, dancers with the Kalaanjali Indian Dance Company performed at the edge of the rotunda's balcony.
Alongside Kaleka, Carola A. Gaines also received the heritage award for her efforts to curb health care inequities for communities of color during the COVID-19 pandemic.
A driving force behind testing and vaccination sites for Madison's Black community, Gaines used her speech to honor Jonathan Øverby, a renowned ethnomusicologist who is the executive producer of the annual event.
"We stand on your shoulders of service," Gaines said of Øverby.
"I feel a purpose on earth to be a servant," Gaines said. "I try every day to persevere, to be dedicated, passionate, uplift our people and committed to be a part of transformational change."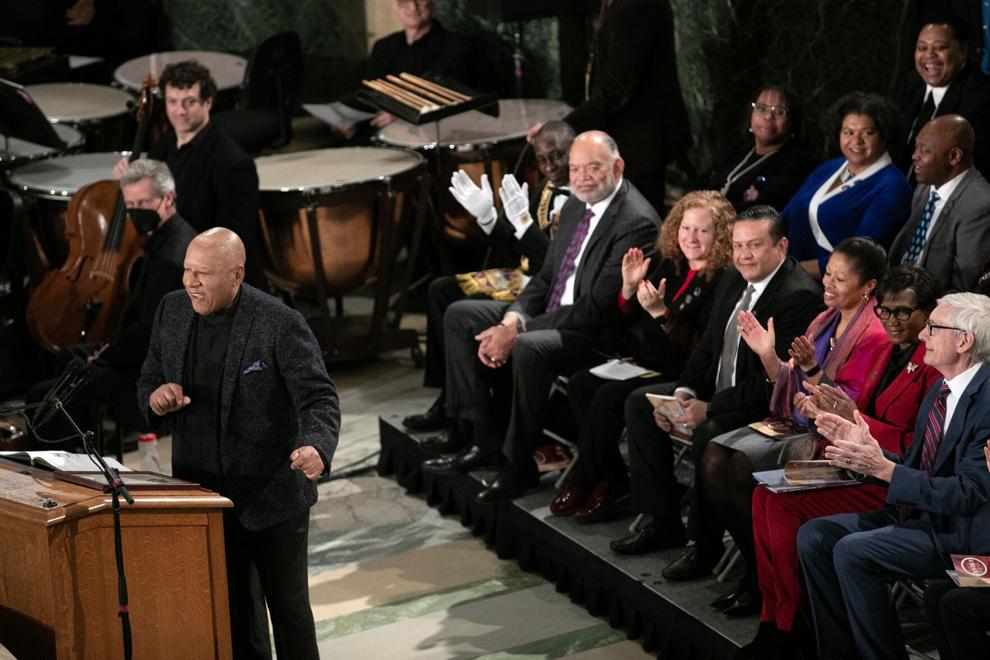 dr Jonathan Øverby dances to the music before speaking at Wisconsin's 42nd Annual Dr. Martin Luther King Jr. Tribute and Ceremony at the Wisconsin State Capitol rotunda in Madison.
SAMANTHA MADAR, STATE JOURNAL


5 films to watch for MLK Day
'Brother John,' 1971
ColumbiaPictures


Sidney Poitier, arguably American cinema's most-influential Black actor, died Jan. 6 at 94. Even after his death, "Brother John" is Poitier's most-overlooked film. The story of John Kane returning to his little hometown in rural Alabama is a tale of pain, suppressed rage and a fate all of us may face because of our inhumanity to one another. Poitier's pivotal scene with co-star Will Geer is one of the best in all of cinema.
'13th,' 2016
Netflix


Want to feel a tad uncomfortable? Want to explore how some "rights" can be used as a way to disenfranchise people? Watch Ava DuVernay's documentary "13th" about our prison system and the 13th Amendment.
'MLK/FBI,' 2020
IFC Films


Everyone claims the cuddly, generic legacy of MLK these days, but there was a dangerous time when powerful forces in this country believed he was a radical. Others claimed he was under "Soviet influence."
The documentary "MLK/FBI" captures an overlooked, important part of history.
'I Am Not Your Negro,' 2016
Magnolia Pictures


Based on an unfinished manuscript from writer and activist James Baldwin, the documentary "I am Not Your Negro" offers us the voices of the people who fought for civil rights and paid dearly in the effort to stand for others.
'In the Heat of the Night,' 1967
MGM Studios


A must watch. "In the Heat of the Night" was not played in many theaters throughout the South. Why? Because Sidney Poitier's Virgil Tibbs raised his voice to the Sparta police chief played by Rod Steiger. An incredible score from Quincy Jones, as well as strong supporting performances from Warren Oates and Lee Grant.
Be the first to know
Get local news delivered to your inbox!