After almost a year of work, a committee is nearly ready to make its recommendations on how to improve safety and wellness in the Madison School District.
The committee was formed last spring in response to ongoing safety concerns across the district and after a number of incidents, including a fight outside of East High School in November 2021 that was met with a heavy police response, students exposed to pepper spray sent to the hospital, and kept more than a third of the student body at home the next day because of threats related to the fight.
People are also reading…
The goals of the committee have been to create district-wide policies relating to student safety and wellness, as well as addressing the root cause of violence happening in schools.
Part of this work was a three-question, open-ended survey that was sent to parents, students and district staff last month.
Thousands of people responded to the survey, and committee members were "heartened" to see how much overlap there was among stakeholders' ideas.
"I think it does encapsulate a really accurate and fair and broad perspective of our whole community," said Mike Jones, president of Madison Teachers Inc.
In the survey, respondents highlighted that there were too many fights and and too much bullying, and unsafe environments throughout schools, all without much accountability.
This week the school district contended with more violent incidents. On Tuesday, a 14-year-old was stabbed in the chest in a park after an incident at a middle school parking lot earlier in the day, and on Wednesday, police were called to East High for a fight between students.
Some survey respondents called for the removal of students who were disruptive in classes. Others want to bring back school resource officers who were removed from schools in 2020. Additional cameras, security and metal detectors in buildings also were recommended.
One large theme from the survey results was a stronger emphasis on mental health for both students and staff. Specifically, respondents said there needs to be more support staff, training, dialogue and resources for those who are struggling.
In terms of nutrition, those who responded said there needed to be higher quality meals and lower prices, as well as provisions on hand for students who face food hardships when they aren't at school.
Ongoing staffing shortages were evident in the responses, too, and having additional staff — specifically counselors, nurses, social workers and other support and wellness staff — was among the recommendations.
Generally, those surveyed said there should be more training in mindfulness, kindness, coping strategies, emergency response, inclusivity, mental health first aid and more.
Some of the ideas people proposed to address the issues included monthly assemblies on safety and wellness, student involvement in setting policies, pet therapy, more after-school options, student safety patrols, changes to the school schedule and peer support groups.
The committee is now working to marry all of its work together to present a handful of recommendations to the School Board next month. To give them enough time to sort through all the information and make their recommendations, committee members decided to meet again on Feb. 2, one week later than originally planned.
Specifically, the committee must now piece the survey results together with an "action grid" it already created, which breaks down a number of areas and issues that need to be addressed, from how school safety plans are implemented to the district's financial investment in mental health support.
District administrators were given an opportunity to review the action items and offer feedback and their own recommendations — which the committee may or may not use when it makes its own recommendations in two weeks.
Some committee members said they felt the administration's recommendations were too vague.
"I'm just hoping our recommendation will be more concrete when we get there because I'm just seeing a lot of room for nothing to happen," said Jessica Hotz, a social studies teacher at East High School.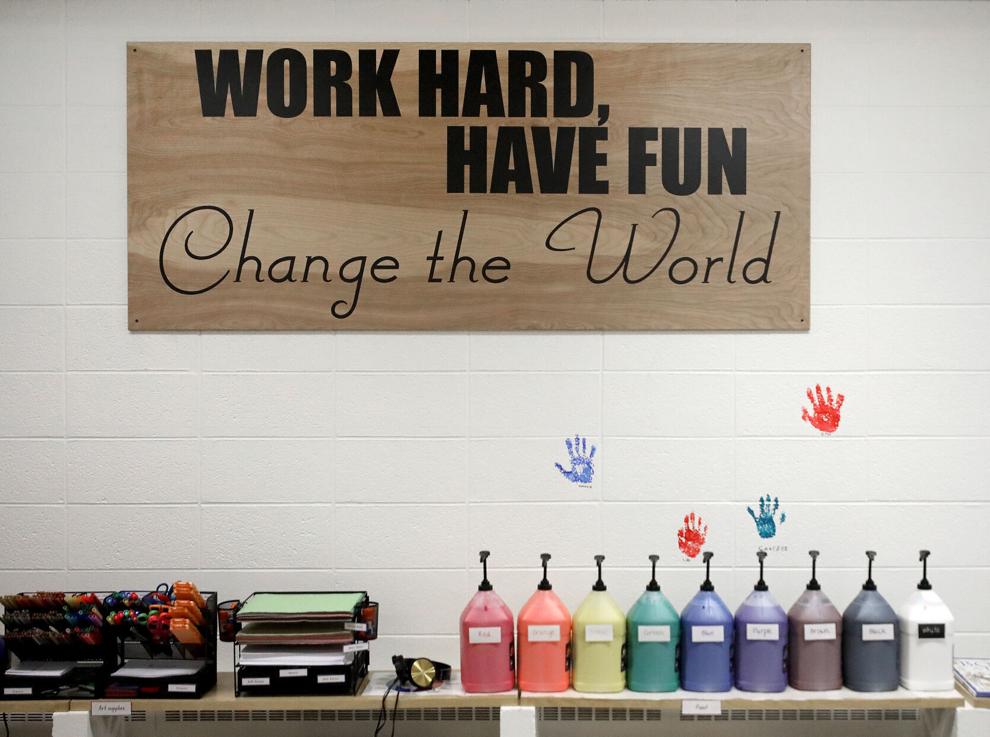 The committee's recommendations will eventually be brought to the School Board, though the board may not need to vote on every action item for it to be implemented, unless it deals with official policy or the budget.
Part of the committee's plan is also to develop a fairly large panel that would continue to oversee implementation of the recommendations. The committee is an ad hoc group, which means it's only temporary and will end once its work is done, but members agreed the work should be continued in some capacity.
The proposed panel would be internal, and not run by the School Board. The members would advise the superintendent directly as the proposals are implemented.
The panel would include the superintendent, one school board member, three parents from each school level, eight students (one from each high school and two middle school students), three community partners, three principals from each school level, and two support staff from security and mental health.
The committee recommended that classroom staff should also be part of the panel.
Want to see more like this?
Get our local education coverage delivered directly to your inbox.