'We're being censored' by Facebook, attendee podcasters say
The scene for the "Rally Against Censorship" at the Lone Star Convention & Expo Center, Thursday, Jan. 26, 2023, in Conroe. The event, hosted by Conroe-based right wing book publisher Defiance Press & Publishing, featured 11 speakers and authors, including Kyle Rittenhouse. The 20-year-old Illinois native was acquitted of fatally shooting two men during protests in Kenosha, Wisc., in 2020.Jason Fochtman/Houston Chronicle
Kim and Dakota Moyers, producers of the podcast "The Logbook," stood in line for the "rally against censorship" with their 2-year-old daughter Beatrice. The Moyers family had been podcasting for five months, covering topics such as veterans issues.
After posting several videos about the Veteran Affairs Office on Facebook, the couple noticed that they were being taken down, claiming the social media site's reasoning was due to "political content."
"We're being censored," said Dakota Moyers, 32, from Cypress. "And we're so small."
His wife, 39, shared the same sentiment.
"We need to all stand together at this point," she said.
As the couple waited to enter the venue, they conducted interviews for their podcast.
"These are regular, everyday people," Dakota Moyers said.
-Michael Garcia
Conroe convention center set up for hundreds of attendees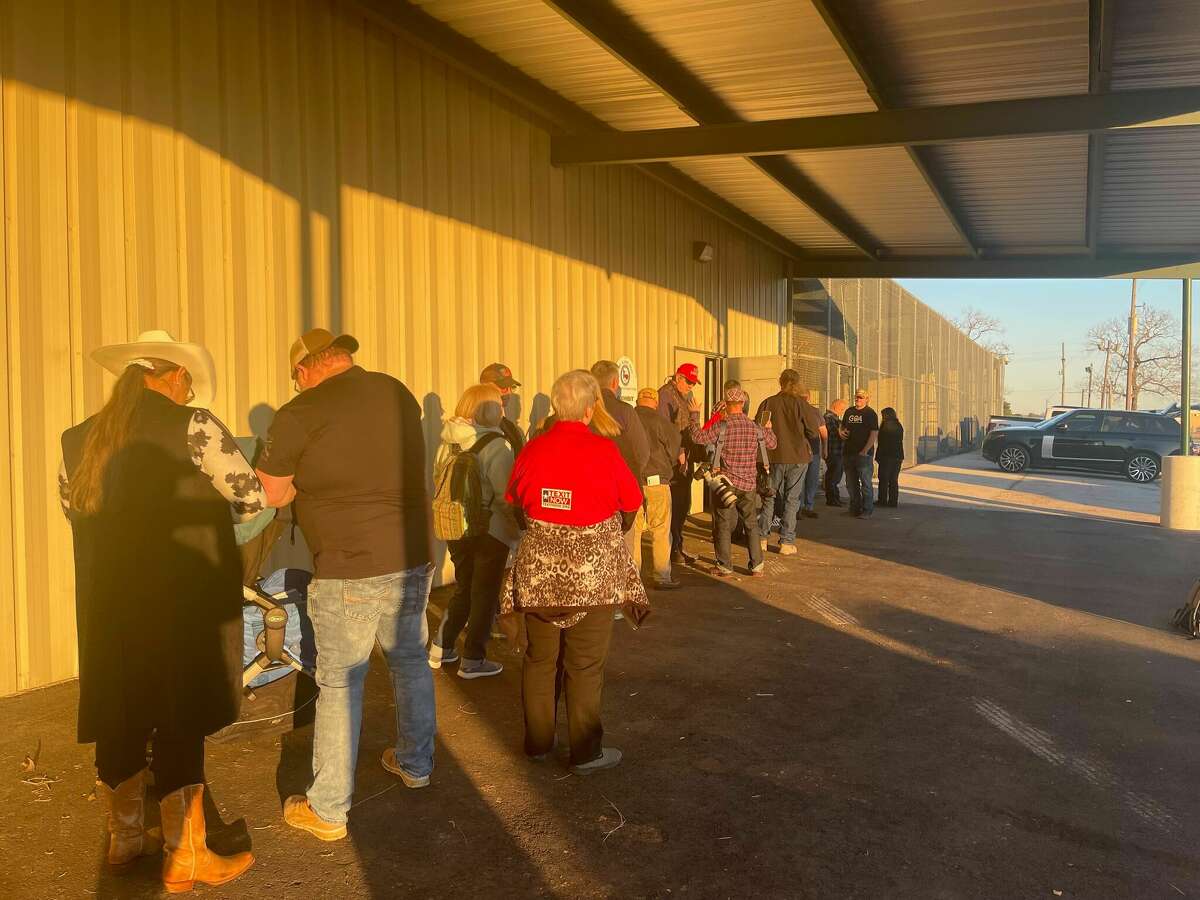 Attendees wait to enter the Lone Star Convention Center for an anti-censorship rally on Thursday, January 26, 2023
Michael Garcia
About 20 people waited outside one of the entrances to the Lone Star Convention Center as the doors were set to open for Thursday's rally.
Wearing a Highlanders sweatshirt and eating a funnel cake as he waited in line, 14-year-old Woodlands High School student Anthony Austin drove to Conroe with his dad to see Rittenhouse.
"We like what he stands for," Austin said. "Standing up for himself, protecting himself and using his Second Amendment rights."
When people entered, they found a room set up with more than 300 chairs and 18 tables with more chairs around them.
A backdrop of the Alamo was the focal point of the room as organizers continued to set up for the rally.
In the back of the room, information booths were set up by TEXIT, Gun Owners of America, Texas Fully Loaded, the Montgomery County Tea Party PAC and Montgomery County Texas GOP.
Organizers ordered dozens of pizzas from Dominoes to feed attendees.
-Michael Garcia, Catherine Dominguez, Claire Partain
Texit secessionists among attendees at Rittenhouse rally
Joe Richards, 76, a member of the Texas Nationalist Movement, a secessionist group, drove half an hour from his Woodville home to attend the rally claiming the censorship in America troubles him.
"Hopefully we can find a solution," Richards said.
Another member of the movement, Troy Jones, 57, drove five hours from Paris, Texas, to attend the rally. Jones has been a member of the movement for ten years.
Jones said he heard about the event from the movement's president, Daniel Miller, who held an online forum Wednesday night.
"I want to know how we can get our freedoms back … and stop the censorship," he said.
The Texas Nationalist Movement was established in Nederland in 2004 and claims to have more than 400,000 members. The group argues that Texas should secede from the United States, something that the Supreme Court in 1869 ruled states did not have the power to do.
-Michael Garcia, John Wayne Ferguson
Some Rittenhouse supporters, volunteers show up early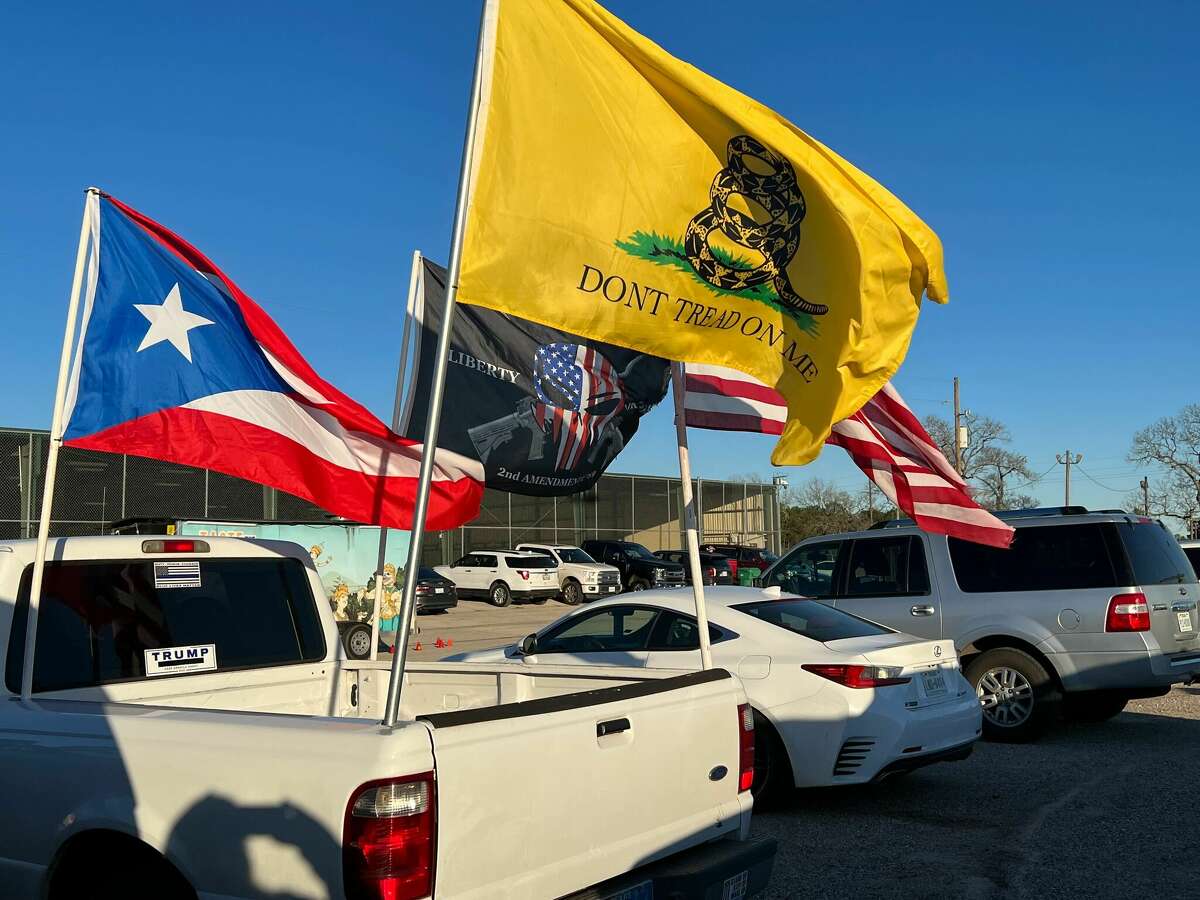 A truck displaying flags parked outside the Lone Star Convention Center in Conroe on Thursday, Jan. 26, 2023. Kyle Rittenhouse was scheduled to appear at a rally being held at the convention centers on Thursday night
Catherine Dominguez
Several volunteers and a few attendees showed up Thursday afternoon at Montgomery County's Lone Star Convention Center for the "rally against censorship," including Bettye Sue, 60, from Porter, about 20 miles north of Conroe.
Sue found out about the rally through a friend on Twitter and signed up to volunteer right away in support of Rittenhouse, the 20-year-old Illinois native acquitted of fatally shooting two men during protests in Kenosha, Wis., in 2020.
"I honestly believe he did what he needed to do," she said. "It was a hard thing he did, tough thing."
Volunteers were setting up signs and putting out merchandise ahead of the arrival of attendees.
About 50 vehicles were in the parking lot before 5 pm, including a truck displaying a US Flag, the Gadsden "Don't Tread on Me" flag, a 2nd Amendment supporter flag decorated with a Punisher-style skull and a Puerto Rican flag.
Some attendees will be let into the convention center for a VIP event starting at 5:30 pm General admission will open at 6 pm The main event will begin at about 7 pm, organizers said.
-Michael Garcia, John Wayne Ferguson
Why Rittenhouse rally was moved from Conroe brewery
The "Rally Against Censorship" was first scheduled to take place at Southern Star Brewery in Conroe. Two days later, the brewery backed out.
"Southern Star Brewery is an apolitical organization, but we feel that this event doesn't reflect our own values ​​and we could not in good faith continue to rent our space for the event on 1/26," the brewery said on Facebook. "We don't do rallies, we make beer for people who like beer."
Southern Star Brewery CEO Dave Fougeron said he didn't know that the rally would include Rittenhouse. But it wasn't Rittenhouse that caused him to cancel; Ultimately, he said it was his customers' response.
"I canceled the event plain and simple because my customers were dissatisfied," Fougeron said. "I'm not political, my company sure isn't political. We make beer."
The rally was then moved to the Lone Star Convention Center.
Five days after Southern Star canceled, a private reception featuring Rittenhouse at the Oak Room in Las Vegas' Venetian Resort was also canceled. Property owners Grand Canal Shoppes said the National Association for Gun Rights-sponsored event did not "align with (the) property's values."
Rittenhouse blamed the cancellations on the "woke mob."
– Claire Partain
What to know about Rittenhouse as Conroe rally kicks off
Rittenhouse's claim to fame is unconventional. The 20-year-old made national headlines when he was tried and later acquitted of five charges after fatally shooting two men and wounding a third during Black Lives Matter street protests in Kenosha, Wisconsin, in 2020.
The then-17-year-old shot and killed Joseph Rosenbaum, 36, and Anthony Huber, 26, and injured 26-year-old Gaige Grosskreutz with an assault-style rifle during protests over the police shooting of Jacob Blake, an unarmed Black man.
Prosecutors argued that Illinois-native Rittenhouse intentionally entered a tense situation with a deadly weapon. Rittenhouse claimed he attended the protests to protect private property and acted in self-defense.
The Nov. 2021 trial stirred up national interest. After four days, the jury acquitted Rittenhouse on all five charges, including first-degree intentional homicide, first-degree reckless homicide, first-degree attempted intentional homicide and two counts of first-degree reckless endangerment.
Here are 4 other things to know about Rittenhouse ahead of the rally.
– Claire Partain
Kyle Rittenhouse 'rally against censorship' kicks off near Houston
Kyle Rittenhouse, the 20-year-old Illinois native acquitted of fatally shooting two men during protests in Kenosha, Wisc., in 2020, said he is hoping for a large turnout Thursday at a "rally against censorship" he is headlining in Conroe.
"We are going to be talking about censorship, it's going to be great," Rittenhouse said in a short video posted to social media Tuesday. "I'm super excited and I hope to see you all out there."
The event begins at 7 p.m. at Montgomery County's Lone Star Convention Center.
Rittenhouse was acquitted on all charges for fatally shooting two men and wounding another at a rally to protest the police killing of a Black man. Rittenhouse, 17 at the time of the shootings, claimed he was acting in self-defense helping defend local businesses. The verdict re-ignited the nation's debate on gun rights, vigilantism and violence at social justice protests.
Thursday's event is hosted by Defiance Press & Publishing. The rally also will include Daniel Miller, a leader of the "Texit" movement calling for Texas to secede from the United States. Admission is free, although participants must register.
County Judge Mark Keough said Montgomery County is an obvious choice for the rally due to its strong, historically conservative stance.
During the 2016 presidential election, 74 percent of votes cast were for Donald Trump with 19 percent voting for Hillary Clinton. That trend carried over to 2020 with 71 percent of ballots cast supporting Trump and 27 percent of voters supporting President Joe Biden.
In January, after losing the election, more than 70,000 people packed the convention center for Trump's Save America Rally.
"The reason the county is so conservative is because of the values ​​we hold," Keough said, who criticized the brewery for backing out of the rally.
"We believe that once a person has been acquitted of an accusation, they have the same freedoms and free speech as everyone else," he said. "Rittenhouse is treated like he is guilty, but a court of law said he wasn't guilty of the offense. We support the rule of law."
NEWS IN YOUR INBOX: Sign up for breaking news email alerts from HoustonChronicle.com here.
Ashton Woods, founder of the Houston chapter of Black Lives Matter, said Rittenhouse's appearance at rally is not appropriate.
"The organizers of this event should recognize this is clear and present racism," Woods said. "He killed two people at a protest for black lives … That speaks volumes to no matter where you live, racism is close to home."
Supporters met Rittenhouse's verdict with relief and a sense of vindication, saying he took a stand against lawlessness and exercised his Second Amendment right to carry a gun and to defend himself. Supporters donated more than $2 million toward his legal defense, according to the Associated Press.
After the verdict, Rittenhouse has spoken out against being banned from Facebook and Twitter. Twitter eventually reinstated his account.
When the brewery canceled its event, Rittenhouse took to Twitter.
"It's really disappointing to see that places continue to censor me and not allow my voice and many other voices to be heard because they bend to the woke crowd," he posted on Twitter.
David Thomas Roberts, publisher for Defiance Press and Publishing, followed up Rittenhouse's tweet by thanking supporters.
"We sincerely and deeply appreciate the incredible outpouring of support for our decision to press on and hold our #Rally Against Censorship after multiple attempts to cancel and silence us! We will not be cancelled. Period. We've learned that anyone can pretend to speak with a Texas twang — but it takes balls to protect Texas values!"
Rittenhouse said he is planning to attend Blinn College, a two-year school in Brenham, after claiming he was going to attend Texas A&M University. He corrected that statement after the university said he had not been accepted to the school.