There are around 13,000 dogs registered in Racine County.
One-hundred-sixty-six of them are named Bella. Seventy-two are named Maggie. Another 101 are named Buddy. Two are named Lassie. Only one is named Chewy Fizzgig.
There's a Shih Tzu aptly named Little Dude in Burlington and a Labrador Retriever named just "Dude" in Yorkville; a mixed-breed who took the red pill in Mount Pleasant named Morpheus; and let's not forget Beanz (with a Z), the Labrador retriever in Norway, or Applesauce, the beagle who lives in Caledonia.
WANT TO SEE ALL OF THE DOG DATA? Click here and open the Google Sheets to explore for yourself
The Journal Times has received datasets containing the registrations for all dogs in each of Racine County's municipalities for 2017, 2018, 2019, 2020 and 2021, and compiled the information into a searchable database of all of the dog names and breeds in the county.
Sherrie Ogren of Union Grove poses with her dog, Bo, for a photo at the Karen A. Nelson Memorial Dog Park, 3800 Northwestern Ave., in Mount Pleasant on the afternoon of Monday, Jan. 31, 2022. Ogren said she traveled to the park because it's nicer than parks in Union Grove.
RACHEL KUBIK, Journal Times file photo


Here's what was learned:
People are also reading…
By far, Racine County's favorite breed of dog is the Labrador Retriever; that aligns with national trends, as Lab Retrievers are the most popular dog breed in America.
Racine County's top 10 most popular dog breeds, excluding mixed breeds, are as follows:
Labrador Retrievers: 2,473 registered from 2017-2021
The top 10 most popular dog names locally are:
Racine County breaks from national conventions here, but not by much. According to Rover.com, the five most common female dog names are Luna, Bella, Daisy, Lucy and Lily, and the five most common names for male dogs are Max, Charlie, Cooper, Milo and Buddy.
Which Racine County community has the most dogs?
Nationwide, wealthier people are more likely to have dogs, as are people living in rural areas compared to more urban communities.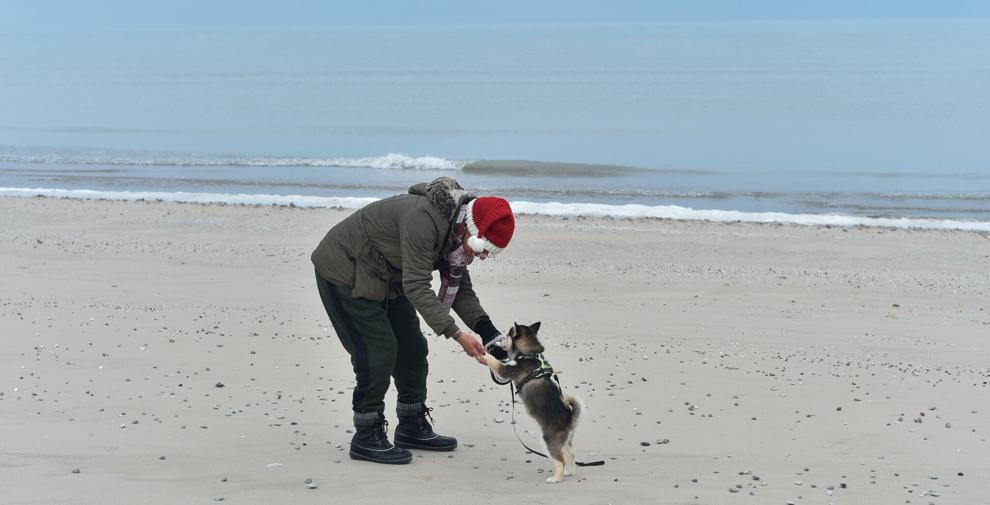 Chrystal Cummings and Yoshi, a 12-week-old Pomsky — a designer crossbreed between a Pomeranian and a husky — take a moment to dance on North Beach Monday, where it isn't technically legal to walk dogs although it is commonly done. Wisconsin life is perfect for a pooch like Yoshi, named after the popular character in the "Super Mario" series of video games, because Cummings says Yoshi loves the snow. From 2017-2021, there were five dogs registered with the name Yoshi in Racine County.
Alex Rodriguez
In the City of Racine, the densest and most populous community in the county, there are 3,409 dogs for 77,127 people, or 22.62 people for every dog.
In Caledonia — the community with the most total dogs — there are 11.3 people to every dog, or 2,225 dogs for 25,361 residents.
In North Bay, which is both Racine County's smallest community and also the community with the highest dog ownership rate, there is almost one dog for every three people. Other communities with high dog ownership rates include Union Grove (7.22 people per dog), Mount Pleasant (7.18), Yorkville (6.14), Wind Point (5.75) and Elmwood Park (4.2).
Nationally, according to American Veterinary Medical Association, 38.4% of households have a dog, compared to only 25.4% that have cats and 2.8% that have birds.
It's impossible to calculate how many households have a dog in Racine County — since many households own multiple dogs — but what can be said is there are approximately 12.2 people to every one dog here. That's 12.2% as many dogs as humans.
How this was reported
The Journal Times requested and received lists of dog registrations from every Racine County municipality for the years 2017-2021. The registrations typically included the name, sex, breed, if the pet was spayed/neutered and sometimes color of each animal.
One of the issues encountered is that dogs are supposed to be registered each year. But The Journal Times could not just remove all "duplicate" registrations, considering there could be multiple dogs of the same breed and sex with the same name in the same community. (There are at least half a dozen mixed-breed dogs named "Bella" in Caledonia, for example.) As such, all numbers included in this article and dataset are estimates.
It could also not be determined if a dog was registered in one community one year, but then had moved and lived in another community the next. For example, if someone who owned a boxer named "Duke" lived in the Sturtevant in 2017 and 2018, but then moved to the Village of Raymond and has registered "Duke" there since 2019, then "Duke" would be counted twice.
Similarly, if a dog's name was changed or was spelled differently in separate registrations — for example, the dog's name was written as "Lilli" one year but "Lilly" the next — we have no way of knowing the same animal was counted twice.
Additionally, non-names from breeders have been omitted from these lists.
If a dog was registered in 2017 then died, it would still be counted in this data.
Of course, animals that aren't registered are not included in these counts.
AA Milne devotees named one dog Pooh Bear and four Tigger across the county.
The county also has a slew of dogs named after animals that are not canines, like 53 instances of Bear, one instance of Kitten and two dogs named Kitty in Union Grove, two named Tiger — in Dover and Union Grove, respectively — and four named Bunny. There are also 317 dogs of the Shih Tzu breed in Racine County, which translates from the Mandarin for "little lion." Oh, and there's a chihuahua named Cat in Caledonia. Perhaps more appropriately, a dog in the Village of Raymond is officially named "My Dog."
"Game of Thrones" fanatics also named four dogs
, the title referring to Daenerys Targaryen, played by Emilia Clarke in the HBO series. "Star Wars" names are also relatively popular. There are six Yodas, one Chewbaca (sic), three Vaders, three Jedis and one Wookie. There are also five dogs named "Obi," but only one named "Obi-Wan." Another Disney IP, "Lion King" shows up in the name list 15 times with Simba, twice with Scar, another two with Mufasa, 39 named Nala and just one Raficki.
As for the presidents: There are four dogs named "Reagan," one named "Obama" — there's also a Pomeranian named "Winston Churchill" in the Town of Norway — but no "Barack," "Trump" or "Biden."
Only three days of the week appear in the list of dog names: Wednesday, Friday and Sunday; there's also one boston terrier named sundae.
There's also a number of superhero-dogs, like the four named Batman, the one named Chalupa Batman, and another one named Peter Parker. Can robots be superheroes? Because Optimus Prime lives in Racine. There's also a Nightcrawler who lives in Racine
Sporting loyalties run deep with dog naming in Racine County. There's Brett Favre the golden retriever who lives in Burlington and Jordy Nelson the shiba inu in Union Grove, plus another 19 dogs named Lambeau and one named Lombardi; 25 named Wrigley, 12 named Brewer and three named Uecker.
The longest name: Jonathon De La Cruz-Gonzalez. Rolls right off the tongue.
The shortest name: A three-way tie, between "Q" and "T" and "M."
Racine County has nine dogs named "Scooby," but only one named "Scooby Dude" — as well as one given the full name: "Scooby-Doo."
There's one
The football career of Brent Moss, in 13 photos
Brent Moss, the Panther champion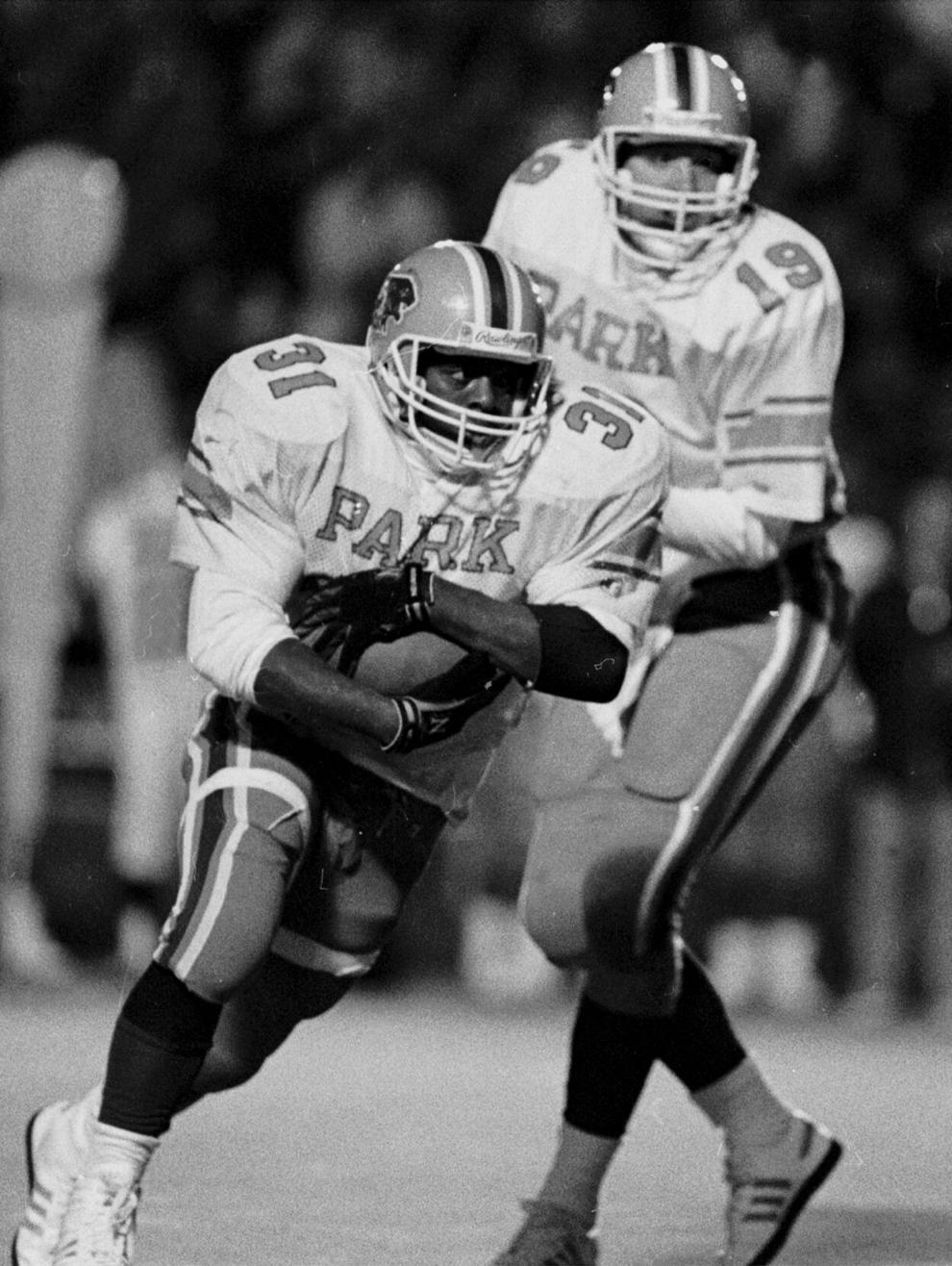 Brent Moss (31) powered Park High School to a 34-14 victory over Superior to win the WIAA state football championship at Camp Randall Stadium in Madison, Nov. 11, 1988. He scored three touchdowns, and had 18 carries for 202 yards.
Paul W Roberts


Power through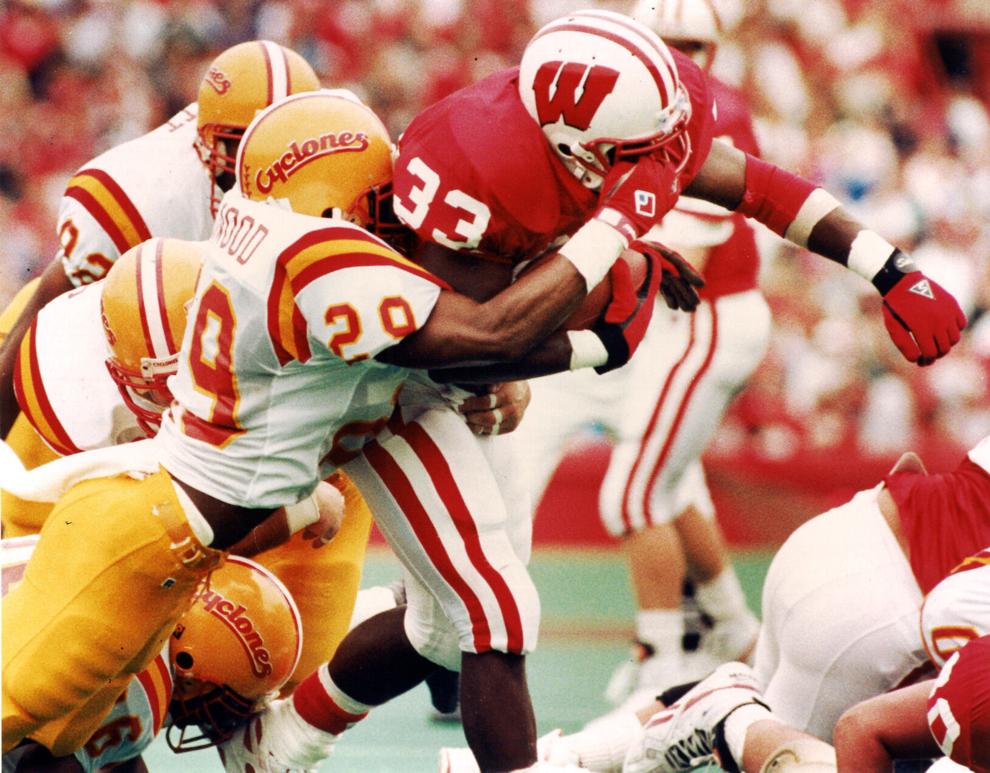 On Sept. 18, 1993, Iowa State Cyclones safety Cedric Linwood, left, grabs the facemask of Badgers junior tailback Brent Moss. Moss rushed for 104 yards in the game, which Wisconsin won 28-7.
CRAIG SCHREINER


unbeaten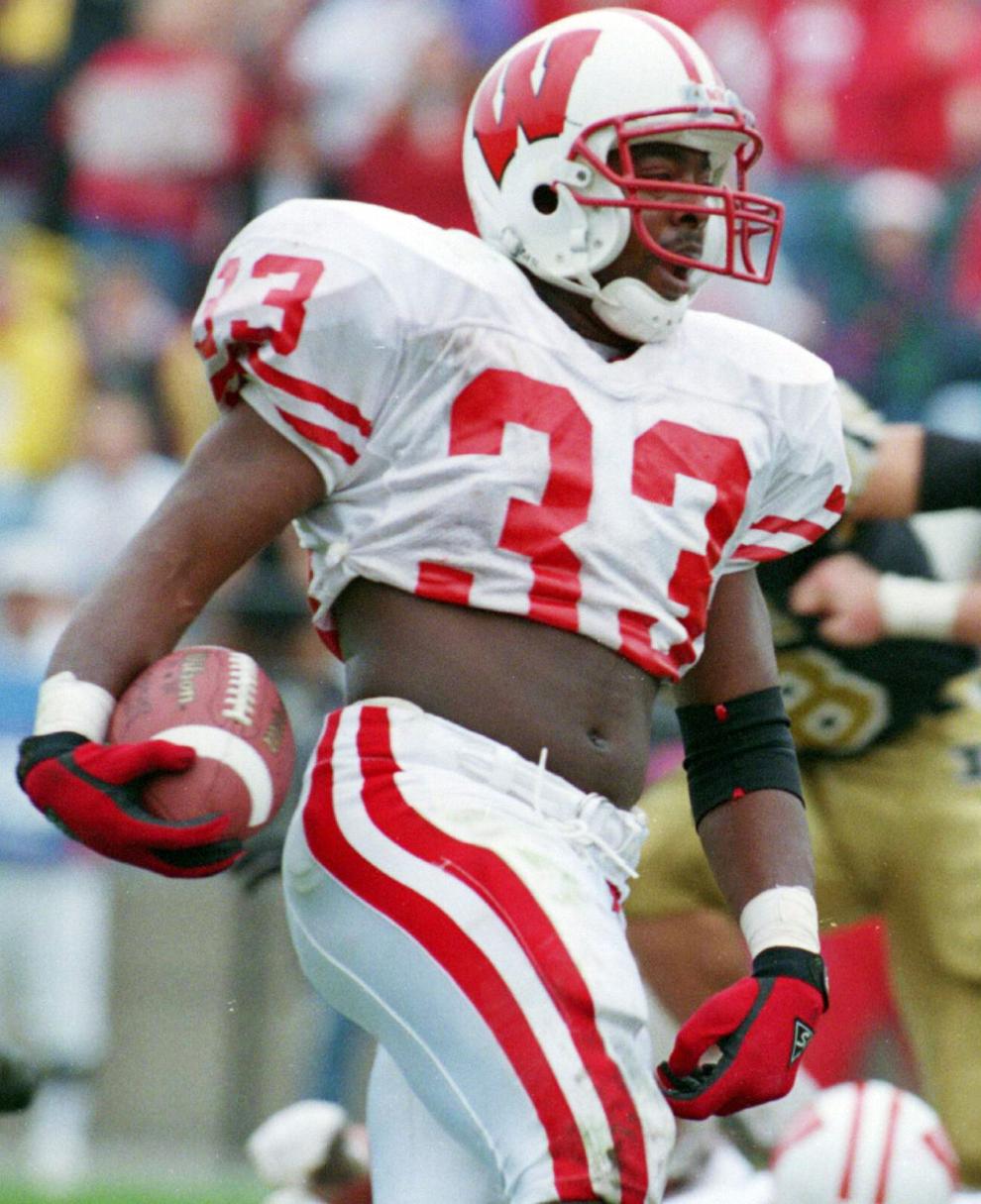 Brent Moss carries the ball after a play in the Wisconsin Badgers' 42-28 conference victory over Purdue on Oct. 16, 1993. It was the final game of the Badgers' six-game winning streak to start that season.
Scott Seid


Brent Moss photo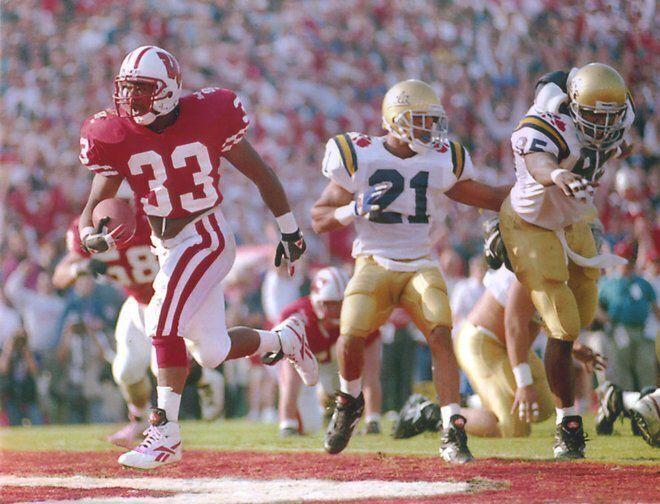 Brent Moss rushed for 158 yards and two touchdowns to lead the Badgers to a 21-16 win over UCLA in the 1994 Rose Bowl. He died Sunday, Nov. 13, at age 50.
ASSOCIATED PRESS ARCHIVES


rose bowl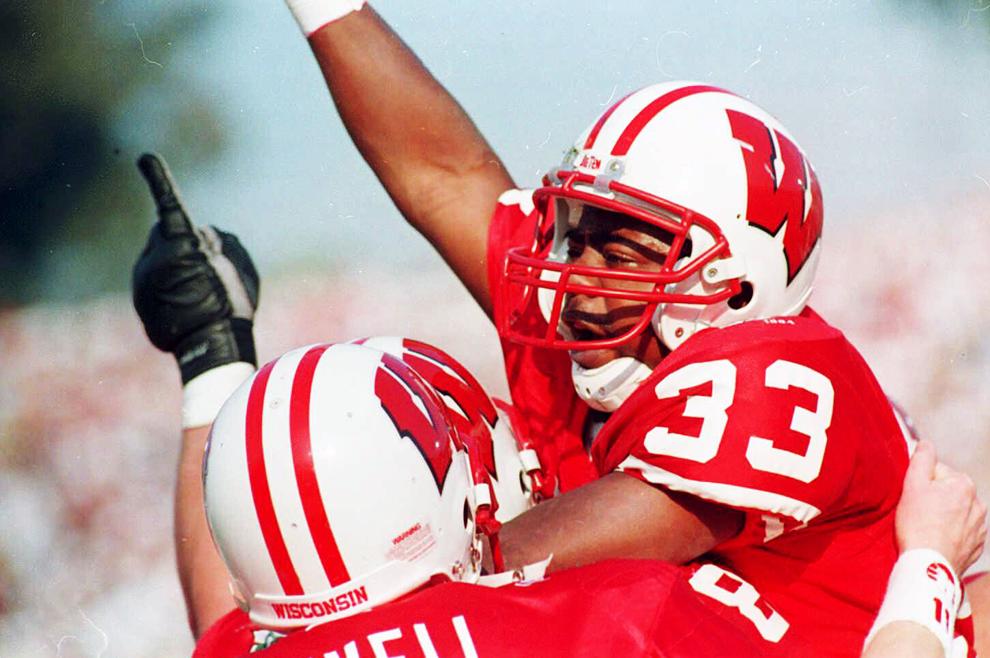 On Jan. 1, 1994, Wisconsin's Brent Moss reacts with his teammates after his first touchdown against UCLA at the Rose Bowl in Pasedena, California.
PAUL E. RODRIGUEZ


Rose bowl run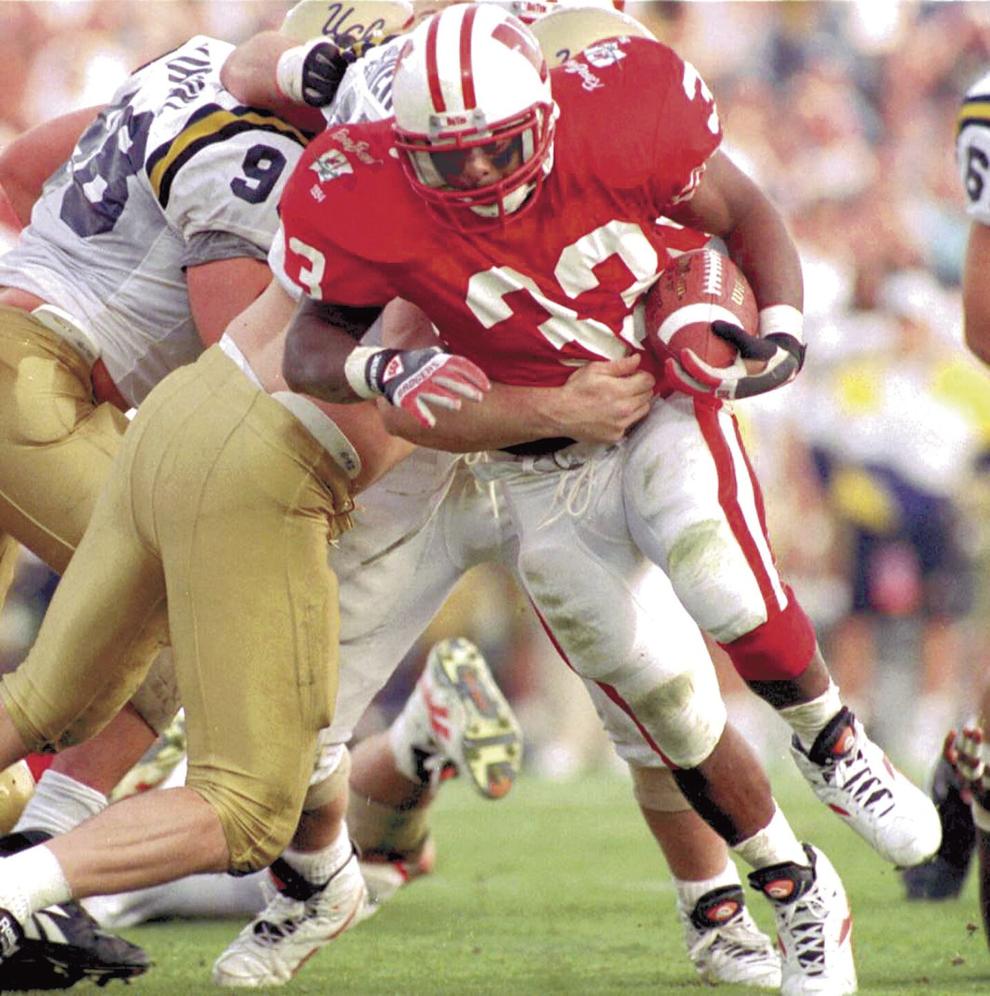 Wisconsin Badger Brent Moss, a Park High School graduate, fights for yardage in the first quarter of the Rose Bowl Saturday, Jan. 1, 1994. Moss finished with 158 yards on 36 carries and was the game's most valuable player.
SCOTT ARE


Brent Moss in uniform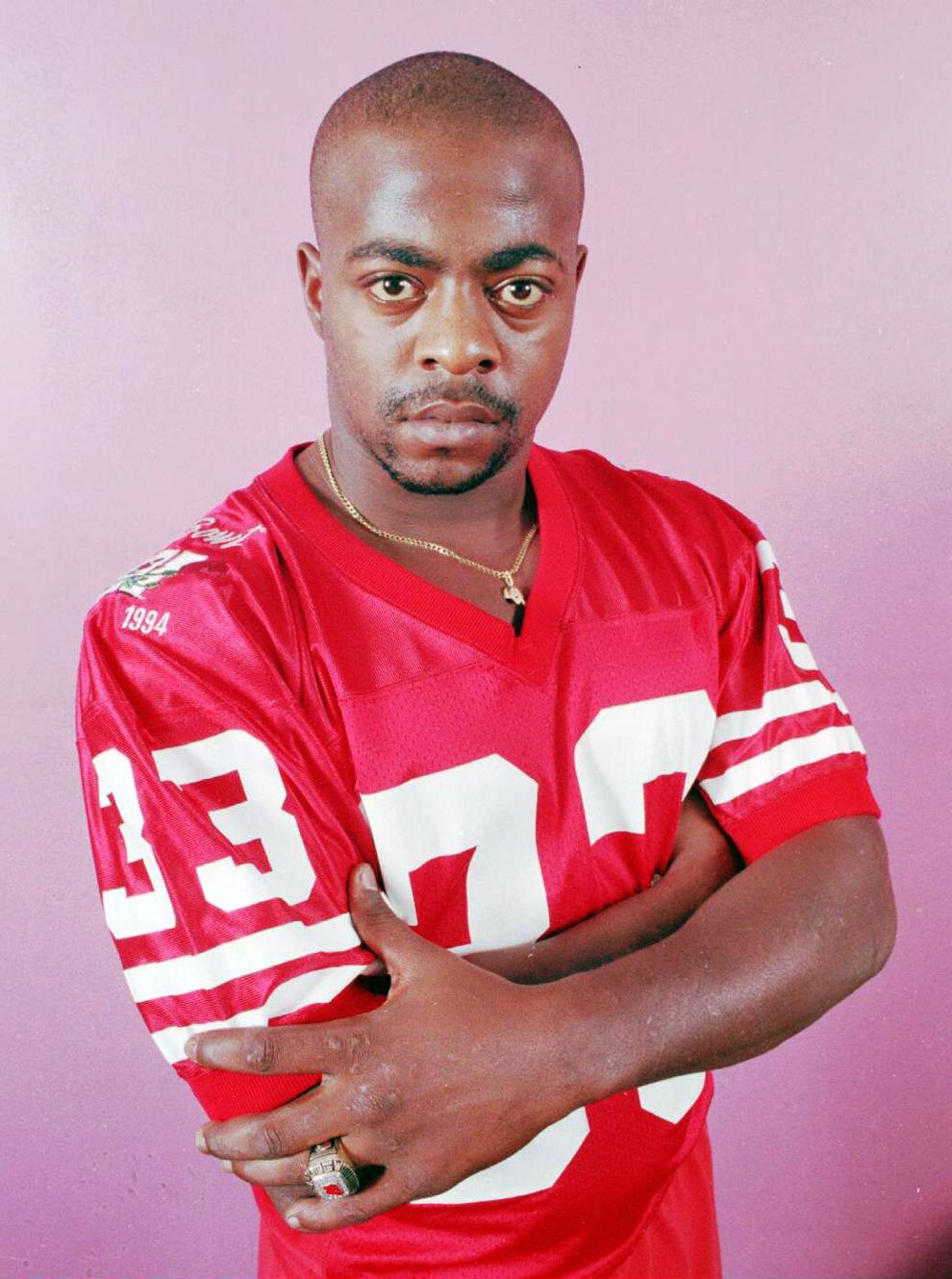 Brent Moss, pictured in his Wisconsin Badgers No. 33 jersey in September 1994.
Paul Roberts, Journal Times file photo


Fighting for yardage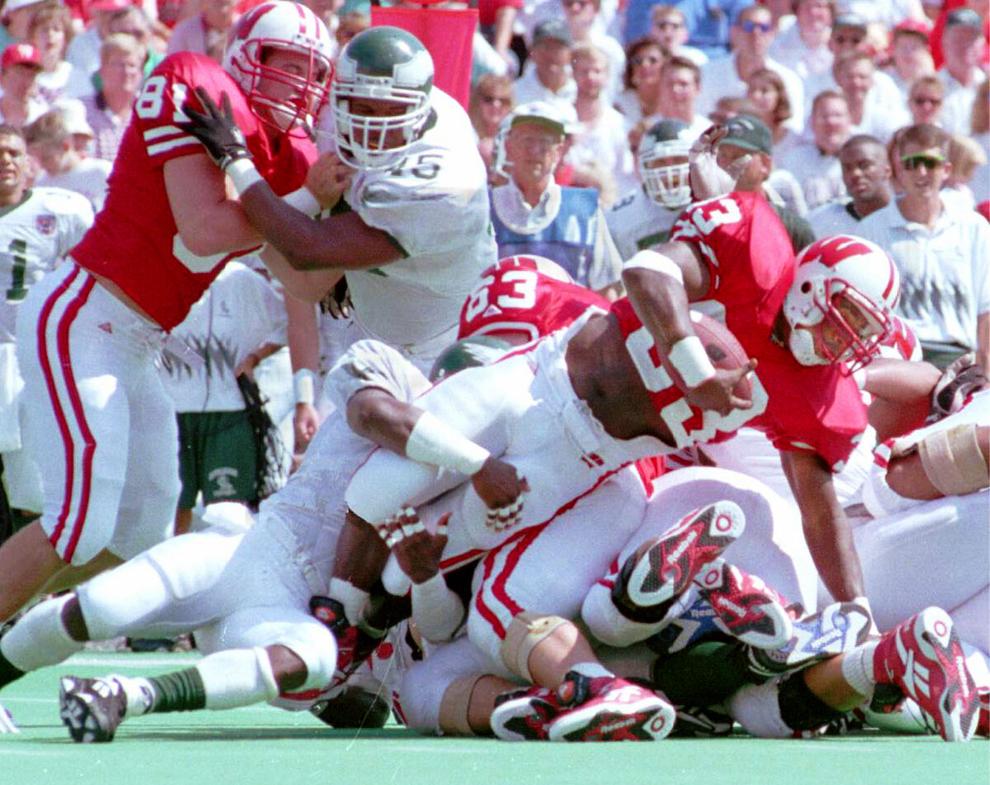 Brent Moss dives forward for yardage during the first Wisconsin Badgers game of the 1994 season against Eastern Michigan at Camp Randall on Sept. 10, 1994.
File photo


With the Miami Dolphins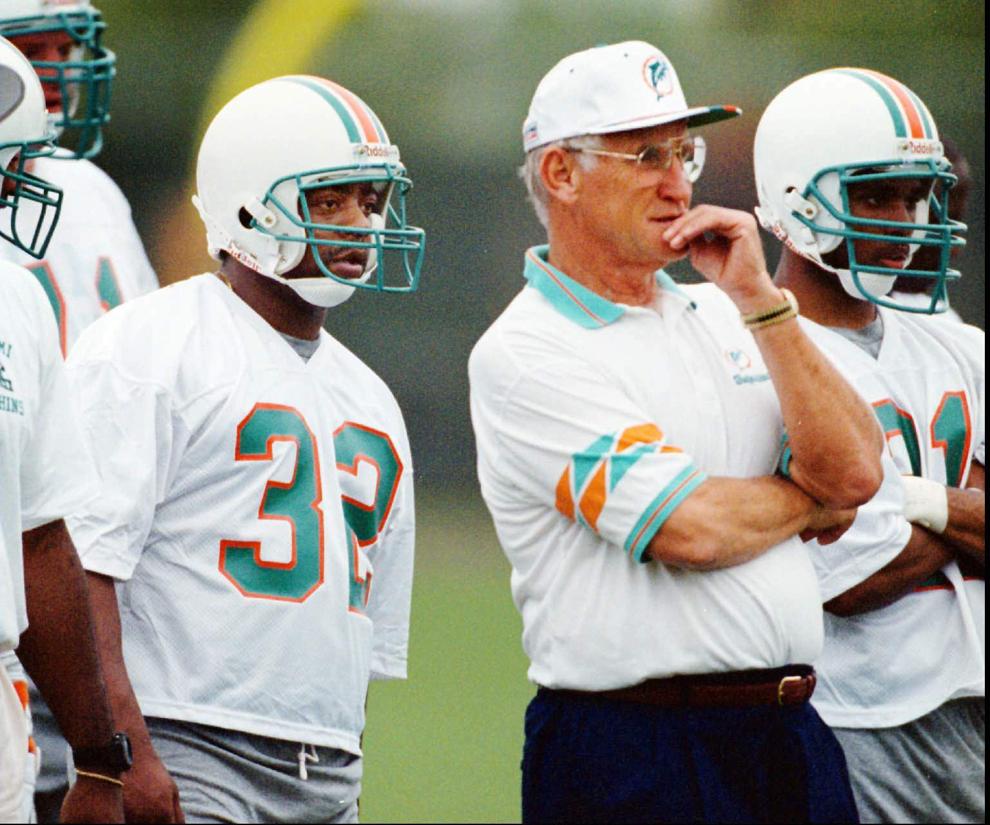 Brent Moss, at left, is shown here as a Miami Dolphin in the NFL in 1995; at right wearing a hat is legendary coach Don Shula, in his final season as coach of the Dolphins. Moss also spent time with the St. Louis Rams that season. In 1997, the Racine native would play for the Amsterdam Admirals in NFL Europe, and in 2001 was part of the Memphis Maniax in the XFL.
Mike Stocker


At mini camp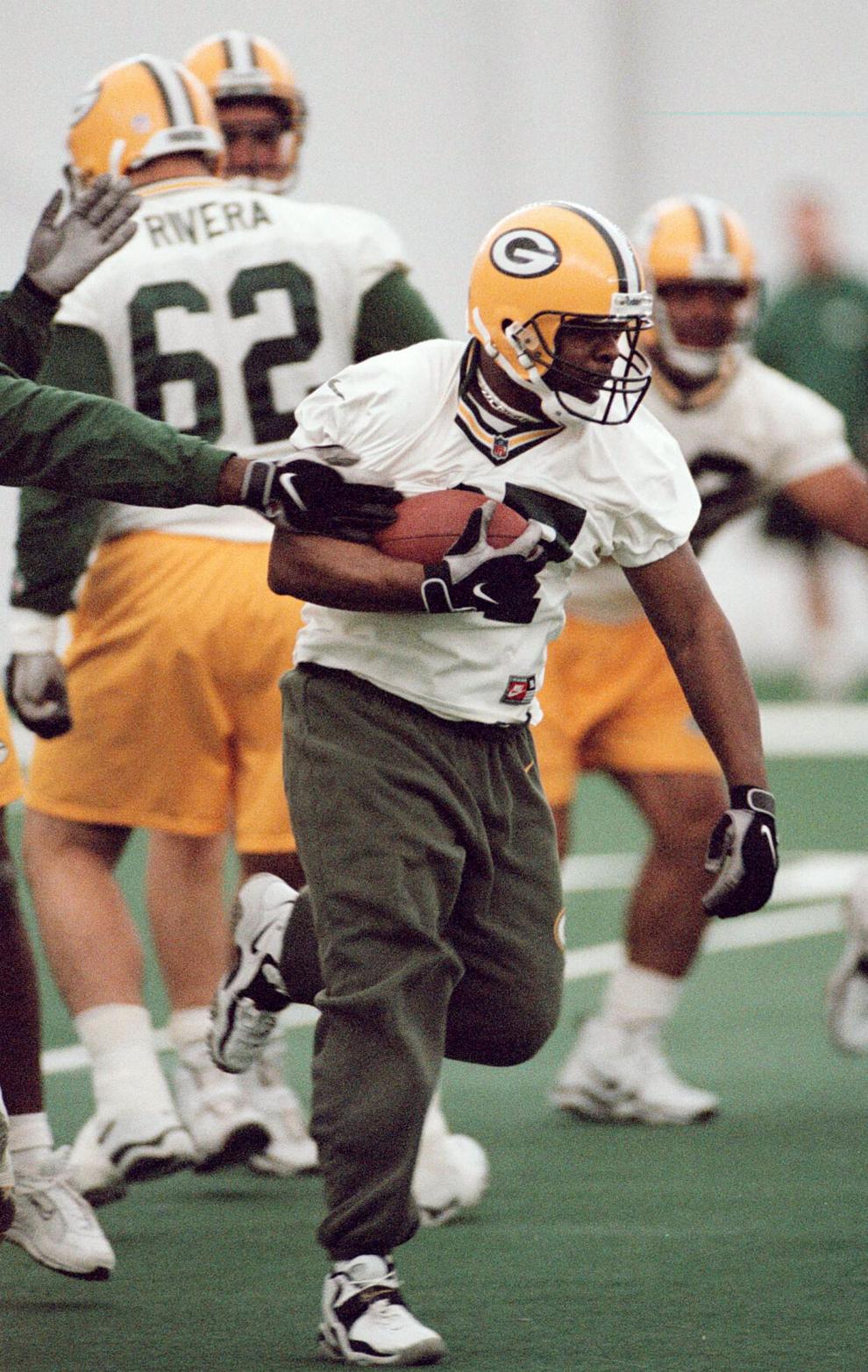 Racine native Brent Moss breaks a tackle during a running drill at a Green Bay Packers post-NFL draft mini-camp in Green Bay in the late 1990s.
JIM SLOSIARK


Brent Moss, a mad dog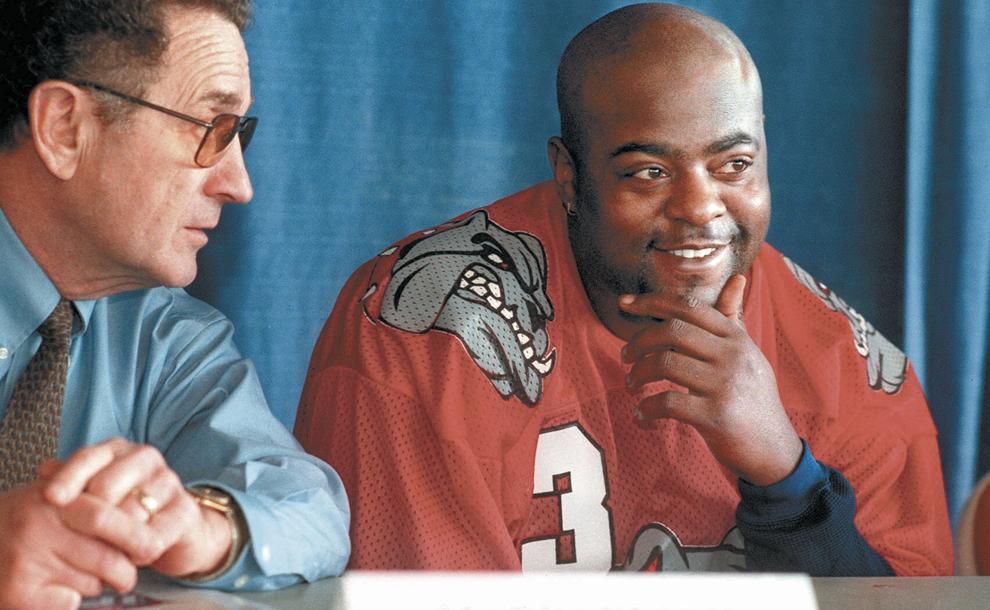 Brent Moss, right, with head coach Mario Russo on March 14, 2000, at the announcement that Moss would play for the Madison Mad Dogs, a now-defunct indoor football team. Moss, 28, at the time was the Badgers' third-leading rusher, having amassed 3,428 yards and 34 touchdowns from 1991 to '94.
CRAIG SCHREINER


As a raider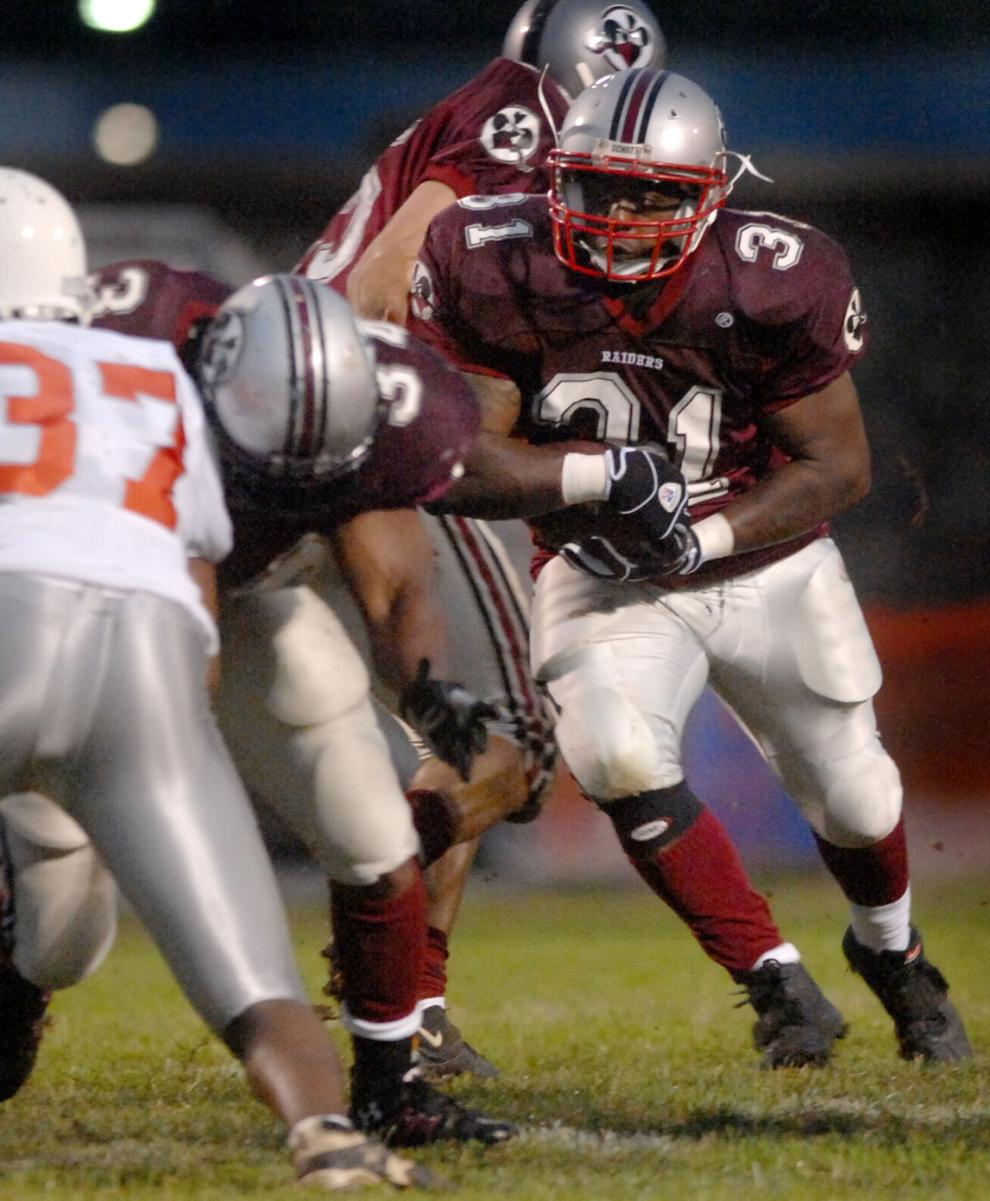 Racine Raider Brent Moss runs with the ball during the second quarter of their game against the Hoosier Hurricanes Saturday evening, Aug. 4, 2007, at Horlick Field.
Gregory Shaver


Coach Brent Moss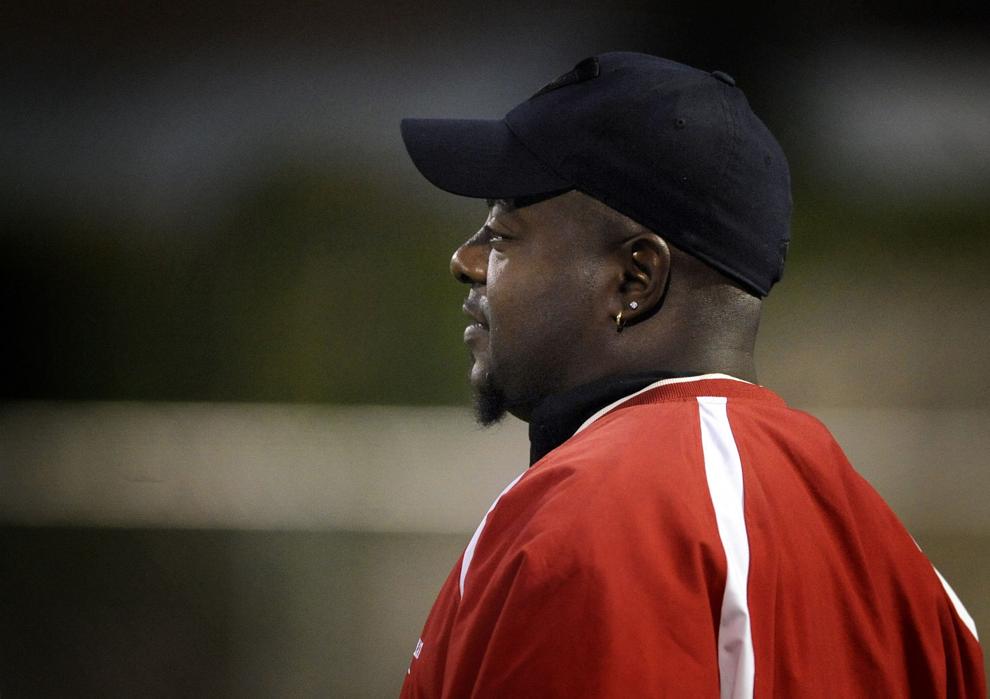 Brent Moss is pictured in 2009, on the sidelines as coach of the Racine Threat, a semi-pro football team.
SCOTT ANDERSON, Journal Times file photo


Get local news delivered to your inbox!
Subscribe to our Daily Headlines newsletter.