One of the vehicles involved in the accident overturned. The Madison Police Department edited the photo to hide the license plate.
MADISON POLICE DEPARTMENT


Emily Hamer | Wisconsin State Journal
Three teenagers were arrested Sunday morning after stealing an SUV, running over a red light and crashing into another vehicle, Madison police said.
No one was seriously injured in the accident, but the occupant of the other vehicle was rushed to hospital with minor injuries, Madison Police Sgt. Joseph Engler said in a statement.
A home security company called Boundary allows homeowners to hire a burglar to test their home security. The counseling involves the felon explaining how he would get access to the owner's house. The ex-burglar will also give homeowners tips on how to improve their security against potential robbers. "Most of us don't have a burglar mindset and so wouldn't discover half the places we could access in our homes," said Robin Knox, CEO of Boundary. The company's employees include people who had broken into homes for up to 12 years. Boundary tries to expand the service after receiving great interest. The company is currently hiring burglars with at least one conviction and knowledge of home burglary.
The stolen SUV was spotted on Highway 51 driving over a red light at the Buckeye Road intersection at around 8:20 a.m., collided with another SUV, and rolled over a traffic light, Engler said.
Four teenagers who were in the stolen vehicle fled after the accident, Engler said. Monona police officers who were nearby on an unrelated investigation arrested an escaped girl.
Monona police and Madison residents kept an eye on the other teenagers until Madison police arrived and arrested two boys, Engler said. The fourth youth was not caught immediately.
The three arrested were initially taken to local hospitals but had "no external injuries". Police took the children to the Dane County Juvenile Reception Center.
Wisconsin Department of Transportation and Madison Traffic Engineering staff were performing repairs on the failed traffic light.
Everyday Art: See the world through the eyes of the photographers at the Wisconsin State Journal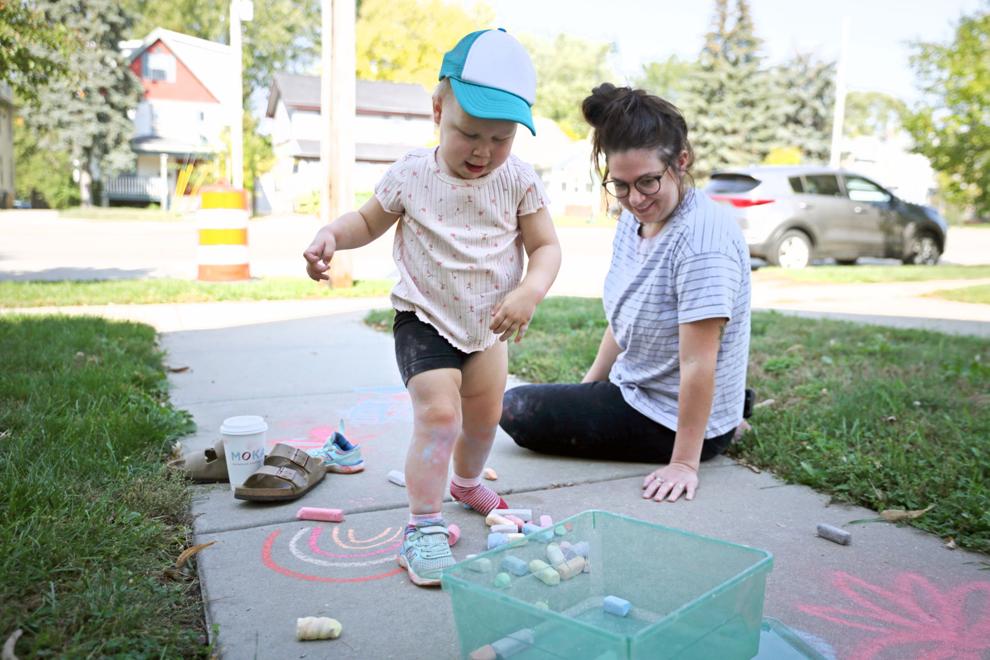 Alissa Krueger and daughter Nora, 2, are making chalk drawings on the sidewalk outside their Madison home on Friday. The artwork can only last for a short time, with the possibility of showers or thunderstorms on weekends and well into Monday before the sun returns on Tuesday.
KAYLA WOLF, STATE JOURNAL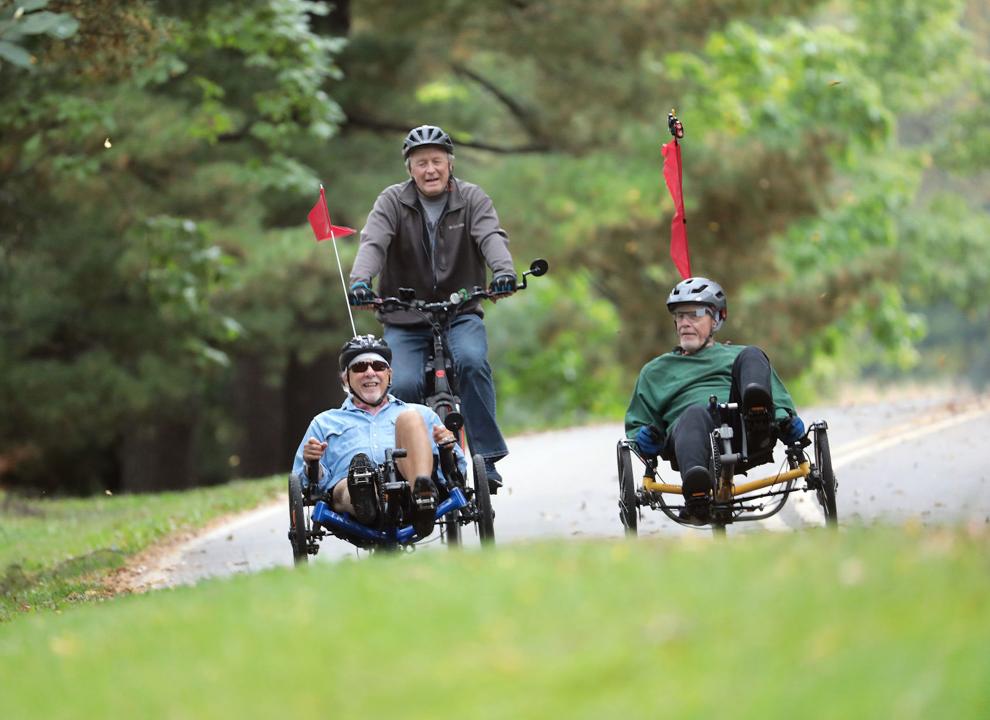 Cycling friends David Ghilardi (left), Keith Kosbau (center) and Mike Hart enjoy the changing autumn landscape during an afternoon ride through the UW Arboretum in Madison on Monday. This week is going to feel a little more like fall than the summer temperatures of the 80s last week, with highs in the low 70s forecast for Tuesday, Wednesday and Thursday.
JOHN HART, STATE JOURNAL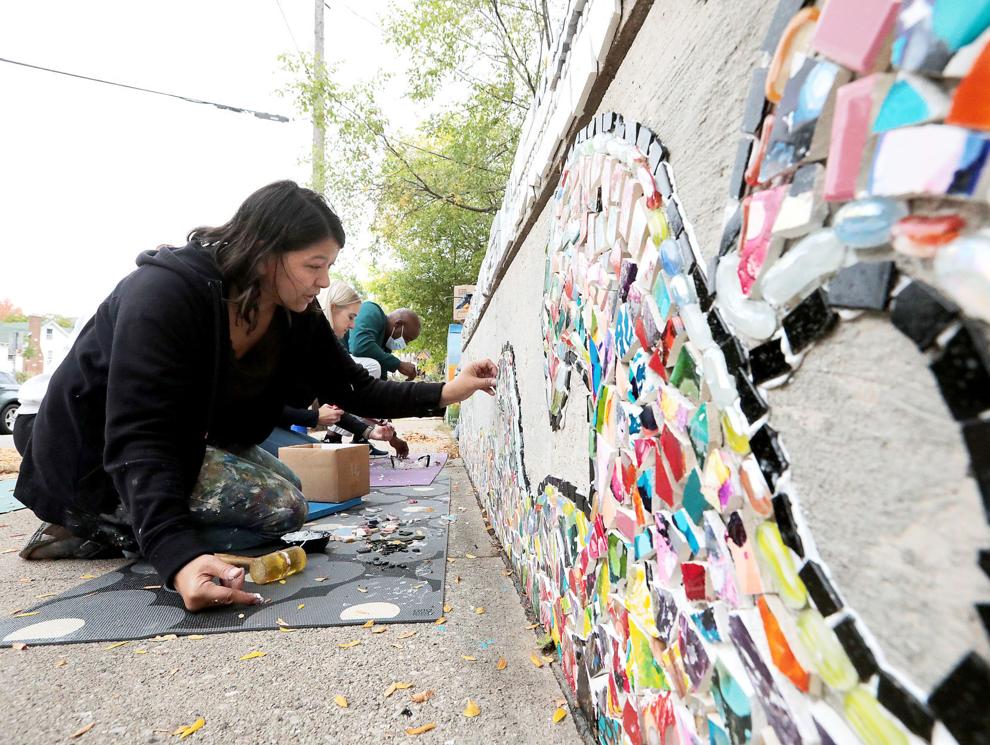 Gabrielle Javier-Cerulli, a community artist with The Bubbler Project at the Madison Public Library and Dane Arts Mural Arts, is adding tiles to a mosaic project outside the Dane County Juvenile Shelter Home on the East Side. The project, which uses tiles hand-colored by the students at home, is a collaboration between the artist, students and staff.
JOHN HART, STATE JOURNAL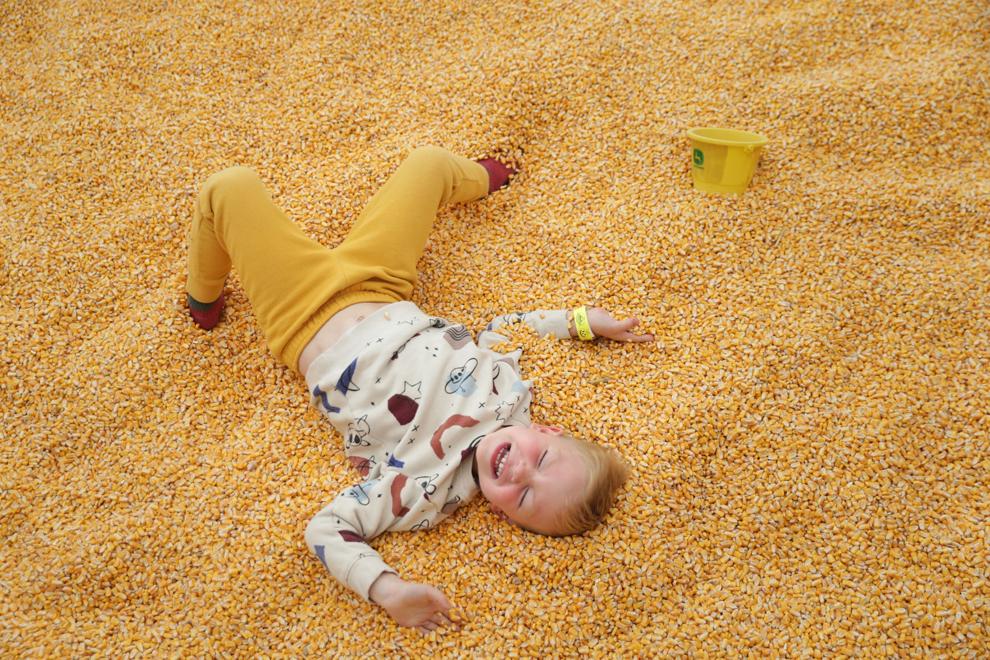 Walter Weber makes generous use of Schuster's Farm's dried corn pit, one of several attractions on the farm that has long been a Halloween season destination for Dane County families.
KAYLA WOLF, STATE JOURNAL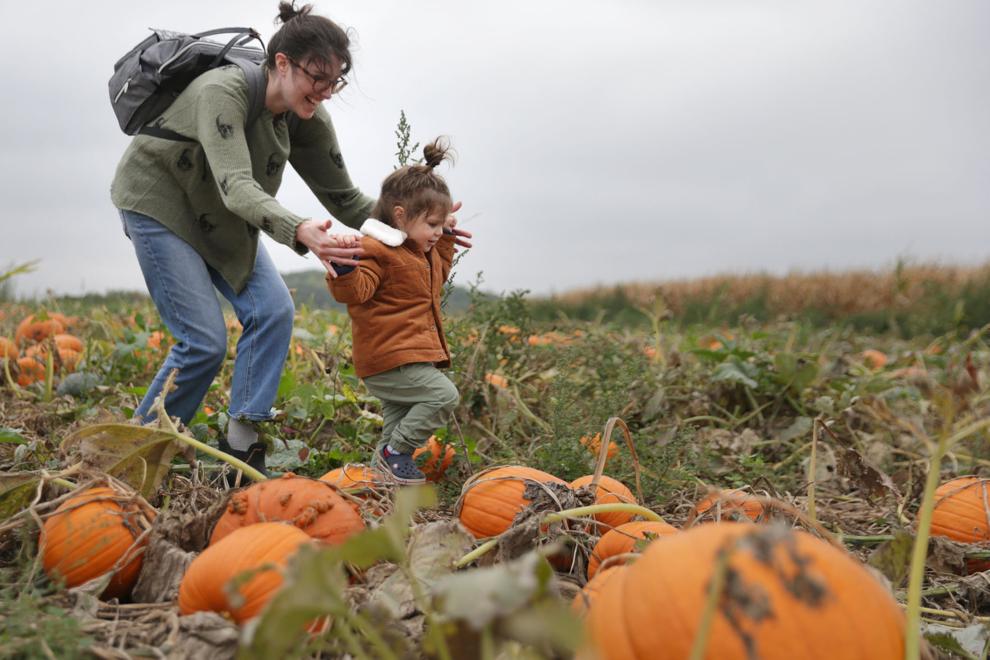 Kylie Steiner helps her son Atlas find their way around the Schuster's Farm pumpkin patch in Deerfield on Wednesday.
KAYLA WOLF, STATE JOURNAL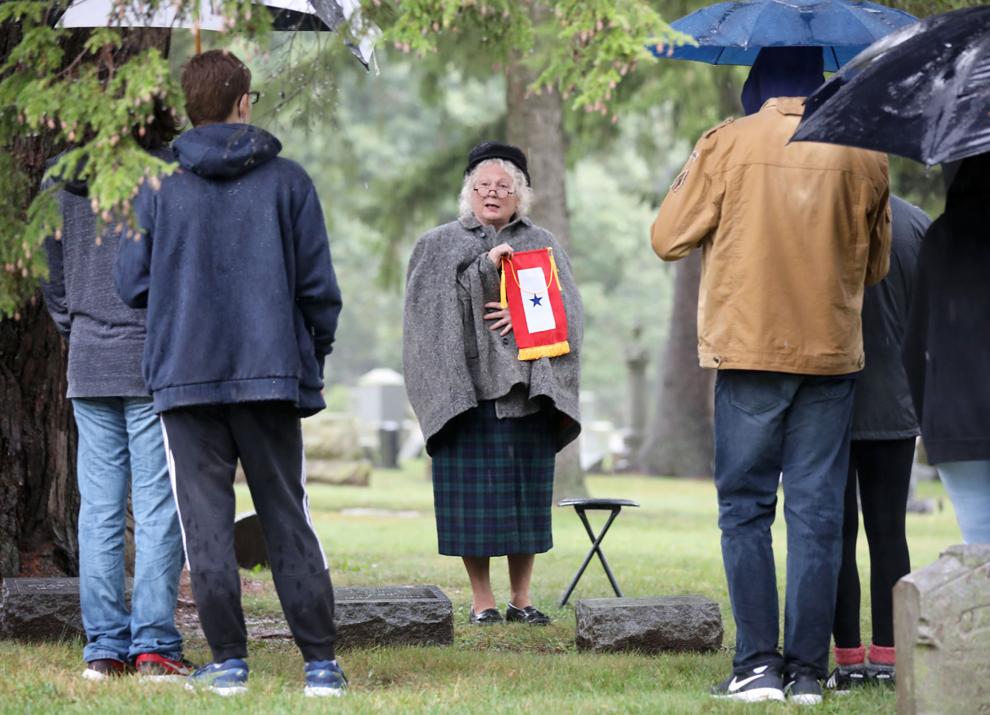 A group of students on a field trip Thursday from DeForest High School watch local actress Victoria Mecozzi with a Blue Star Service banner portray Jessie Smith during the Wisconsin Veterans Museum's Talking Spirits Cemetery Tours: Wisconsin Women at War on Forest Hill Cemetery. Smith, who died in 1953 at the age of 72, lost her son, Lt. Robert Standish Smith, in February 1944, when his ambulance crashed into a hillside while transporting wounded soldiers from Italy to North Africa during World War II. Four crew members, three nurses and 18 wounded died in the crash. Standish Smith was buried in Sicily, but his remains were brought home two years after the war and interred in Forest Hill Cemetery. The sold out tours continue Saturday and Sunday, an online tour will be available in the coming weeks.
AMBER ARNOLD, STATE JOURNAL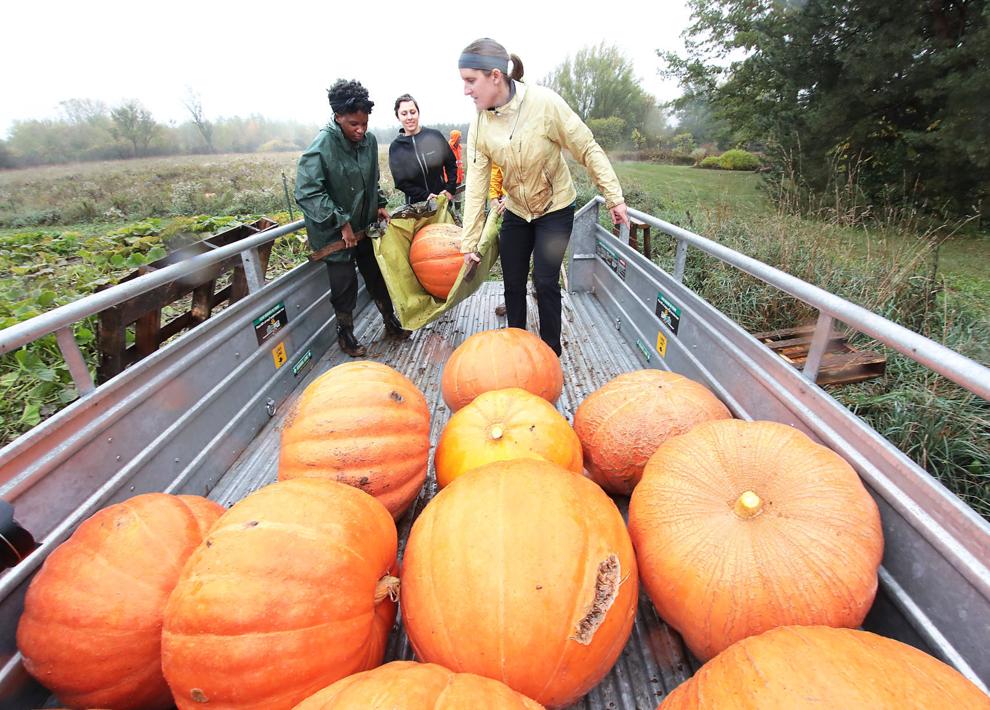 Graduate and post-graduate students from UW Madison Professor Irwin Goldman's Department of Horticulture laboratory carried one of a dozen large pumpkins grown by the students to a trailer in Merton Thursday. The pumpkins weigh more than 100 pounds each and will be used in the Giant Pumpkin Regatta on Lake Mendota on Saturday. At the event, which is jointly hosted by the department and the Hoofers Sailing Club, students compete against each other in the hollowed-out bowls of the pumpkins. Supporting the efforts are Shakirah Nakasagga, a postdoctoral fellow; Chandler Meyer, a PhD student; and Emilee Gaulke, a PhD student whose family owns the farm. The pumpkins were grown from seeds in a UW greenhouse in March and brought to the field in May.
JOHN HART, STATE JOURNAL


UW Madison math student Josiah Locke studies outdoors during a Tuesday afternoon visit to Bascom Hill, the same day the University of Wisconsin System celebrated its 50th anniversary. On October 12, 1971, a bill, signed by Governor Patrick Lucey, came into effect that brought together the two systems of public four-year higher education in Wisconsin under a single Council of Regency.
JOHN HART, STATE JOURNAL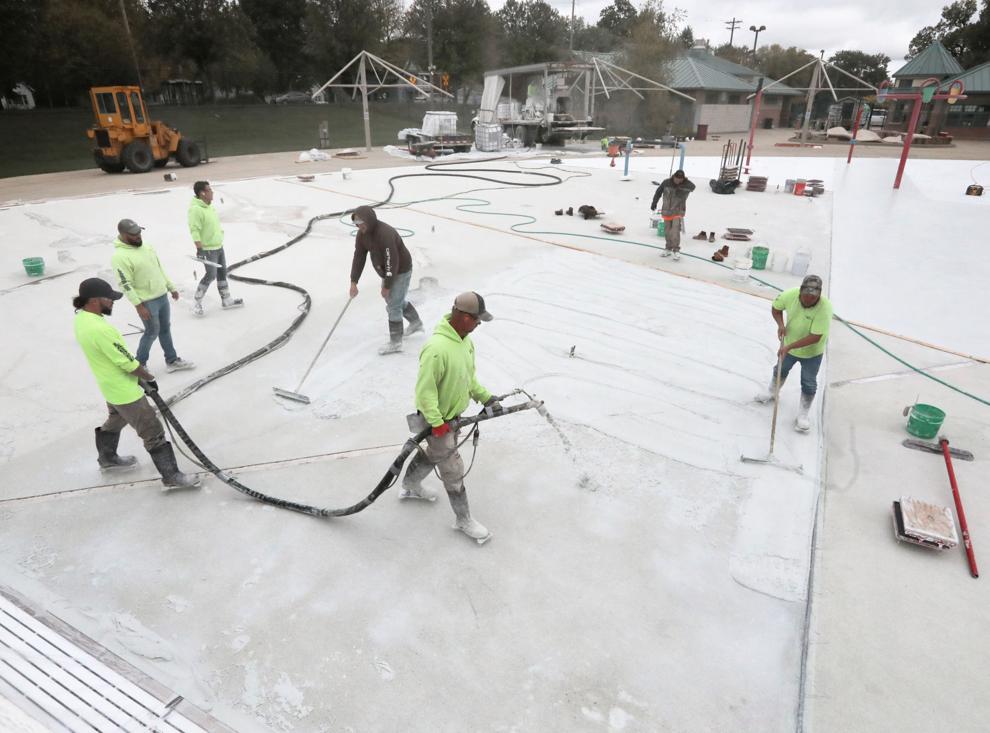 Badger Swimpools workers plaster the surface of Goodman Pool while off-season restoration continued on Tuesday in Madison.
JOHN HART, STATE JOURNAL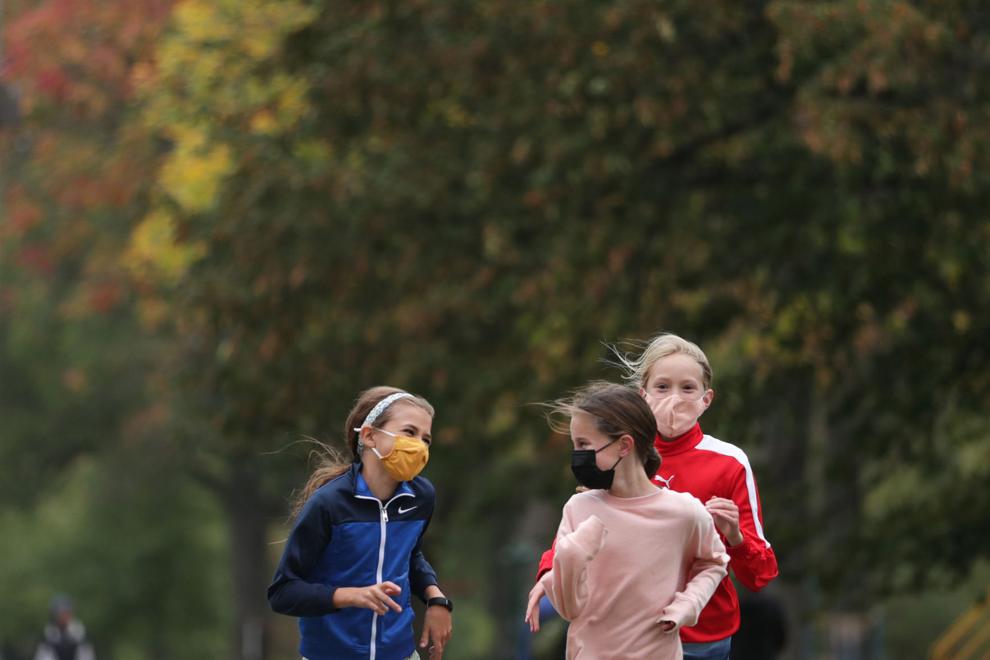 runner – from left Adele Zolik, Lily Stumm and Alma Lusson – spin laps in Yahara Place Park during a Girls on the Run practice session on Wednesday. The group meets twice a week and is open to third to fifth grade girls.
KAYLA WOLF, STATE JOURNAL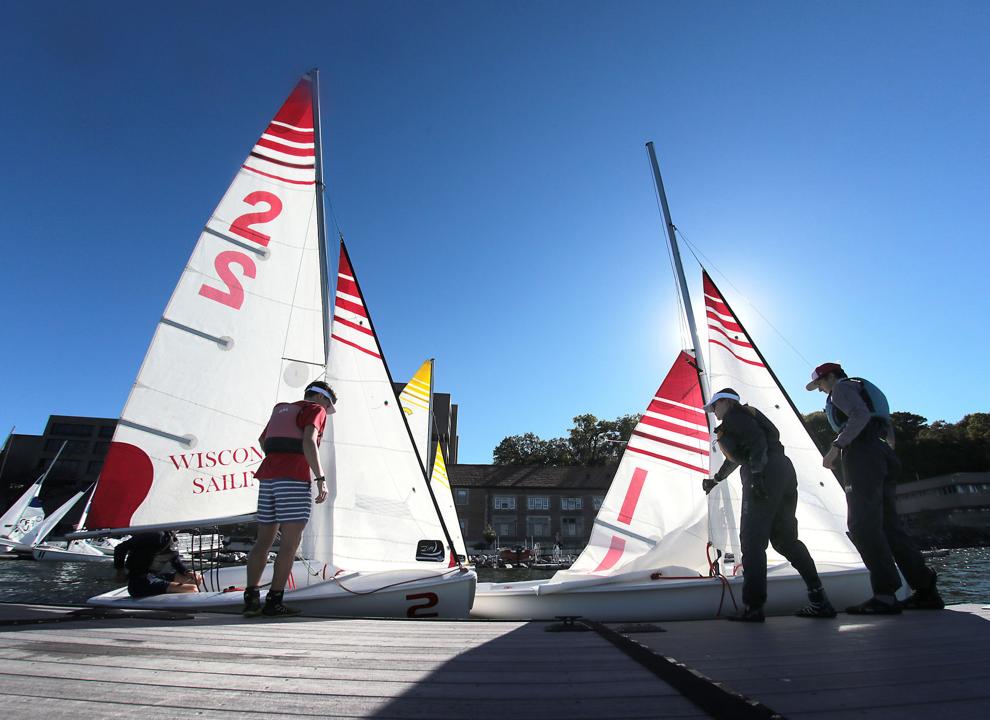 With mild autumn temperatures and sunny skies, the members of the Wisconsin Sailing Team prepare their boats for a practice lesson on Thursday before setting off for Lake Mendota. Half of the club's 60 members will be competing in various university-level regattas across the country this weekend.
JOHN HART, STATE JOURNAL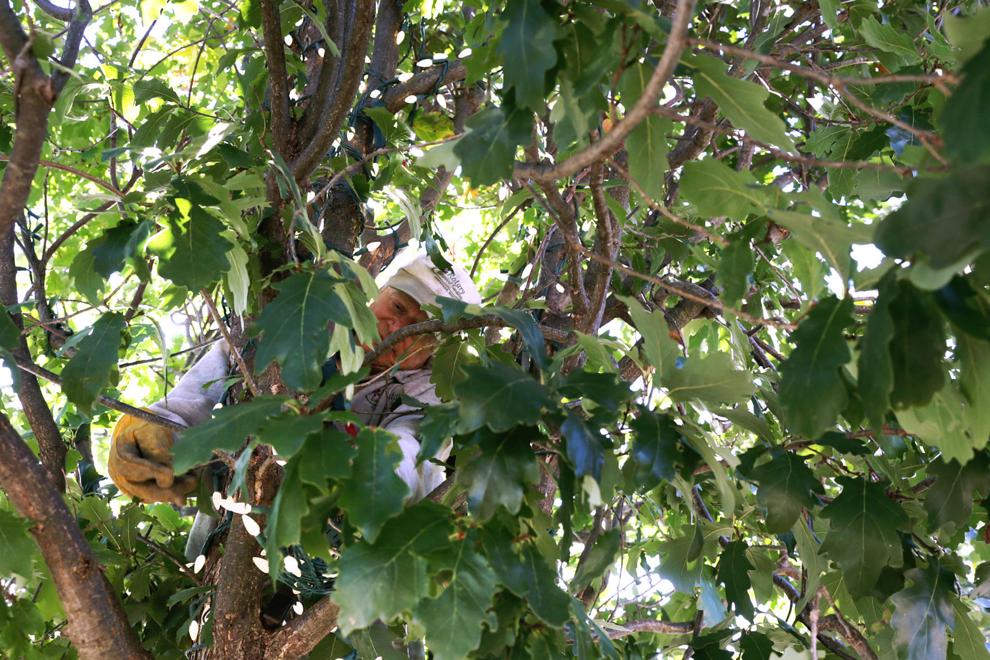 Gardener Larry Holterman is installing lights in a tree at the entrance to the Rotary Botanical Gardens in Janesville on Monday in preparation for the gardens' Christmas light show, which starts the day after Thanksgiving and displays over 1 million lights. Holterman said he will start putting lights up in mid-August and expect to spend about five hours installing lights in the tree he decorated on Monday. He will have good tree climbing weather again today, with sunny skies and a high in the low 70s.
KAYLA WOLF, STATE JOURNAL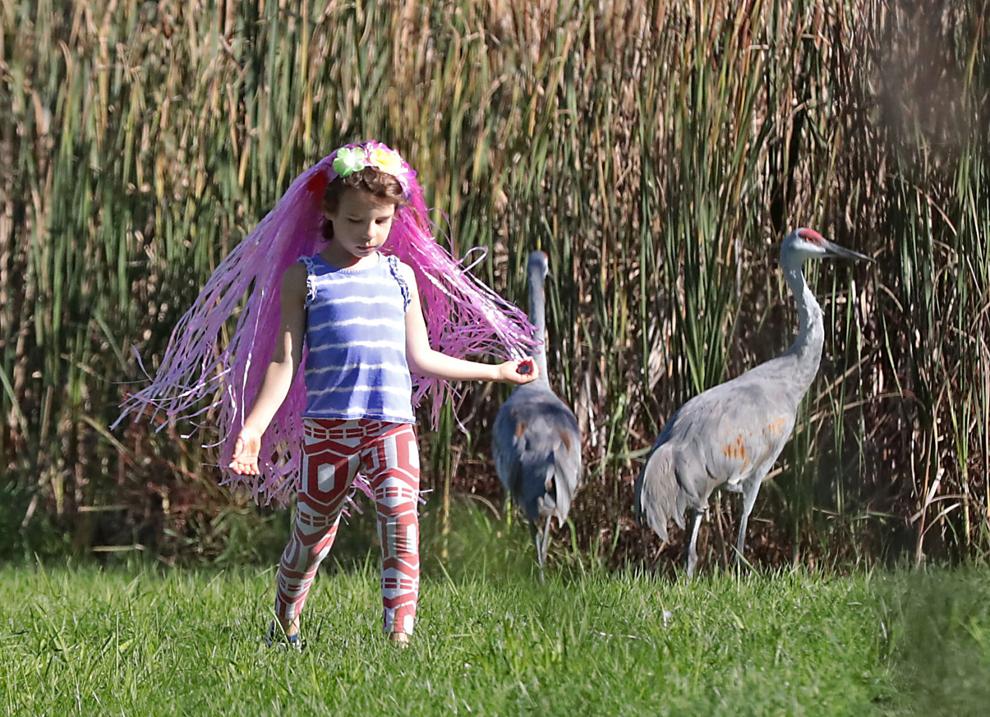 Kansas Polkinghorn, 5, from Madison, adapts a hula skirt acquired for this year's Halloween activities to her own preferences and explores the grounds of Harvey E. Schmidt Park with a pair of sand hill cranes during a Monday visit with the family.
JOHN HART, STATE JOURNAL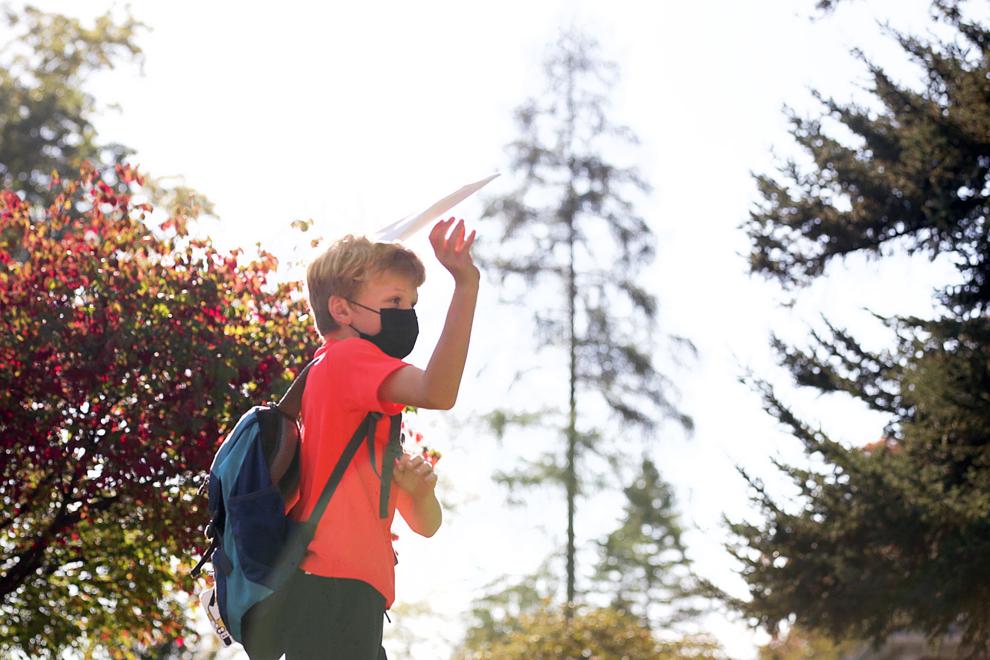 Second grader Clive Hebl throws a paper airplane on his way home from school with his mother Melanie Hebl (not pictured) on Wednesday, as the warm autumn temperatures persist before the frost sets in on early Friday and Saturday.
KAYLA WOLF, STATE JOURNAL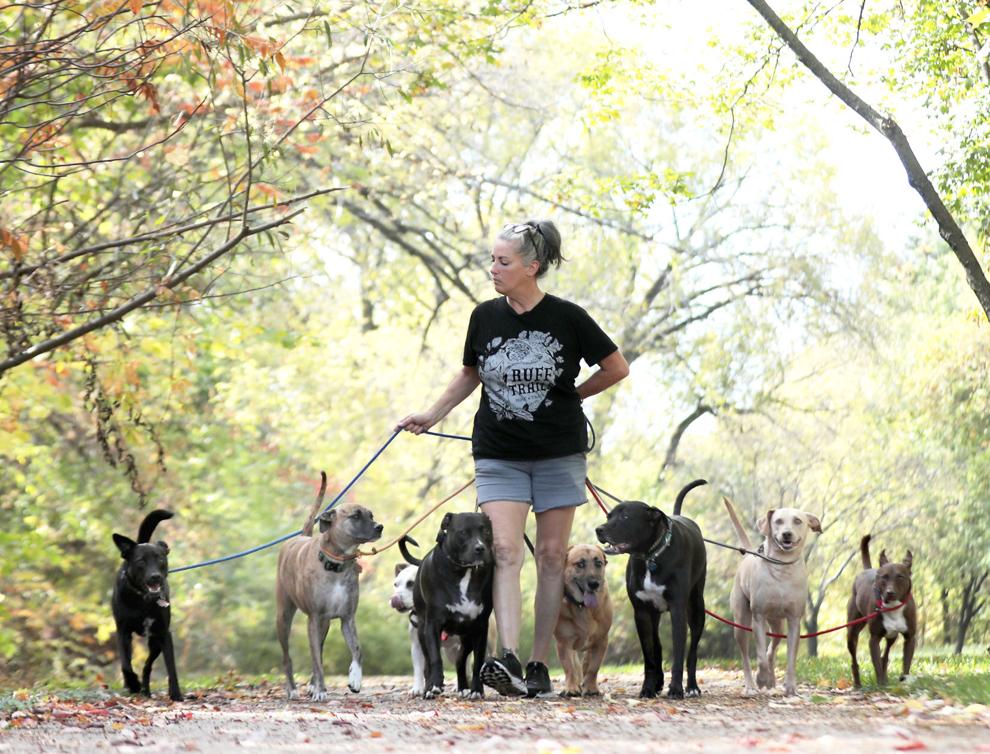 Jennifer Mallon leads eight dogs along a sidewalk next to Warner Park during a Wednesday outing with the pets of customers of dog walking and training company Ruff Trails. With them from left are Baxter, Rishi, Tonks (background), Toby, Greta, Bo, Coconut and Penny.
JOHN HART, STATE JOURNAL


UW Madison students who have enrolled in a basic art class in 3D design will assemble structures made of wood and metal in front of the humanities building on Wednesday. The freeform creations enabled students to explore concepts such as line, volume and space.
JOHN HART, STATE JOURNAL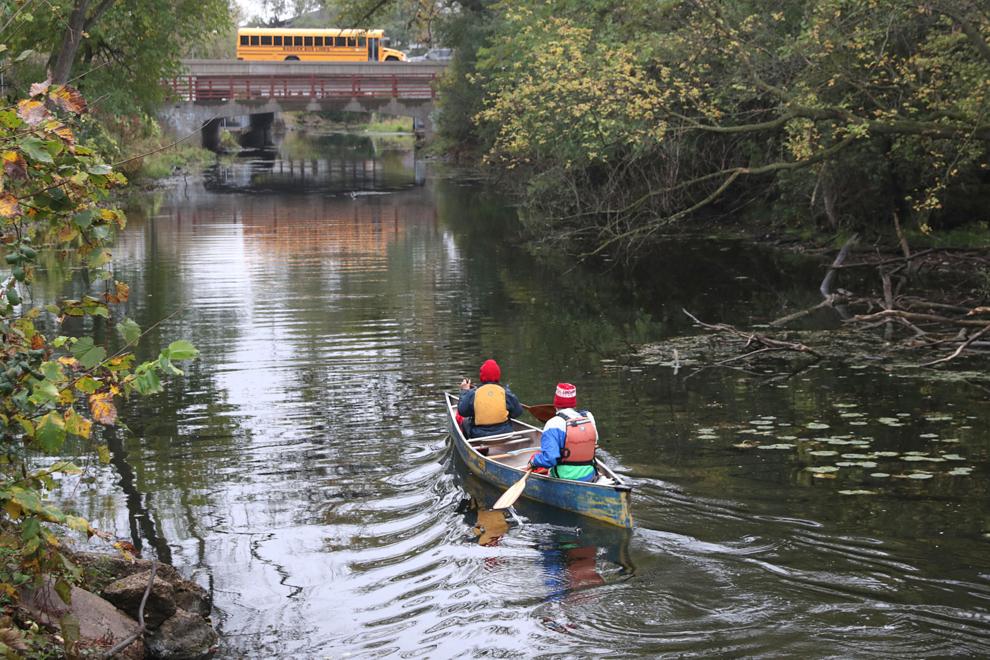 Canoeists embark on a ride along Wingra Creek in Olin Park on a rainy Thursday afternoon. Friday and Saturday are better days for paddling as the sunshine returns before the rain sets in on Sunday for a wet week.
KAYLA WOLF, STATE JOURNAL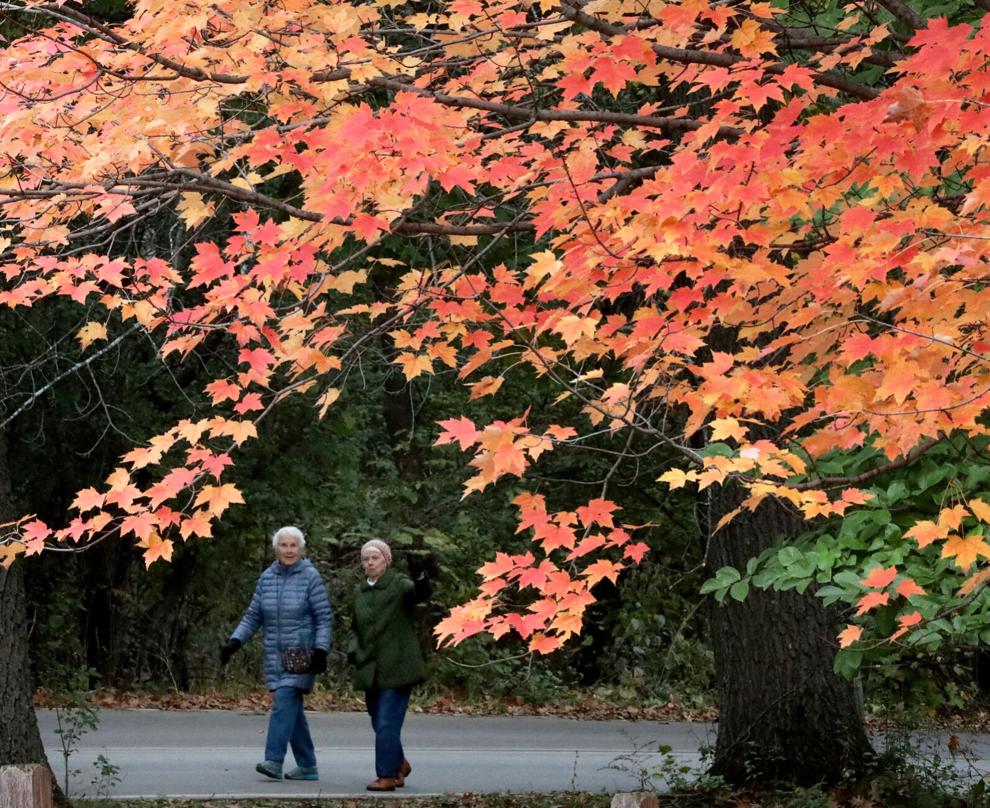 The changing colors of a maple tree in the UW Arboretum frame Nola Dupuis, left, and Carol Kiemel during a walk together on Friday. A frosty autumn morning will give way to sunshine on Saturday, with high temperatures stretching back to the 1950s over the weekend and into the next week, with the possibility of showers again on Sunday.
JOHN HART, STATE JOURNAL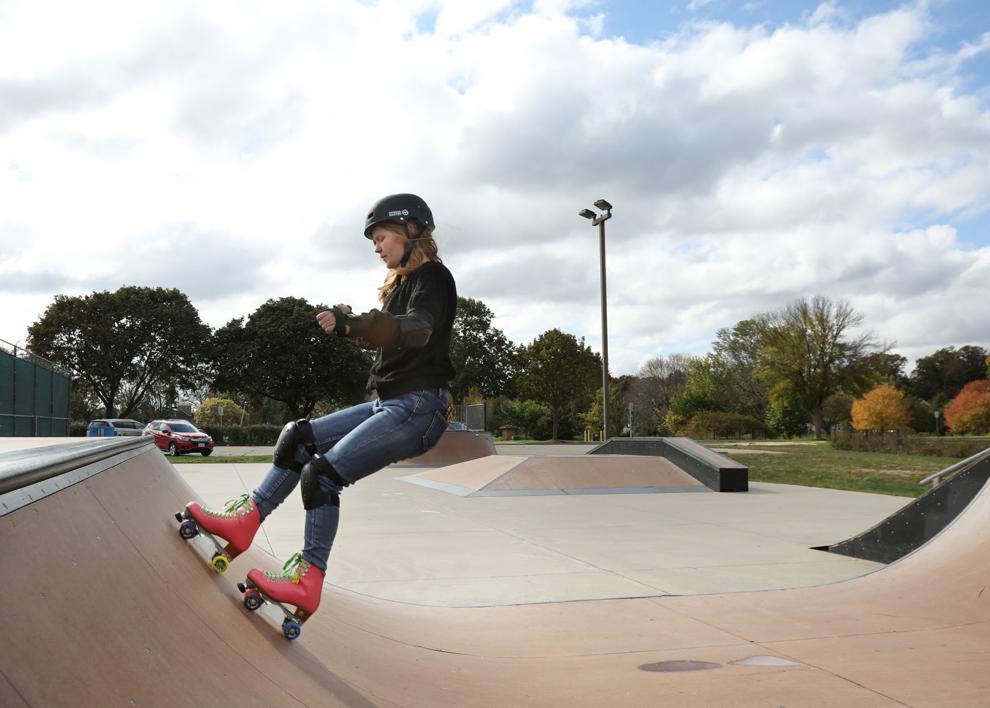 Brittany Plass from Madison will practice her roller-skating skills at Winnequah Skate Park in Monona on Monday. Plass recently re-acquainted themselves with the reversing mode of transport and should have good weather today to sharpen their skills even further. It will be the middle of the 50s with mostly sunny skies.
AMBER ARNOLD, STATE JOURNAL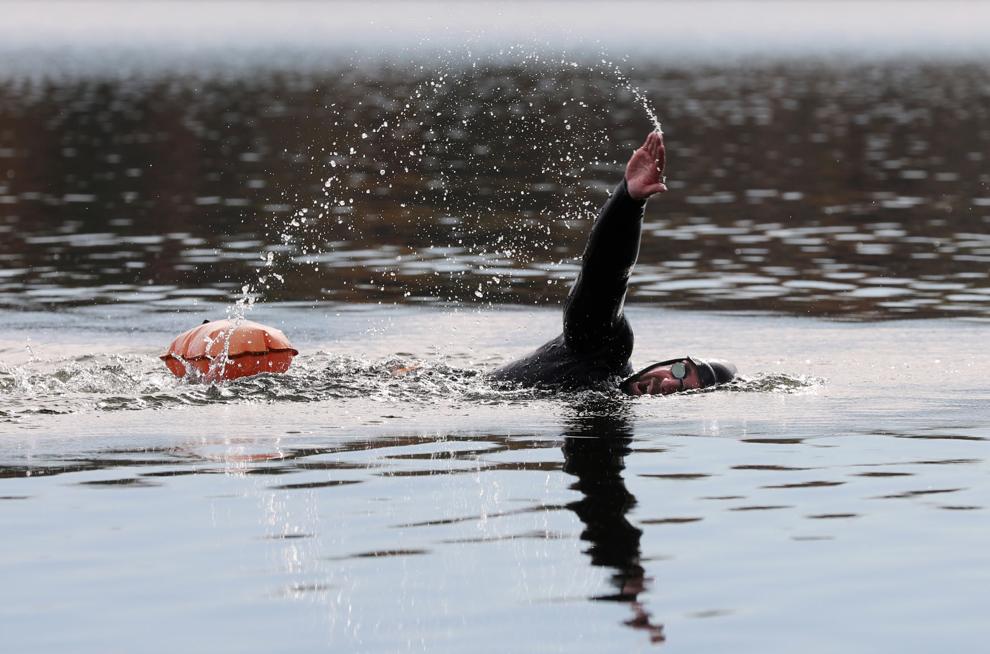 Stephen Balsley of Madison goes to one of his regular 1-mile swimming pools in Lake Wingra on Tuesday. Balsley said he would continue swimming in the lake until it freezes over.
AMBER ARNOLD, STATE JOURNAL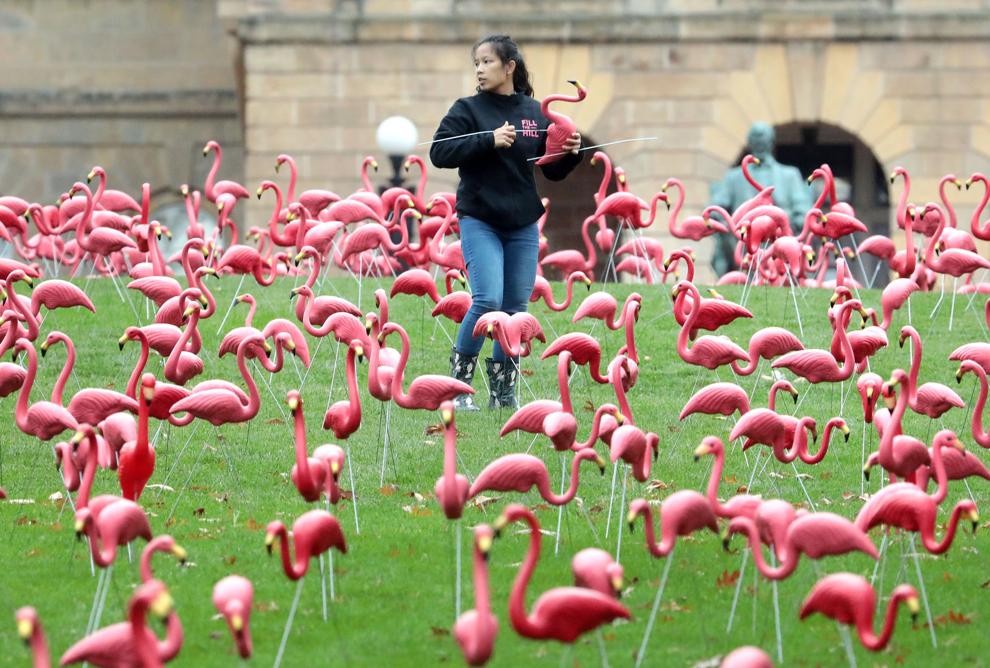 Mei Li Brown of the Wisconsin Foundation and Alumni Association prepares a pink plastic flamingo for placement on Bascom Hill as she helps at the foundation's Fill the Hill fundraising event on UW-Madison campus on Friday. The annual tradition of donating to the WFAA's Always Forward campaign is borrowed from a prank on the first day of school in the fall of 1979, when the student government planted about 1,000 flamingos on Bascom Hill.
JOHN HART, STATE JOURNAL


Get the latest news on local public safety with this weekly email.