Blessed Carlo Acutis' Eucharistic Miracles exhibition travels the Diocese of Madison – Madison Catholic Herald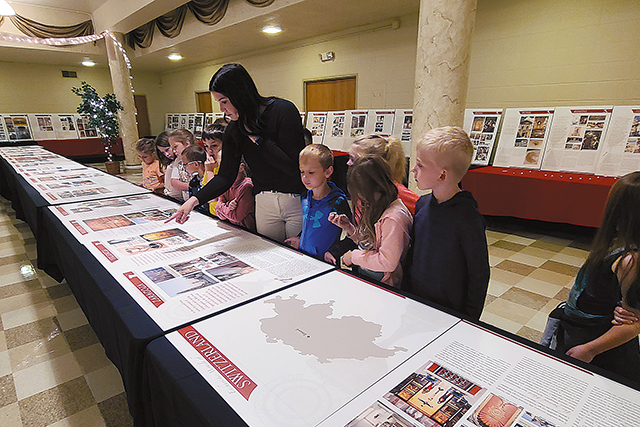 Students at St Clement School in Lancaster are guided through the Eucharistic Miracles exhibition. The exhibition, titled "The Eucharistic Miracles of the World", was on display at St. Clement Parish in Lancaster in late September. The exhibition will continue to travel throughout the diocese throughout the rest of the year and most of 2023. (Contributed photo)
MADSON — The year is 2002. The Church is hurting, and an 11-year-old boy is attending an annual Catholic festival, looking at various exhibits, when he gets an idea. He wants to stage his own exhibition on miracles of the Eucharist recognized by the Church to help affirm people in their faith.
With the help of his family, he spends the next two and a half years cataloging these miracles on his website, "The Eucharistic Miracles of the World". He completes his project in 2005 at the age of 14.
The following year, on October 11, 2006, he passes away from leukemia at the age of 15.
The boy's name was Carlo Acutis. He was beatified in 2020.
International Eucharistic exhibition
While Blessed Carlo's website is still up and even updated by the Associazione Amici di Carlo Acutis (and translated into 19 languages), the exhibition he planned now travels the world.
Most recently, it has come to the Diocese of Madison where it will continue to travel throughout the parishes of the diocese until it will be on display at the Diocesan Eucharistic Congress in Waunakee in the fall of 2023.
The exhibition's first stop in the diocese occurred in mid-September at St. Clement Parish in Lancaster. Since then, it has traveled to St. Maria Goretti Parish in Madison, St. Mary and St. Paul Parish in Mineral Point, and St. Philomena Parish in Belmont.
Currently, it is scheduled to visit 11 other parishes in the diocese including Immaculate Heart of Mary Parish in Monona, St Albert the Great Parish in Sun Prairie, and St Joseph Parish in Baraboo. Typically, the exhibit is on display at each parish for about a week.
Visit more than once
"I'd say you can't just go once," said Bob Schell, principal at St. Maria Goretti School in Madison. "It is kind of like you dip your toes into the water. The first time is more like awe and wonder. There is so much detail and so many stories there."
"I think there are 186 panels," said Paula Schuette, Director of Religious Education at St. Mary and St. Paul Parish in Mineral Point. "We did a scavenger hunt [with the religious education students] because it is a lot of reading. The ones that seem to jump out and result in the most conversations were recent ones where there are photographs of things that still exist today."
She said her students were also very interested in the stories of Eucharistic miracles involving people who had tried to desecrate the Eucharist.
"They wanted to know the details," she said. "They were very intrigued by any time someone tried to steal a host."
But beyond the details surrounding the stories of these miracles, Schuette said that the panels "led to good discussions about God still being at work in the world today. I think [the exhibition] helps kids who have that kind of 'doubting Thomas' mentality. These are things that we can look at today to help us believe and have faith and see that Jesus is truly present in the Eucharist."
Schell agreed that allowing students and others to learn about these miracles through the exhibition can help people's faith.
"Our faith is a relationship with a person, and that becomes more real for them when they can see these examples of these Eucharistic miracles," he said. "I really recommend to people that they take their time to really dive into it. I would also say to bring a friend, maybe someone who is away from their faith or maybe someone who doesn't know much about the Catholic faith. Never underestimate the power of an invitation. Who knows what impact that could have on them."
Fostering devotion to the Eucharist
Br. Michael Tarigopula, parochial administrator of St. Mary and St. Paul Parish in Mineral Point, said that "the reason we are having this Eucharistic poster exhibition is to deepen the faith of my parishioners in the Eucharist."
He mentioned that the United States Conference of Catholic Bishops (USCCB) has initiated a three-year Eucharistic revival and that this exhibition complements that initiative.
Father Tarigopula added that learning about a particular Eucharistic miracle while in seminary really impacted him, but his love for the Eucharist has expanded to an appreciation for Christ's daily presence in the Eucharist.
"I see the love of Jesus in the Eucharist," he said. "Celebrating Mass in the morning, reflecting on the Scriptures, and then receiving the Eucharist, makes my whole day. So I love it. I always like morning Mass."
He encouraged people to attend Mass and Eucharistic Adoration.
"Spending our time — five minutes, 10 minutes, 15 minutes, 20 minutes — with Jesus in Adoration is very fruitful and productive," he said.
He added that, "Sometimes people think the mass is boring — especially teenagers. When you come to Mass, you must come with some expectation."
He emphasized that people need to come ready for Mass, perhaps by reading the Scriptures before attending, or by bringing with them intentions of either thanksgiving or petition. Whether it be to present their and their family's needs before God or to thank God for some blessing, he said people should "come with some expectation."
"What really impacts [you is] when you see Jesus in the Eucharist, in the consecrated bread and wine," he said. "I receive the love of Jesus every day. That's the main thing."
The Eucharistic Miracles of the World Exhibition
(Contact parish for details)
December 2022: Immaculate Heart of Mary Parish in Monona
January 2023: St Olaf Parish in DeForest
February 2023: Holy Ghost & Immaculate Conception Parishes in Dickeyville-Kieler
February 2023: St Albert the Great Parish in Sun Prairie
March 2023: St Francis Xavier Parish in Cross Plains
April 2023: St Joseph Parish at Fort Atkinson
May 2023: St Joseph Parish in Baraboo
May 2023: Holy Angels Parish in La Valle
May/June 2023: St Mary Parish in Bloomington
June 2023: Blessed Sacrament Parish in Madison
September 2023: Diocesan Eucharistic Congress in Waunakee