While we eagerly await the new version coming in the future, the Milwaukee Public Museum isn't done making changes and making the most of its current space, today revealing a brand new mural in its third-floor "Africa" ​​exhibit.
MIAD student artist Genesis Pena explains the new mural in MPM's third-floor "Africa" ​​exhibit.X
Created in partnership with the Milwaukee Institute of Art & Design and crafted by eight MIAD students, the new mural unveiled Thursday morning – labeled "Journeys from Africa to Milwaukee: Black Resistance and the Fight for Freedom" – features four panels gathering influential figures and images from African history across the globe and across time.
Such notable individuals and historic moments interwoven into the piece – from the past to recent times, from icons both international and local – include Harriet Tubman, Nat Turner, Vel Phillips, Nelson Mandela and the Black Lives Matter movement. A panel near the mural helps guide visitors and viewers through all the elements built into the work.
"We wanted to relate it back into Milwaukee history, since the 'Africa' exhibit is the only exhibition that has no direct link to Milwaukee," said MIAD student and artist Genesis Peña, during Thursday's reveal, "so we felt it was necessary to have that representation."
"Each of the four panels of the mural encapsulates 100 years of history," MIAD senior Luis Velasquez noted in a release. "I hope it sparks conversations among visitors, and that they ultimately walk away with a more empathetic understanding of history."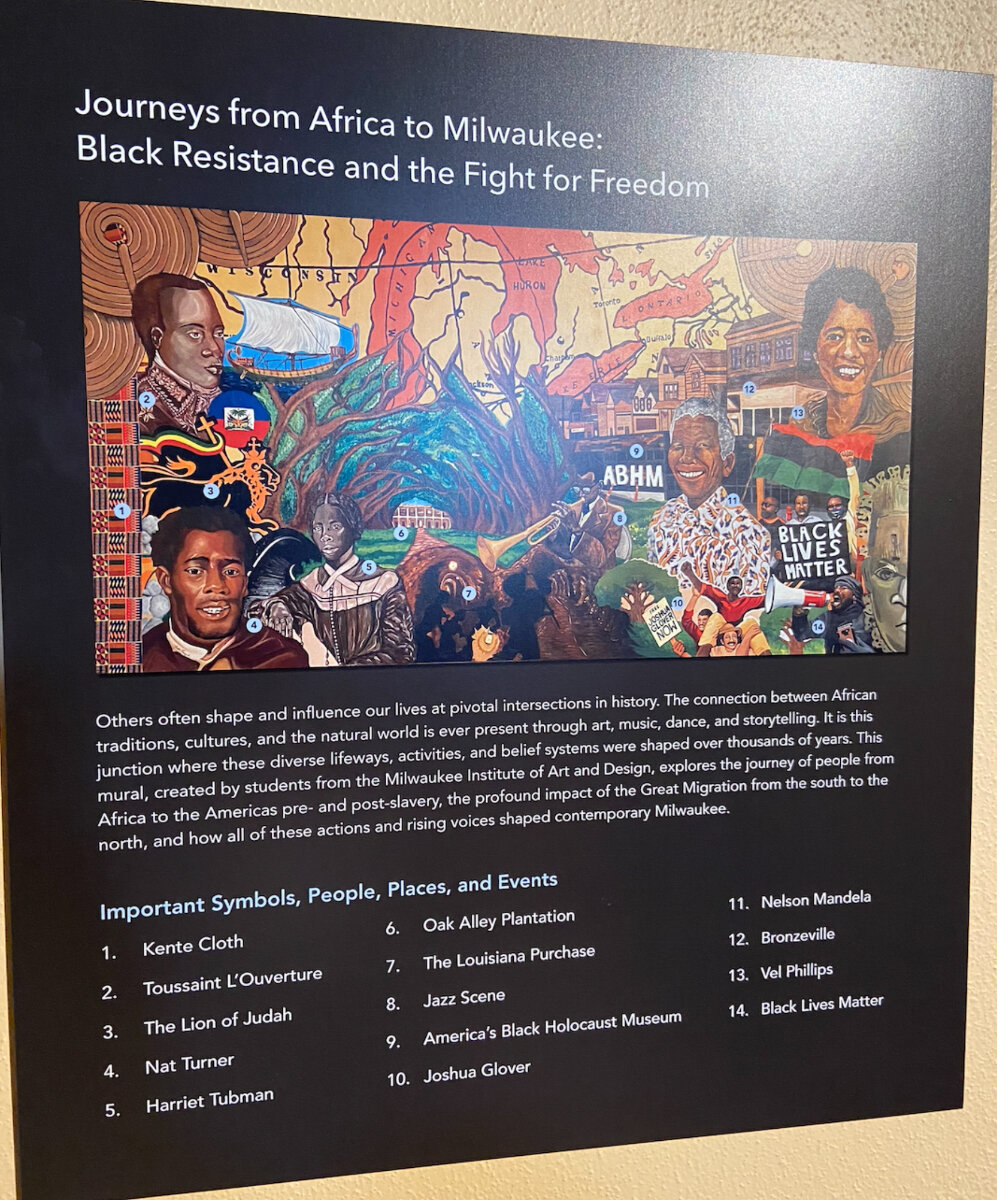 X
To help stir and guide those conversations and better understandings, the Milwaukee Public Museum secured a grant to help develop educational curriculum centered around the new mural and the history portrayed within.
"Teachers can take this mural into their classrooms in different ways; they can bring their students here and have a nice open space to sit and engage with it and do some additional work and learning. That really was the important part," said MPM's Community Engagement & Advocacy Officer Dawn Koceja on Thursday. "This isn't just a painting that's being put up in a museum space. This is an experience that our public, our community and people all over can use in their teaching and their experiences."
"This is a great opportunity to allow this mural to be a catalyst for a curriculum," added MIAD professor Brad Anthony Bernard. "We look at Black history as a yearly thing once a year, on the shortest month of the year. Whereas what we have here is enough information where Black history could be studied for a year, where you have a different emphasis each month of the year that's pertaining to what we see here on the mural."
Found to one's immediate right entering the "Africa" ​​section, the mural is the latest addition to the Milwaukee Public Museum's third-floor exhibit. Earlier this year, the MPM utilized the formerly empty space with an Africa tactile gallery, presenting touchable objects and elements to help further engage visitors of all ages. The new artwork furthers the museum's goal to utilize the space and bring the "Africa" ​​exhibit to life for Milwaukee attendees.
The Milwaukee Public Museum is currently open Wednesdays through Mondays from 10 am until 5 pm For more information on tickets, exhibits and more, visit the MPM's website – and for an early look at the potential future MPM, click here.