I am the granddaughter of Stella Soldier, an Indian Boarding School survivor. I am the daughter of Elizabeth Haller, who knew she was Menominee as a child, but didn't learn she was Ho-Chunk until her early 20s. 
My mother's adoption was the result of official and unofficial government programs that aimed to assimilate Indigenous children into white culture. We are the descendants of Ho-Chunk ancestors who persevered through smallpox, genocide, and forced removal after forced removal. They were the targets of annihilation. Thanks to their perseverance and connection to Teejop (or Dejope) and the surrounding land, I still get to call this place my home.
Looking northeast, the Madison (Teejop) isthmus can be seen between Lake Mendota, left, and Lake Monona, right. Also viewable in the distance are Lakes Wingra and Waubesa. Teejop, also spelled Dejope, means "four lakes" in Ho-Chunk.


ILANA BAR-AV


Indigenous voices, faces, and stories are a minority within a minority. Walk into any local bookstore, go to the local history section and see how many books cover Wisconsin's history before 1848. Does our state motto "Forward" reflect the discomfort many may feel when they rewind and face what actually happened here before 1848?
I began working on this project because having control over our Indigenous narrative is a reclamation of our visual identity. Our people and our stories are often misrepresented or invisible. When our stories are included in textbooks, it's often woven into revisionist history. If our stories make the news, the hand holding the pen or the finger pressing the shutter likely belong to a non-Indigenous journalist.
While I can't speak for all of the tribes in this country, nor even attempt to speak for my own tribes, I offer my perspective in the hope that this photo essay increases the visibility of the descendants of this area's first inhabitants. 
I want people to see the strength, tenacity and beauty of Ho-Chunk people. I hope to spark your curiosity so you can choose to learn more about this place, its people and yourself. 
One of my past mentors told me that I should do a project that was personal, and I kind of resisted it. I've been told that I'm stubborn, and I'm OK with that, it's a Ho-Chunk trait.
My mom is Ho-Chunk and Menomonee. In my adult life, I haven't had a lot of connections to other Ho-Chunks, or other Natives.
This project gave me the structure to dig in. Going out, meeting people that I knew from childhood, and just seeing some of the similarities we have in common — things we would laugh at, how we always say "see you later" instead of "bye." Experiencing that again in my adult life was very comforting. Like a sense of home, or family.
I think telling the stories of underrepresented people is important, and it's important that it's told by somebody that's part of that group. Especially with the history of Natives and photography; it's always been sensationalized.
Everyone I photographed is making a difference. That sounds cheesy! But they're doing things to sustain our people or tradition or culture. They're trying to fix a lot of things that have caused pain or damage to us. I don't think I've ever talked to a group of people in this short amount of time who've had as much heart and determination.
I talked to a woman, Janice Rice, who used to work in Library Sciences at the University of Wisconsin-Madison. She's been trying to get the tribe to do something like this, to document and photograph the people of our tribe. She was happy that I was doing this project. There are so many people that are important to not only the Madison community and their Wisconsin community, but also our own community, preserving it.
They pushed us out 12 times. The ones who are here are the ones who kept coming back. As the herd has thinned, the old photographs, the memories, have to be supplemented with modern ways of documentation, and passing that stuff along. The more accessible that can be, I think, the more that can aid in preserving tradition and our history.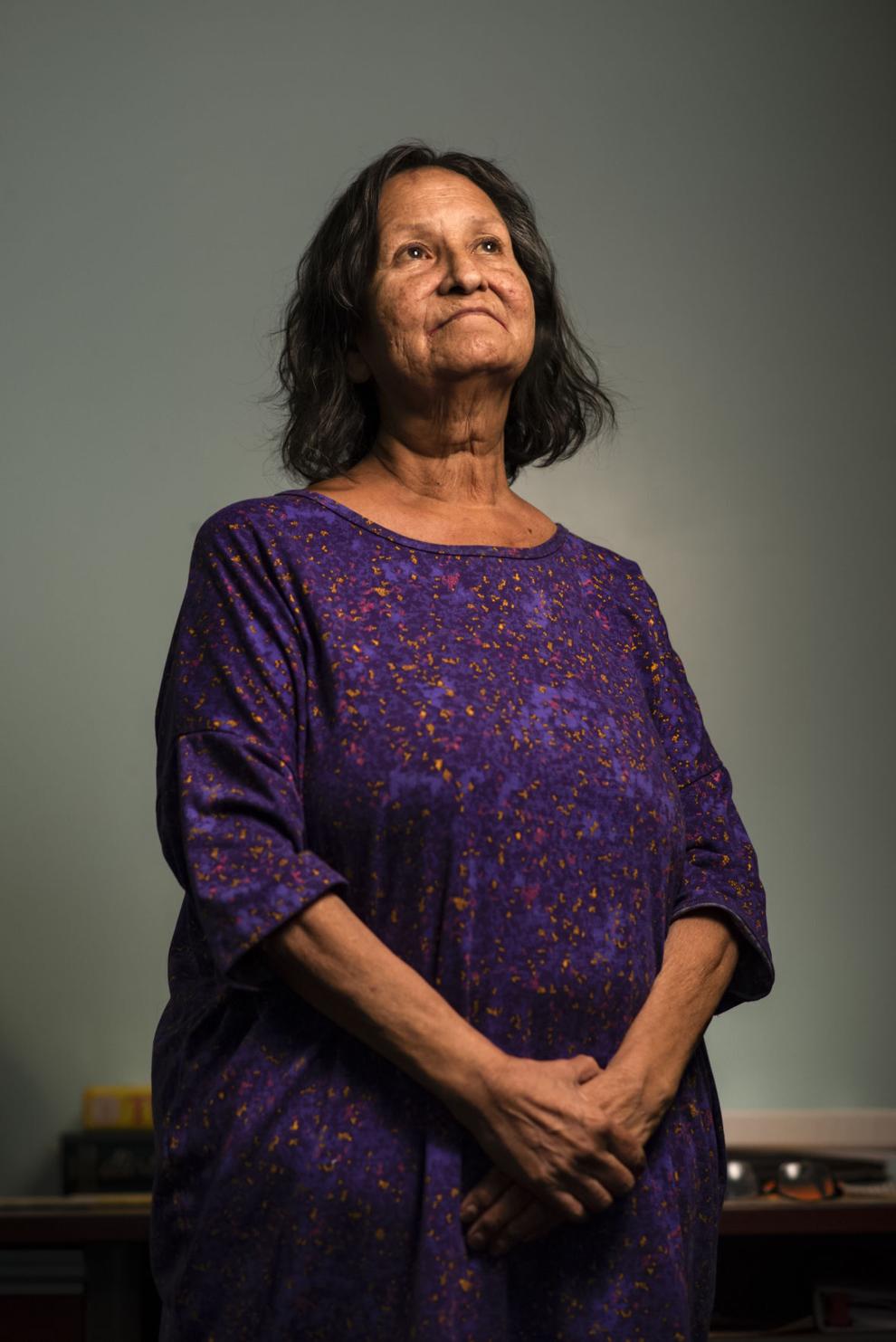 Years before the Indian Child Welfare Act was enacted in 1978, Elizabeth Haller of Neillsville, was removed from her home as a baby.
"No one was here to help ensure that maybe I had family or relatives who wanted me," she said. "I had a lot of problems when I was in high school with my identity … it was hard."
Haller, who is also the photographer's mother, is now the Indian Child Welfare Program Supervisor for the Ho-Chunk Nation.


ILANA BAR-AV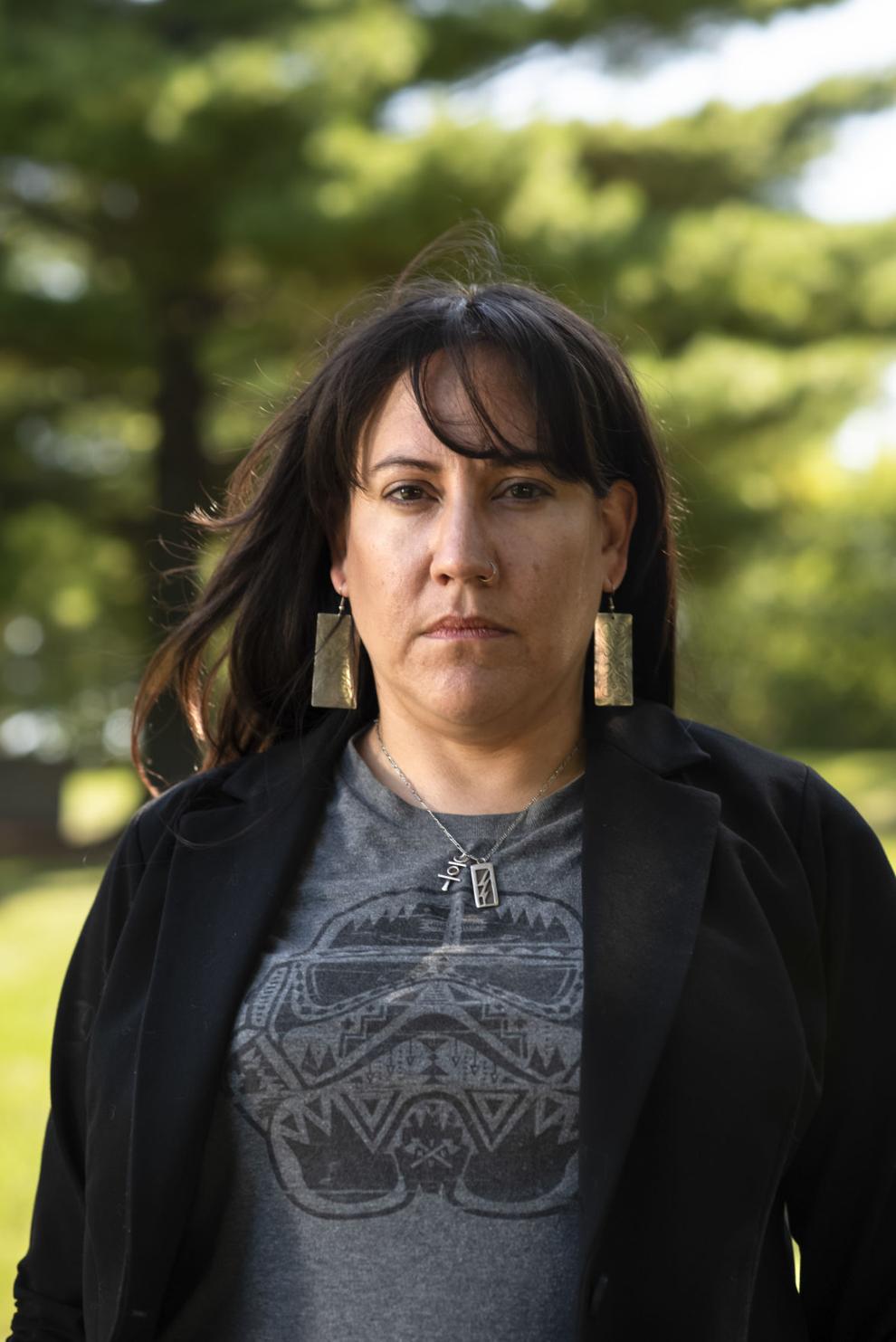 Madison's first Native American alder, Arvina Martin is pictured near effigy burial mounds on Observatory Hill.


ILANA BAR-AV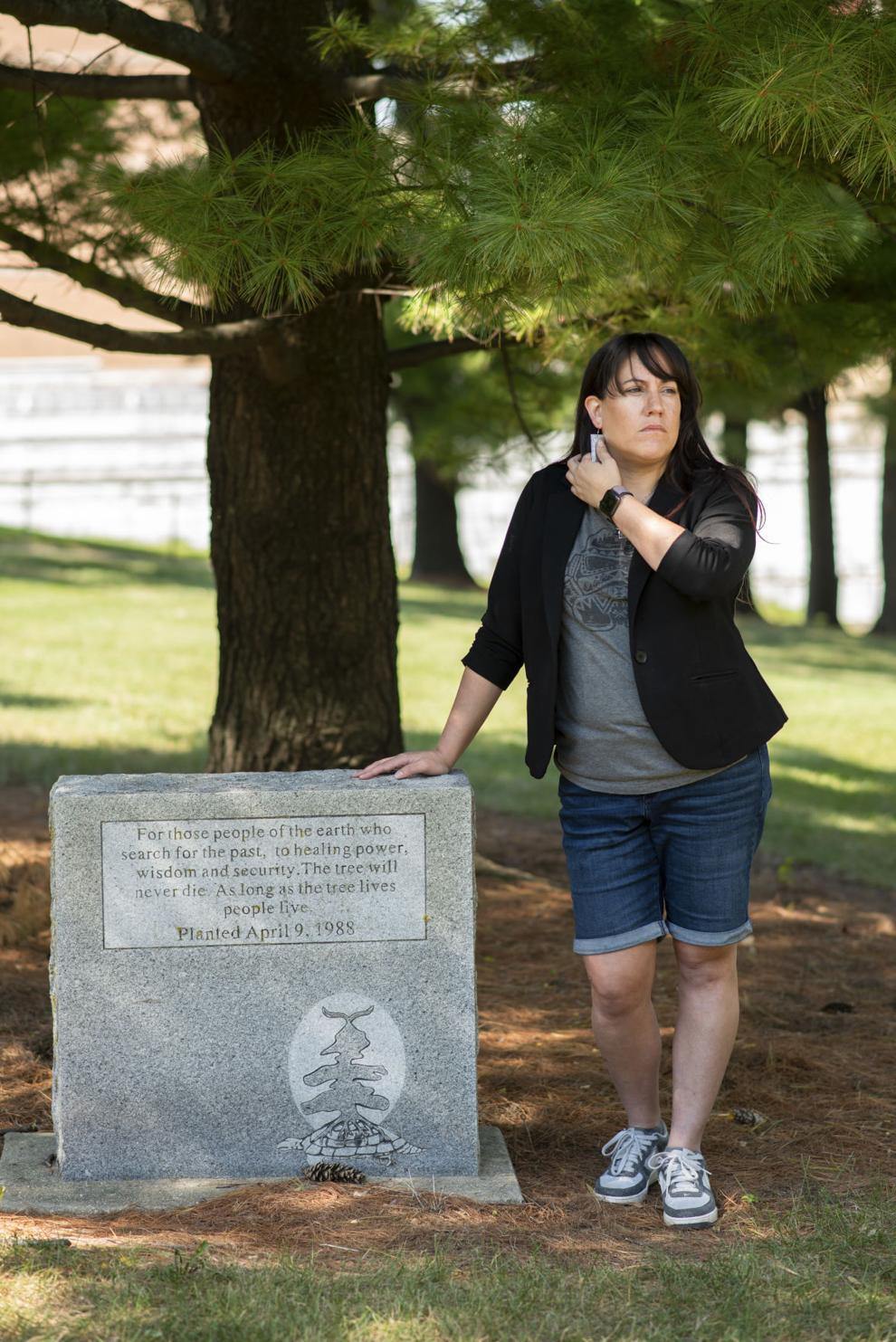 Madison's first Native American alder, Arvina Martin, stands near effigy burial mounds and The Tree of Peace, which she helped plant in 1988 on Observatory Hill. Martin says sites like this are a part of every Madison resident's heritage even if they aren't Indigenous.


ILANA BAR-AV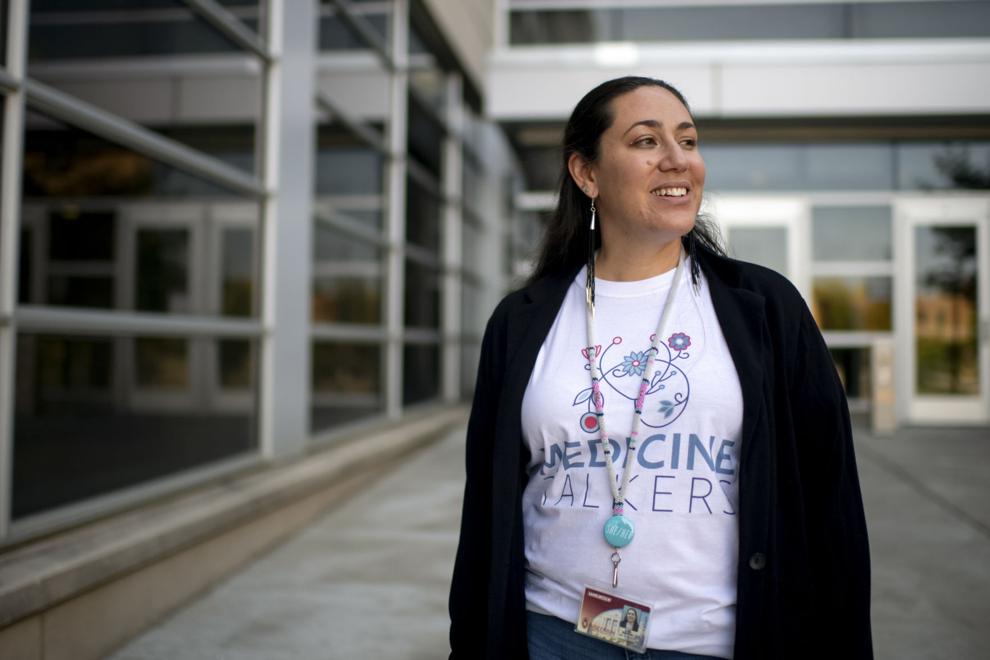 Lina Martin is a program coordinator at the Native American Center for Health Professions. Martin describes her role as bettering the health and wellness of the students she works with. Everything comes down to the support and family-like nature of the intertribal and Ho-Chunk communities in Madison. "We show up for each other," she said. "When you're a part of a small group who doesn't feel seen, that means everything to find that group where you are seen. It makes you feel empowered. "I'm kind of teased that my job is just a wall holding up a mirror, so that people can really see how truly strong they are, smart and just beautiful in every sense of the word."


ILANA BAR-AV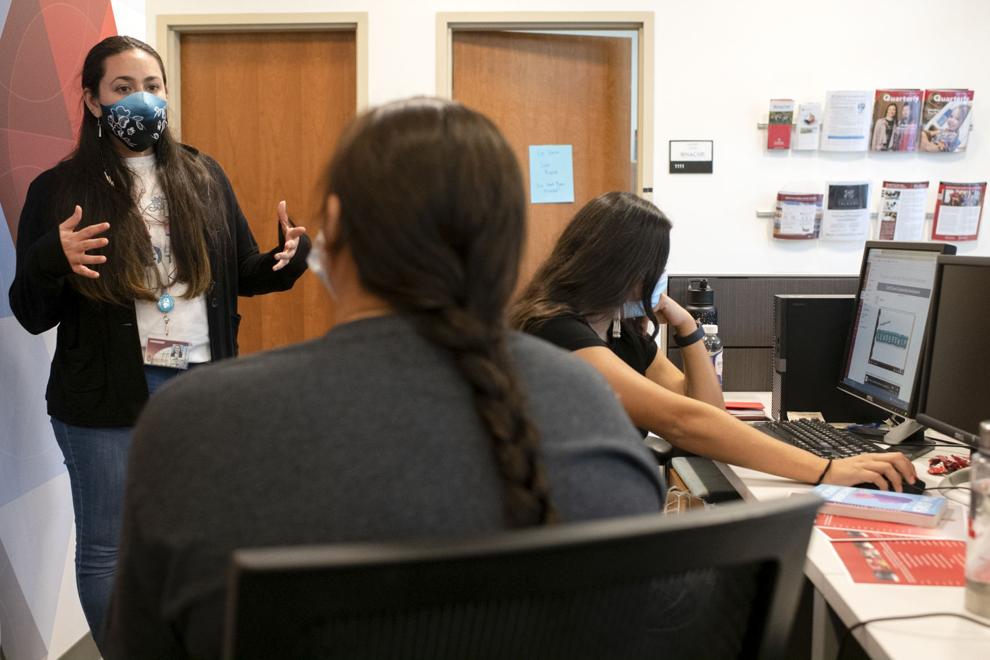 Native American Center for Health Professions program coordinator Lina Martin talks with Paige Skenandore, president of the UW-Madison indigenous student organization Wunk Sheek.


ILANA BAR-AV


Tom Jones, a professor of art, teaches a photography class at the University of Wisconsin-Madison. "One of my main missions as a professor is to mentor as many Native graduate students that I can. It is imperative that we have more Native people in the various art fields, so often it has been others who tell our own stories.
"I made a conscious decision to promote not only Ho-Chunk culture, but also other Native artists through my research in writing books and art curation."
"The work I do is for my people, my community," wrote Jones, who is Ho-Chunk. "The majority of my work is about Ho-Chunk or Native American issues. It's pretty rare that I'll do portraits of any other tribe. It's always just Ho-Chunk."
Jones said he's proud of his people, "who were removed more than seven times from our original homelands, but continuously returned. And they had to purchase back all the land we own today.
"My dream would be that the UW would create change by having endowed professorships and scholarships for our Ho-Chunk people, in return for the land they occupy."


ILANA BAR-AV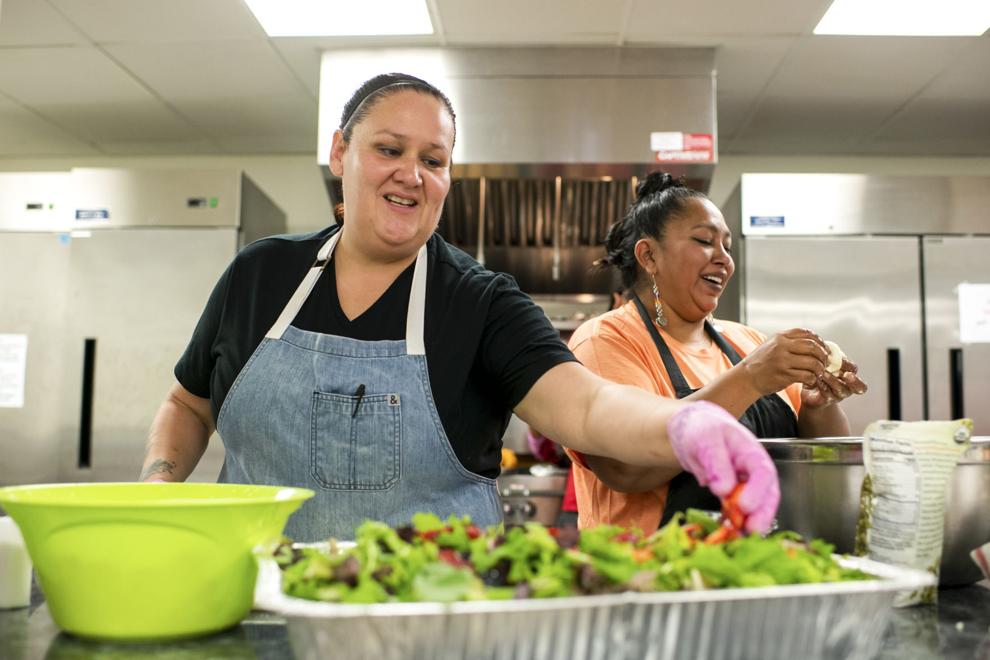 Elena Terry (left), the Ho-Chunk chef and founder of Wild Bearies, prepares a meal for the Tomah Indian Boarding School Remembrance Vigil in Tomah with help from Becky Green.
"I do it for my grandchildren," Terry said of her work preserving and teaching about Indigenous foodways. "Hopefully the work I do now will ensure that they will not only have our traditional foods, but that they will be plentiful and that the knowledge will continue to be shared, while building community in a good way."


ILANA BAR-AV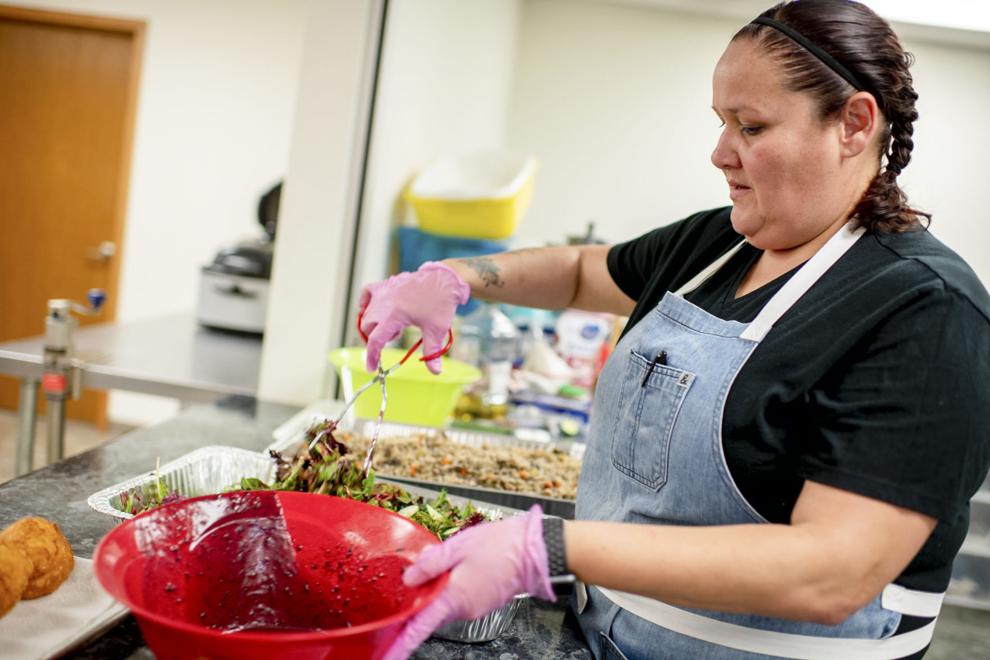 Elena Terry, the Ho-Chunk chef and founder of Wild Bearies, prepares a meal for the Tomah Indian Boarding School Remembrance Vigil in Tomah.


ILANA BAR-AV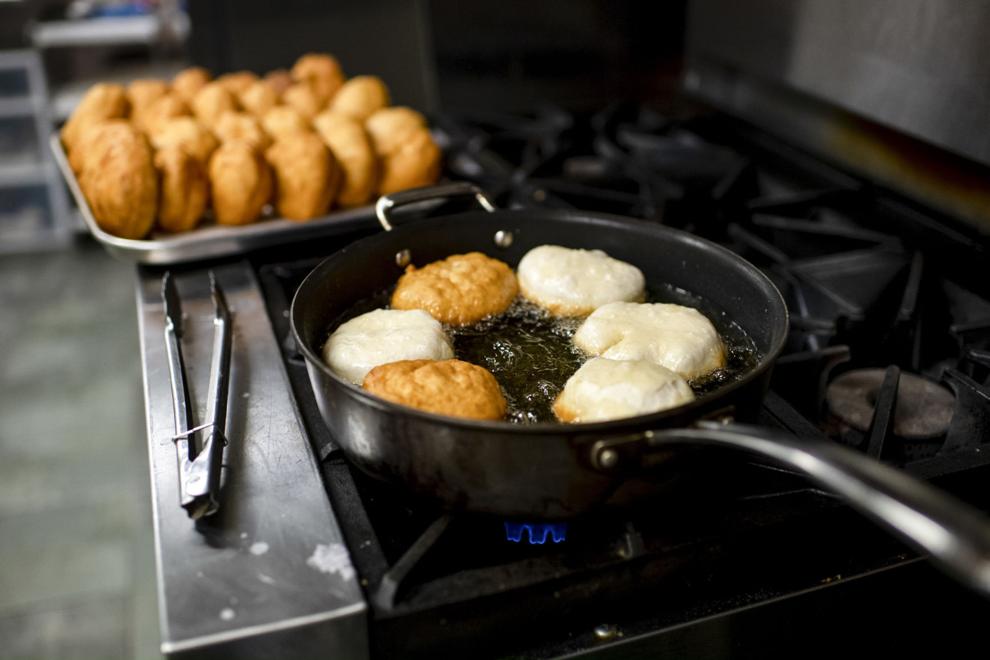 Fry bread is made by Elena Terry's Wild Bearies team for a meal at the Tomah Indian Boarding School Remembrance Vigil.


ILANA BAR-AV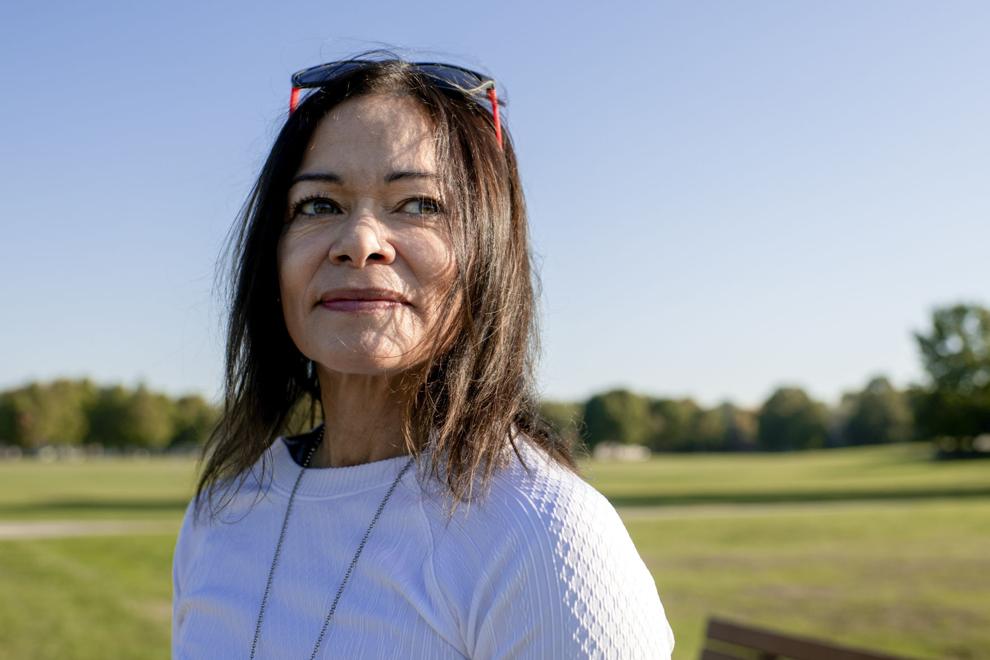 Heather Crowley of Madison pauses for a portrait while walking her dogs at Warner Park. Crowley works full-time for the Dane County Department of Human Services as a supervisor in the Youth Justice Unit. She's also part-time Behavioral Health social worker in the Emergency Department at St. Mary's Hospital, in addition to being a part-time lecturer at UW-Madison.
Crowley says that being Ho-Chunk and learning about her story is the main reason she went into social work. "I always try to include the story of Natives when they're talking about policy and change, and what family and community means," Crowley said. "It's very different from how things have always been done institutionally."


ILANA BAR-AV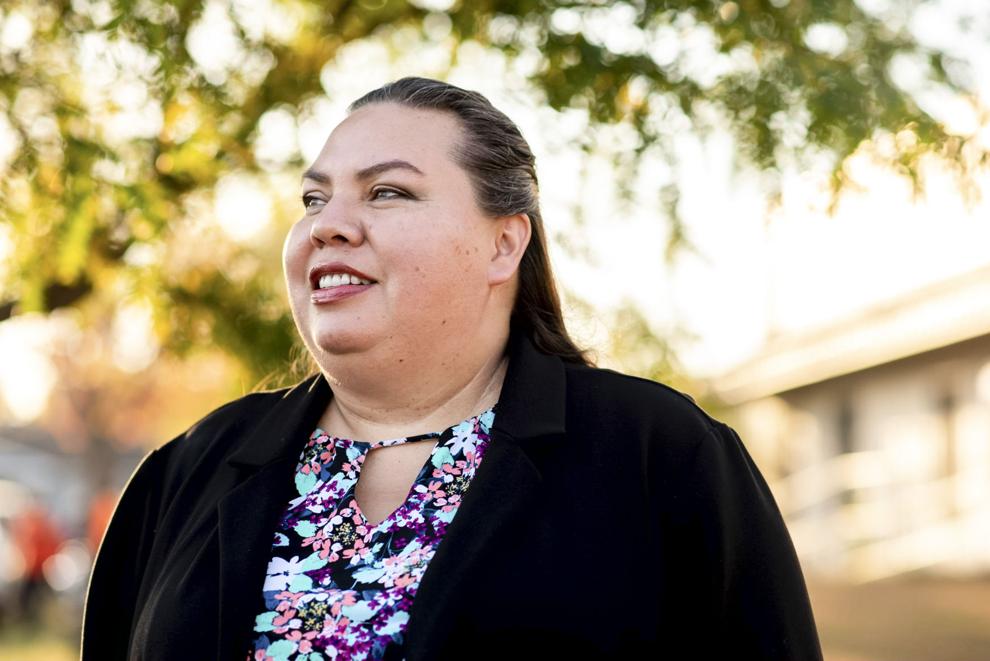 When she was the elected Legislative Representative for the Ho-Chunk Nation, Hinu Buffalo (Helgesen) Smith was responsible for drafting new, or updating current laws for the Ho-Chunk Nation. The government of the Ho-Chunk Nation includes four branches: General Council, Legislature, Executive and Judiciary. Smith is pictured in Tomah. Smith, who lives in Neillsville, said "our DNA is literally in this soil. All our ancestors, since the beginning of our existence, (are) in this soil, literally. Our language. Our culture. Our teachers. Our lessons. All in this soil."


ILANA BAR-AV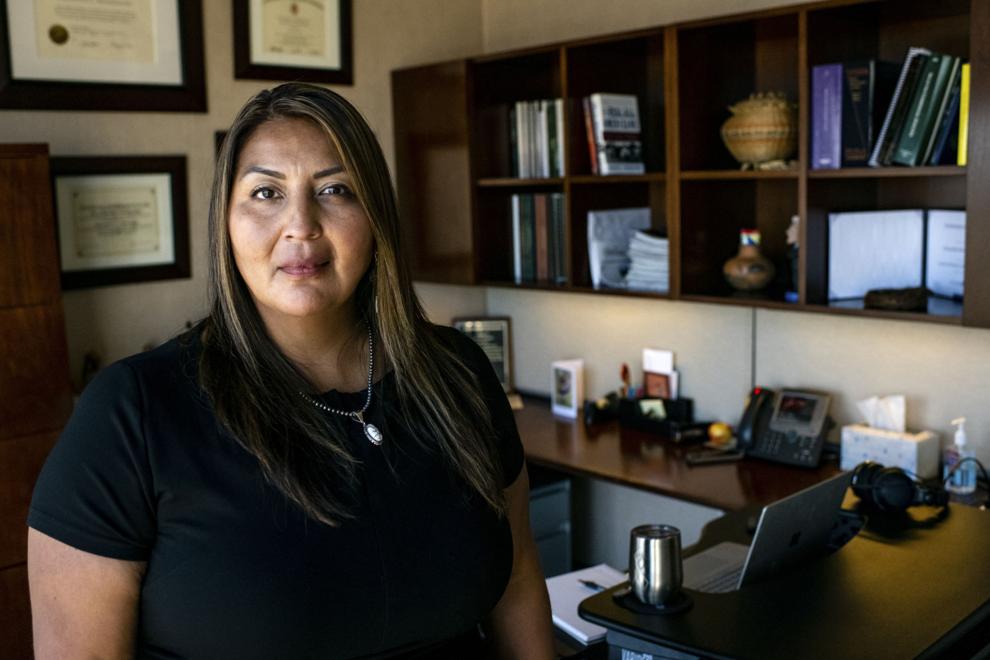 Attorney Samantha Skenandore of Cottage Grove focuses her law practice on federal Indian law and tribal law, advising tribal and corporate clients in tribal governance, governmental affairs, corporate transactions, real estate, labor issues and litigation. She serves as board chair for the Indian Land Tenure Foundation, whose mission is "to expand any land tenure."
"Let's help all the tribes get their land back," Skenandore said. "It's a land back foundation. You have to have land to do anything."
She made a deliberate choice to stay — this land is sacred to her.
"There are mounds all over this area," Skenandore said. "This is a very sacred area. It's full of medicine in the ground and it emanates all the time, throughout the seasons. I would never live anywhere else."


ILANA BAR-AV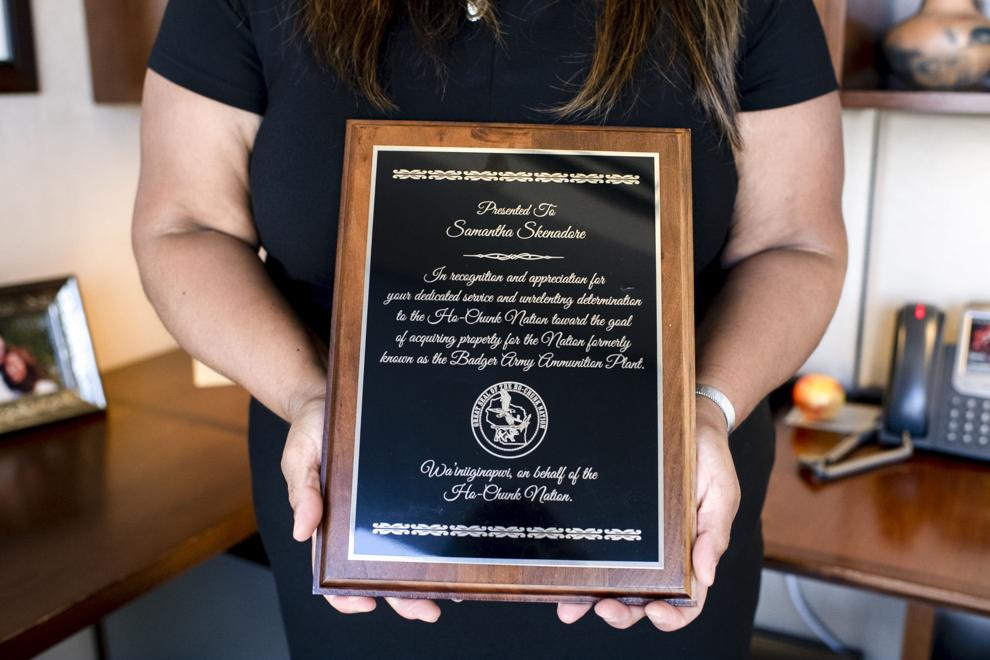 In her office in Madison, Samantha Skenandore holds her most prized award. When Skenandore was newly out of law school and first licensed in Wisconsin, the Ho-Chunk Nation asked her to help get land back from the Badger Ammunition Plant.
"Their attorney said they got offered 450 acres of a small little postage stamp of land," Skenandore said. "And I said, 'No, I'm gonna go in there. I'll get us more land back.'
"We got 1,500 acres, and we got it all into trust," she said. "We got the cleanest area of land that had the least ammunition and contamination and the best water quality. No tribe has ever gotten a military plant in trust for no cost. It (has) never happened before."


ILANA BAR-AV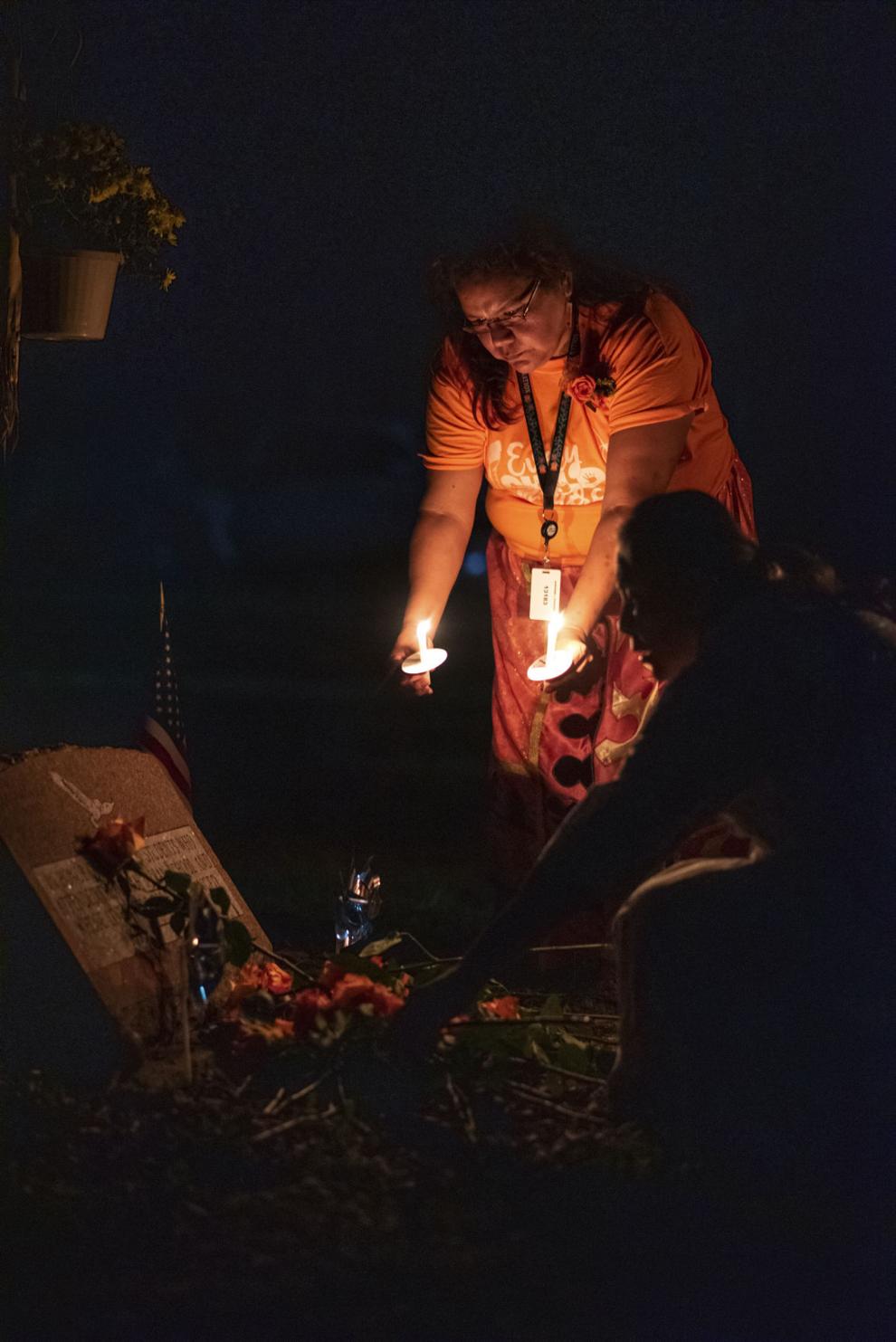 Adrienne Thunder of Fairchild holds candles during the Tomah Indian Boarding School Remembrance Vigil in Tomah. Thunder, who organized the vigil, is the language division manager at the Ho-Chunk Nation, which is dedicated to ensuring that the Ho-Chunk language continues to be a living language.


ILANA BAR-AV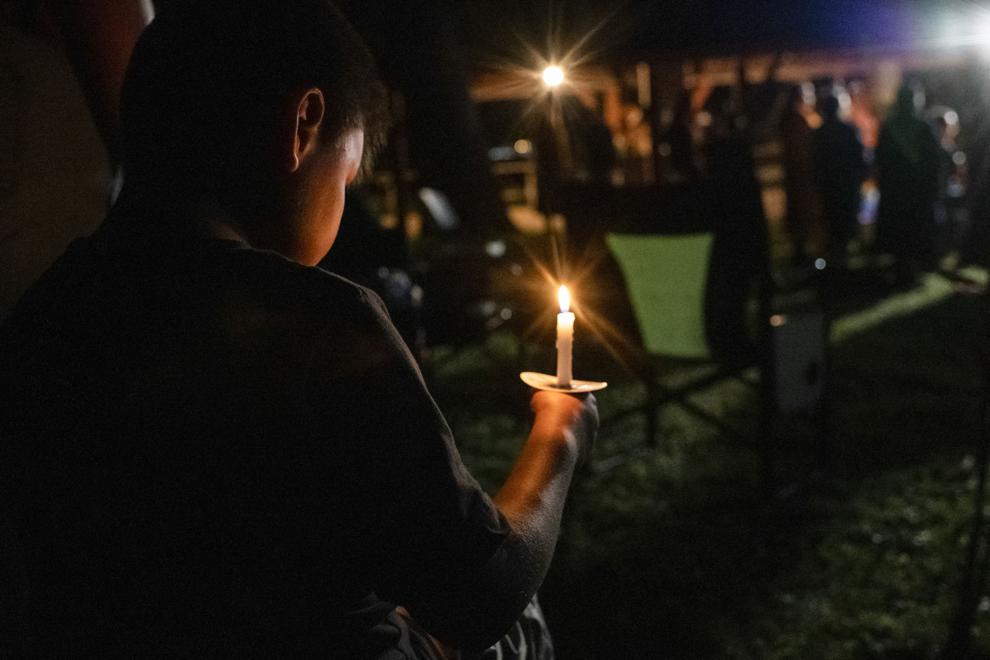 An attendee at the Tomah Indian Boarding School Remembrance Vigil in Tomah.


ILANA BAR-AV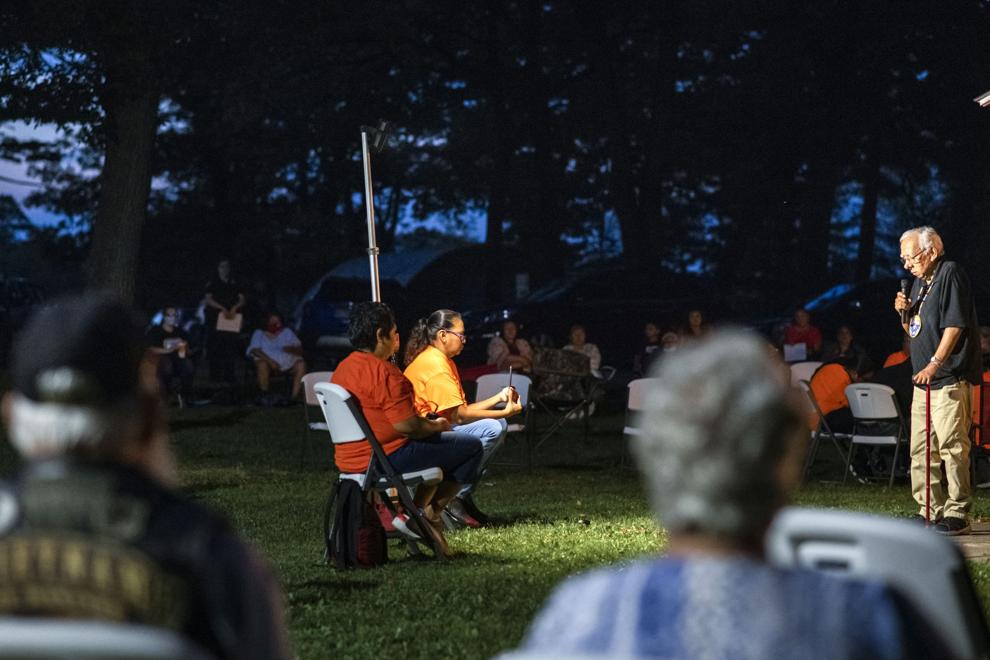 Anne Thundercloud records video of Ho-Chunk eminent speaker Gordon Thunder as he shares a prayer at the Tomah Indian Boarding School Remembrance Vigil. The goal of Indian Boarding Schools was to assimilate Indigenous children into white culture often through force and abuse.


ILANA BAR-AV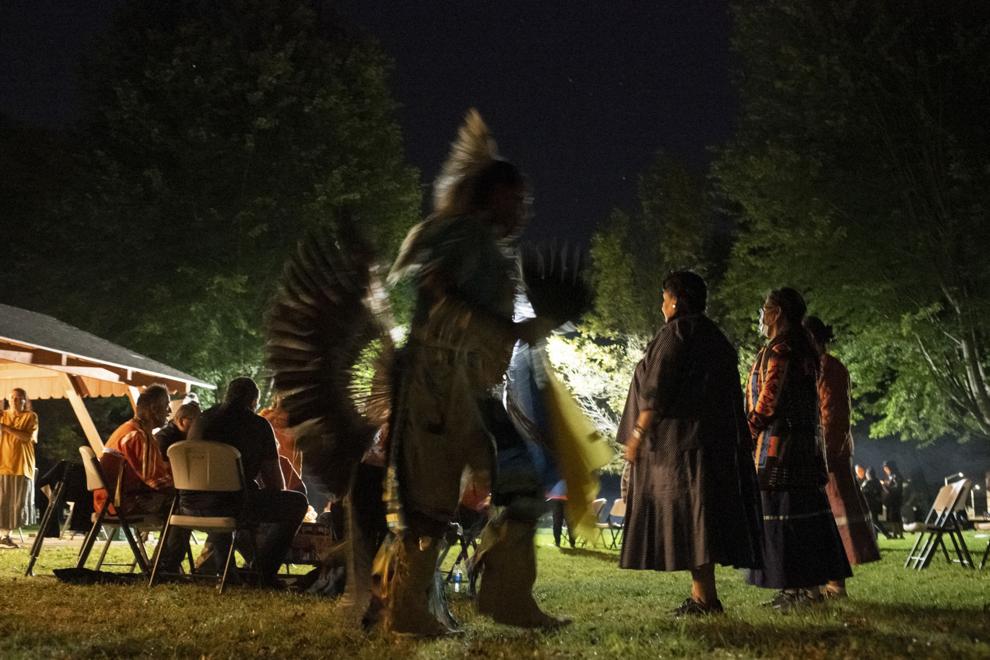 Wallace "Rock" Greendeer dances to the Honor Song at the Tomah Indian Boarding School Remembrance Vigil in Tomah.


ILANA BAR-AV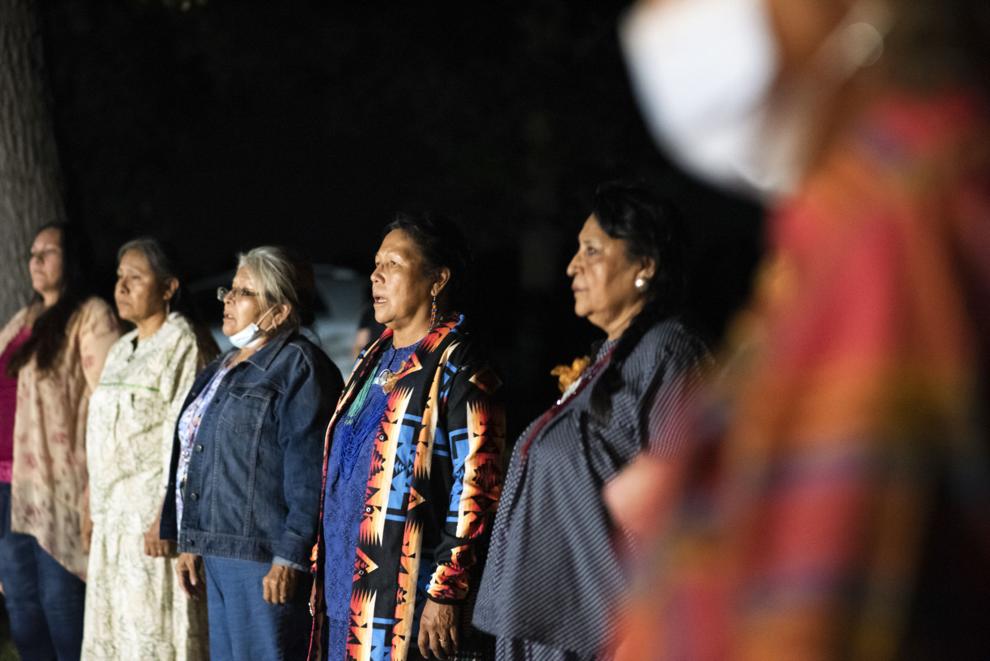 Ho-Chunk women sing along to a song entitled "Love One Another", performed by Little Thunder at the Tomah Indian Boarding School Remembrance Vigil. Civil War veteran Lt. Col. Richard Henry Pratt was the founder of the first government run Indian Boarding School, Carlisle Indian Industrial School in Pennsylvania. Pratt's motto was "Kill the Indian, Save the Man."


ILANA BAR-AV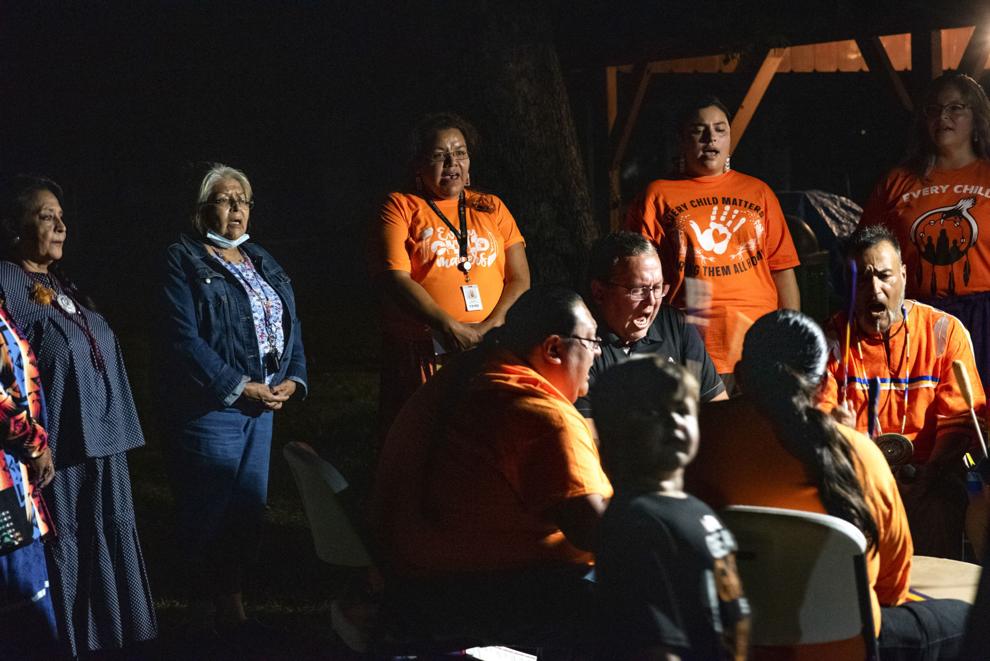 Ho-Chunk women sing along to the traveling song as Little Thunder perform in a drum circle at the Tomah Indian Boarding School Remembrance Vigil.


ILANA BAR-AV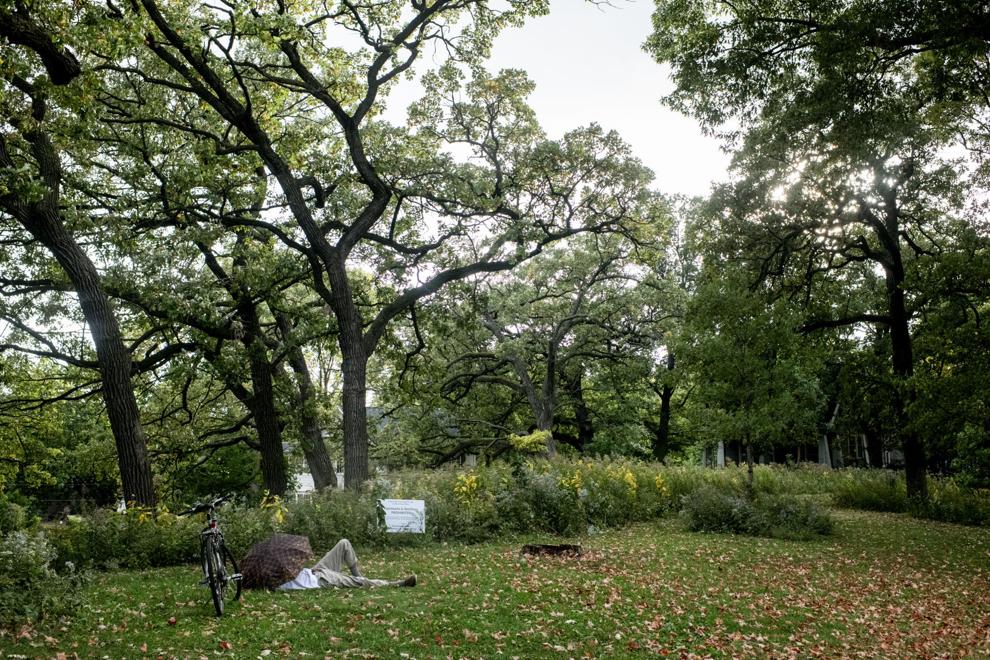 A person lays in the grass atop the effigy mound at Bear Mound Park in Madison. The indigenous burial mound on the western side of the park is in the shape of a bear.


ILANA BAR-AV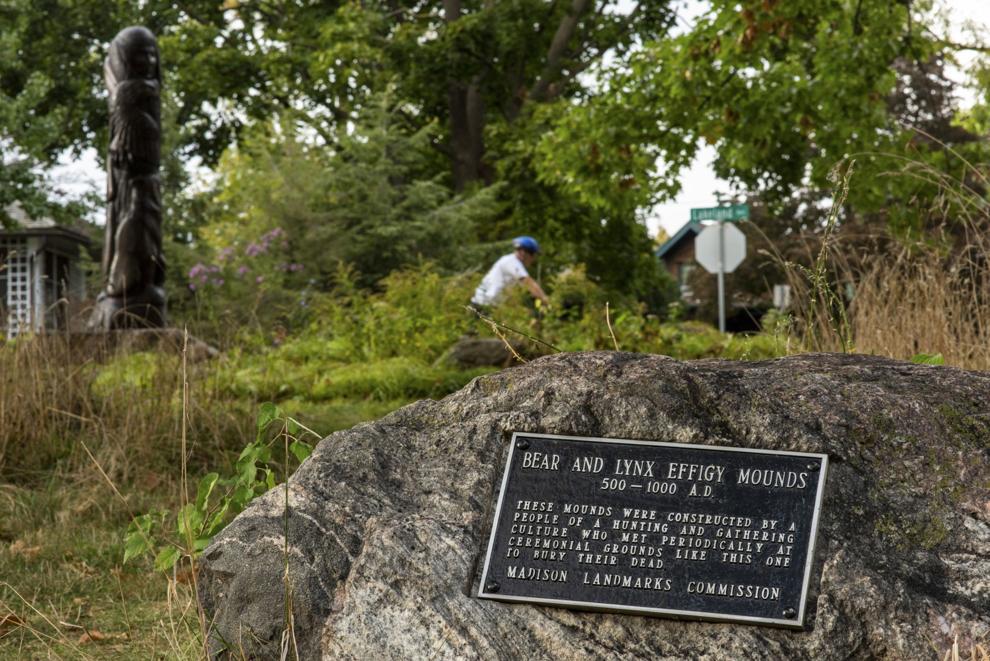 A cyclist rides by a bronze sculpture entitled "Let the Great Spirit Soar" by Harry Whitehorse on the Bear and Lynx effigy mounds at Lakeland Avenue Effigy Mound Park in Madison.


ILANA BAR-AV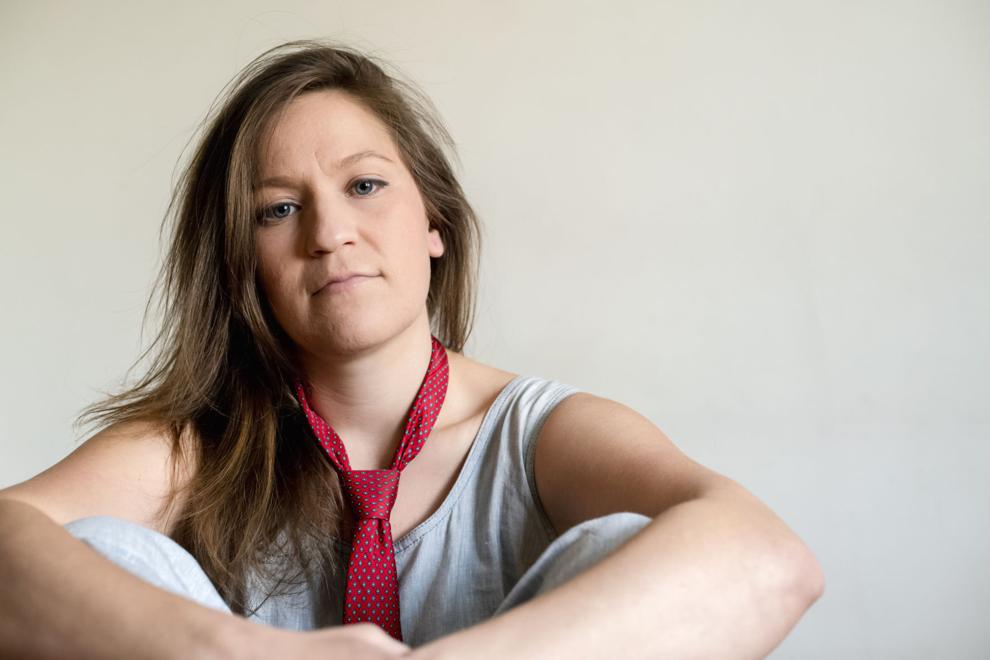 Ilana Natasha Bar-Av is a photographer working in Madison with a studio in the Madison Enterprise Center. She began taking photos professionally in 2008, and currently focuses on portraits, documentary weddings, photojournalism, and commercial photography. She earned a bachelor's degree in music with a business emphasis from Edgewood College. She is fascinated by people — why we are the way we are — and photography allows her to explore that. Follow her at ilananatasha.com or on Instagram at instagram.com/ilanabarav.
Share your opinion on this topic by sending a letter to the editor to [email protected] Include your full name, hometown and phone number. Your name and town will be published. The phone number is for verification purposes only. Please keep your letter to 250 words or less.