GREEN BAY — When a team that began the year with Super Bowl aspirations — even ones that were fantastical, as it turns out — ends it below .500 and misses the playoffs, the question is simple: What went wrong?
The answer is far more complicated.
From a future Pro Football Hall of Fame quarterback who had a hard time being patient with talented-but-raw rookie receivers and wound up having the worst statistical season of his career; to a coaching brain drain on the offensive side of the ball and player-to-coach frustration on the defensive side of it; to overvaluation of some of the talent, even as the draft class had a rare immediate impact; to flat-out inept on-field execution, especially in some of the areas that ultimately decide who wins and who loses; to the concept of "complementary football" proving exasperatingly elusive, the story of the 2022 Green Bay Packers writ large is this:
People are also reading…
The expectations far outweighed reality, with a not-as-good-as-advertised defense, an offense missing the best wide receiver in football, a personnel department that didn't get enough of a return on its heavy capital investments on defense, and a coaching staff that couldn't find a way out of a midseason tailspin that saw the team lose 7 of 8 games and have zero margin for error at the end of the year as a result.
And so, general manager Brian Gutekunst and head coach Matt LaFleur head into the offseason trying to contend while continuing an on-the-fly rebuild, quarterback Aaron Rodgers begins his retirement ruminations intrigued by his young teammates' potential but unsure if he's willing to go through the process of getting set for a 19th NFL season, and the fan base openly wonders if hitting the reset button and kicking off the Jordan Love era is the right play — while the fear of a return to the mediocrity of the 1970s and 1980s is palpable.
"There's a lot that goes into it, and I think that's a lot of the lessons that you learn when you're dealing with some of the stuff that we dealt with: You realize there's even more outside of your control (than you thought)," Rodgers said in the immediate aftermath of the Packers' 20-16 season-ending loss to the Detroit Lions, a defeat that came when a victory would have sent the Packers into the postseason as the NFC's seventh and final playoff seed with a 9-8 record. "And then the stuff that was in our control, we just weren't very good for a long stretch, and that obviously hurt us and put us in this position. And then we played (against the Lions) like we did — inconsistent throughout the season."
For LaFleur, that inconsistency proved maddening, and was underscored by the way his team played in a Jan. 1 win over the NFC North division champion Minnesota Vikings at Lambeau Field, when the offense, defense and special teams all played well simultaneously — a far too rare occurrence throughout the year.
"There's a lot of things that we didn't do consistently enough throughout the course of the season that's led us to this point," LaFleur said. "So, collectively it wasn't good enough.
"It's crazy when you think a couple weeks back (against the Vikings). The complementary football was on the highest display that we've probably had here in some time, and then you look at (the loss to the Lions) and it was not that. … We can't forget the lessons that were learned along the way this season in terms of, what does it take to put a consistent product out there and get wins? This is as competitive as any league as there is in professional sports, and the margin for error is small. So you've got to make sure that you're doing everything in your power to give yourselves a chance to win on Sundays."
Or, as Gutekunst put it: "Certainly, we had some moving parts. But we just never played complementary football, you know what I mean? The times when our defense was playing well, we didn't adjust and do things in the second half. And our offense was taking some time to get going. I think we got better as the year went on, but I think there was just inconsistencies in our complementary football. And I think that hurt us along the way."
With that in mind, let's take a look at where things went awry in five key areas of the Packers' operation.
OFFENSE
Rodgers bit his tongue after the loss to the Lions when asked explicitly what was wrong with the offense.
"There's a lot of things I could say but I don't feel like saying them right here and right now," he said.
Green Bay Packers quarterback Aaron Rodgers, once again, fell short on his quest for a championship.
The numbers tell plenty of the story. The offense finished 14th in the 32-team league in scoring (21.8 points per game, a number boosted by two interception returns for touchdowns and a kickoff return TD) and 17th in total defense (337.9 yards per game, but the unit's situational failings were especially devastating). The Packers were in the bottom half of the league in third-down conversion rate (39.5%; 17th); fourth-down conversion rate (38.7%; 28th); red-zone efficiency (51.9% touchdown rate; 24th); and goal-to-go efficiency (50% touchdown rate; 32nd).
The Packers' 22 turnovers tied for 14th-most in the NFL after they had the fewest in the NFL in 2020 (11) and tied for the fewest in 2021 (13).
Rodgers, meanwhile, had the worst stat line of his 15 years as the starter in 2022, completing 64.6% of his passes for 3,695 yards with 26 touchdowns, 12 interceptions and 32 sacks for a career-low passer rating of 91.1 in 17 games. During his back-to-back MVP seasons of 2020 and 2021, Rodgers completed 69.8% of his passes, threw 85 touchdowns versus nine INTs and had an overall rating of 116.7.
His interception total was the second-highest of his career (he threw 13 in 2008, his first year as the starter) and the only years he threw for fewer touchdowns were when he broke collarbones in 2017 (16 TDs in seven games) and 2013 (17 TDs in nine games). His yardage total was his lowest for a full season and marked just the third time that he's finished with fewer than 4,000 yards in a season where he played at least 10 games.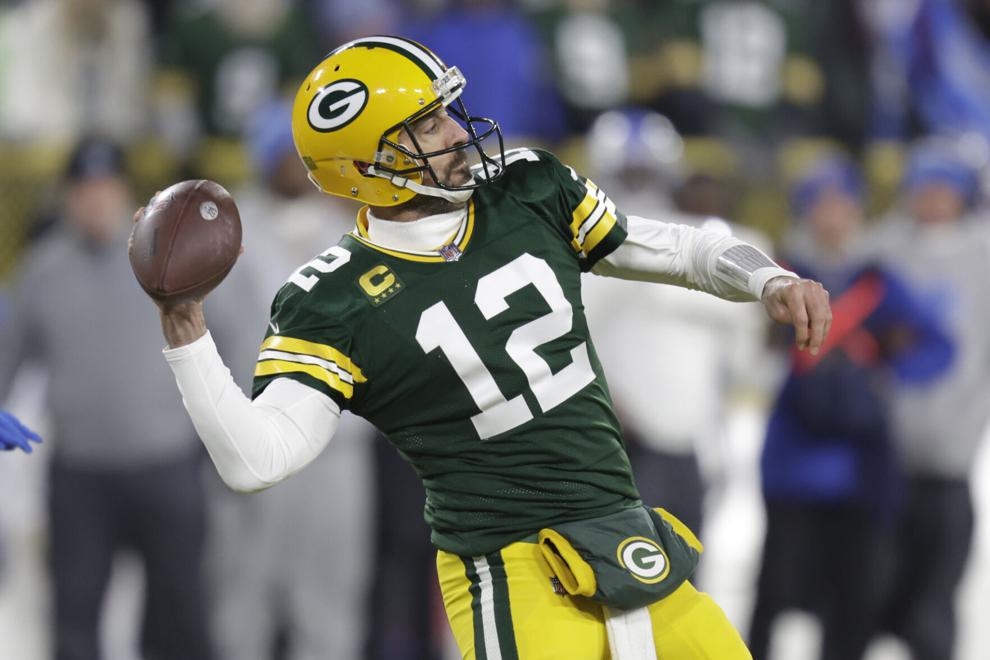 Just how much of the offensive downturn can be traced to Gutekunst trading now three-time first-team All-Pro wide receiver Davante Adams to the Las Vegas Raiders on March 17 is impossible to say. But it surely had an impact.
"I think we didn't come together as an offense and as a team early enough to be productive like we needed to be," Gutekunst said. "There's a lot of reasons for that. I think obviously there were some injuries, not only to the wide receiving corps but also the offensive line was going through some things early on. And there's always going to be an adjustment period when you lose a player like (Adams)."
While rookie wide receivers Romeo Doubs and Christian Watson both flashed their talent, they were also inconsistent, and both missed extended time with injuries. Watson's late-season touchdown binge was a game-changer, but opponents will now have an offseason to game-plan for him.
But the reality of today's NFL is that scoring points has become even more vital, as defenses will allow offenses to rack up yards between the 20-yard lines as long as they make things difficult when scoring opportunities arise. For a team that scored touchdowns on 80% of its red-zone trips in 2020 (back when then-offensive coordinator Nathaniel Hackett called it the "Gold Zone") and 90.5% of its goal-to-go scenarios, the Packers' fall in those areas was catastrophic.
"I would say that there's a lot that we have to study this offseason. Whether it was poor play design or lack of execution or all of the above, it wasn't good enough," LaFleur said. "We did a piss-poor job in the red zone. And I've said it before: You kick enough field goals, and you're going to get yourself beat. And that's kind of what happened."
DEFENSE
There may not have been a more overhyped, underperforming unit league-wide than the Packers defense. With expectations entering the year through the roof, coordinator Joe Barry's unit finished the year tied for 15th in the NFL in scoring defense (21.8 points per game), while finishing 17th in total defense in yards per game (336.5) and 28th in yards per play (5.77). Designed to force teams to put together long drives to score, the group was a respectable eighth in third-down defense (37.6% conversion rate allowed) and 13th in red-zone defense (53.7% touchdown rate allowed).
Although losing star pass rusher Rashan Gary to a torn ACL in his right knee on Nov. 6 at Detroit was a crushing blow, the unit was largely healthy all season long.
"It's a variety of things. I think it's never one thing," Gutekunst said. "Some guys didn't play as well as they had in the past, and that could be because of injuries, it could be because a lot of things going on in their lives. But we're going to have to do better, and we're going to have to keep working at it if those guys are going to continue to be in their roles."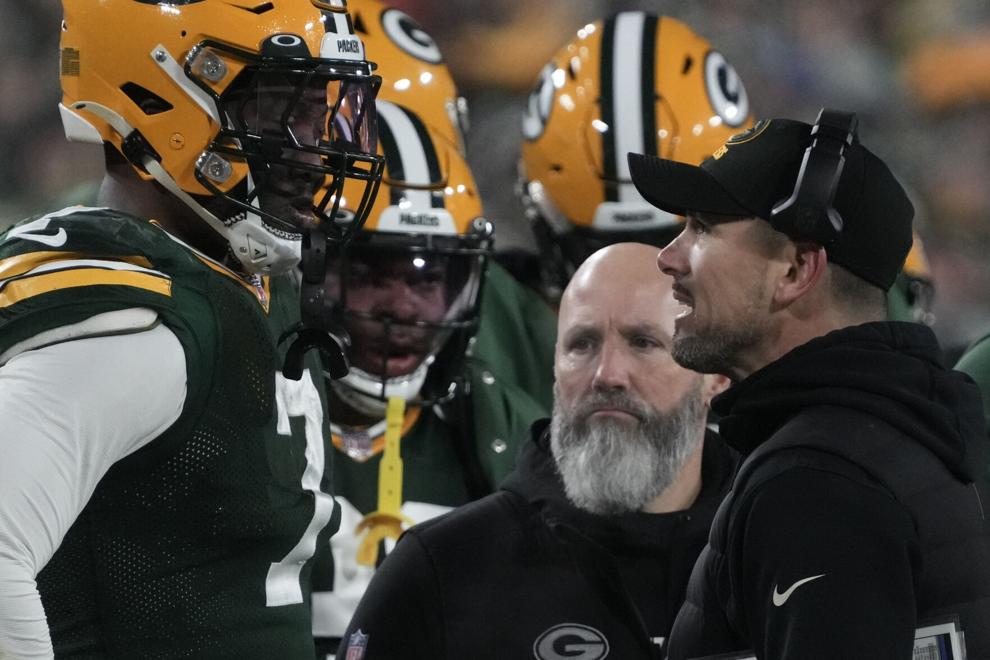 The Packers finished the year tied for 11th in the league with 24 total takeaways, although exactly half (12) came during the team's four-game late-season winning streak. In the loss to the Lions on Jan. 8, though, the defense failed to force a turnover and the offense gave the ball away twice, at the most inopportune of times.
"It's just about executing. You've got to go out there and execute," veteran safety Adrian Amos said. "(The Lions game) was kind of playoff football, and when you lose the takeaway battle and you make mistakes, you lose."
SPECIAL TEAMS
A group that was the bane of LaFleur's existence turned things around under veteran special-teams coordinator Rich Bisaccia. While there were glaring mistakes even in some late-season wins — a misguided fake punt that went nowhere against Miami; a blocked punt against Minnesota a week later — the units stopped being a hazard and became a strength.
From veteran kicker Mason Crosby taking advantage of long-lost consistency in the snapper/holder/kicker operation; to revelatory returner Keisean Nixon energizing the team with five kickoff returns of 50 yards or longer (including a 105-yarder for a touchdown against the Vikings) and earning first-team All-Pro status; to coverage units that were Johnny-on-the-spot more than not, the group stopped costing the team games like previous outfits had.
While Bisaccia's coaching and Nixon's emergence surely were vital to that, Gutekunst allowing special teams to factor into his roster-building philosophies surely helped, too.
"I really like what we did as a (special) teams unit this year. A lot of respect for Rich and how he goes about things," Gutekunst said. "I think the thing that I liked the most was the play style of those guys — not only the effort and the intensity but then the pride they took in it. I thought our cover teams were as good as they've been in a long time. The way we approached it was a little different from a roster-building perspective, and I think that'll continue."
Added LaFleur: "I think absolutely it's going the right way. I love the effort, I love the energy. (Bisaccia) is extremely sound and detailed in what we are trying to get done. You saw a lot of young players improve throughout the course of the season. I think in that phase of the game, we are definitely trending in the right direction."
PERSONNEL
While Rodgers bemoaned the lack of proven receiver help that he hoped would come like the cavalry to revitalize the passing game without Adams, it's possible that the overestimation of defensive talent was just as egregious. With seven first-round picks on that side of the ball, including rookie first-rounders Quay Walker and Devonte Wyatt, such expenditures should bring elite-level play. The Packers paid their defensive players the second-most of any team in the NFL, and the return on the investment was insufficient.
That said, the offense needed more firepower and, as Rodgers suggested, promises made by the front office that the wide receiving corps would be augmented at the end of training camp and again at the in-season trade deadline proved empty. Gutekunst also insisted he had no regrets over his handling of the Adams situation.
Meanwhile, there's no denying that Walker, Wyatt, Watson, Doubs and versatile offensive lineman Zach Tom made varyingly important contributions as rookies, the Year 1 to Year 2 elevation will be vital for all of them. On the flip side, Gutekunst's bargain-basement signings from a year ago — inside linebacker De'Vondre Campbell and cornerback Rasul Douglas — were unable to catch lightning in a bottle twice.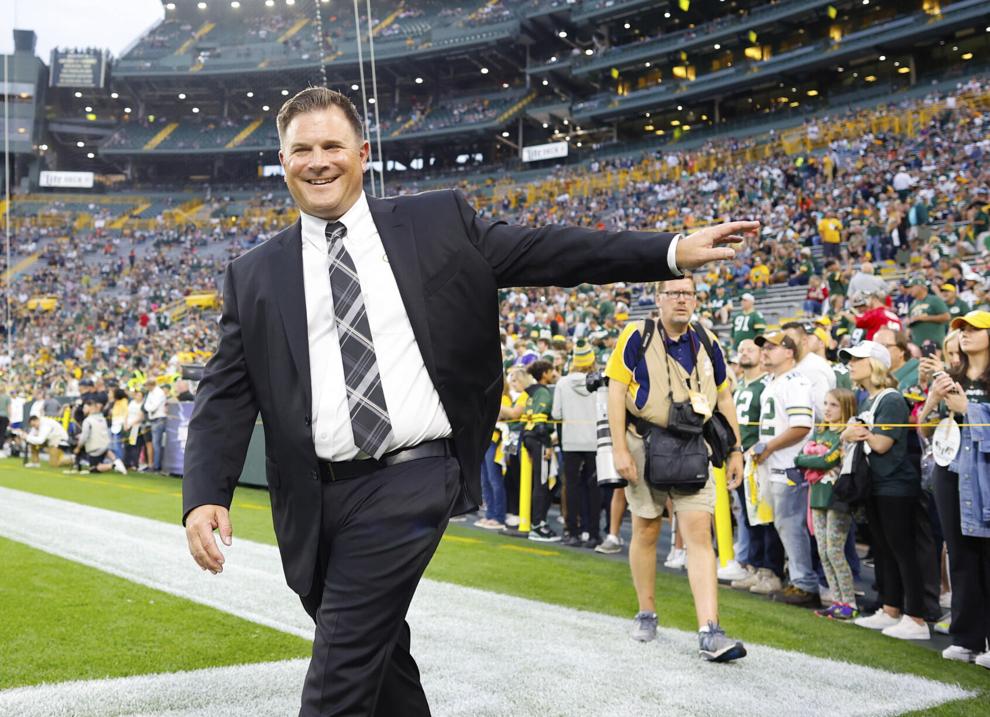 Now, with Rodgers' cumbersome contract complicating the possible ramifications of his indecision on whether to play in 2023, the Packers have plenty to worry about as the roster-building process begins anew.
"There's always misses in evaluations at times, but this particular year I don't know if I would say that," Gutekunst said. "I think we had some young players that started coming on late really well that we were counting on, and that's what we expected. I just don't think we came together and played consistent enough football. You're always going to have hits and misses in the evaluation part of it, and you're going to look back on that and see there's always different reasons for that. I think that's a very talented group, but we did not play like a very talented football at times."
COACHING
Not only did LaFleur indicate that Barry will return for a third season as defensive coordinator, he also added, "Quite frankly I don't really anticipate a whole lot, if any, staff changes at all." That, LaFleur said, is because he believes in the value of continuity.
Of course, a lack thereof in the offensive meetings might've had something to do with Rodgers' and the offense's downturn. With Hackett departing for his short-lived tenure as the Denver Broncos head coach and quarterbacks coach Luke Getsy taking the play-calling offensive coordinator gig with the Chicago Bears, two of the staff's smartest guys — and two Rodgers confidantes — were gone.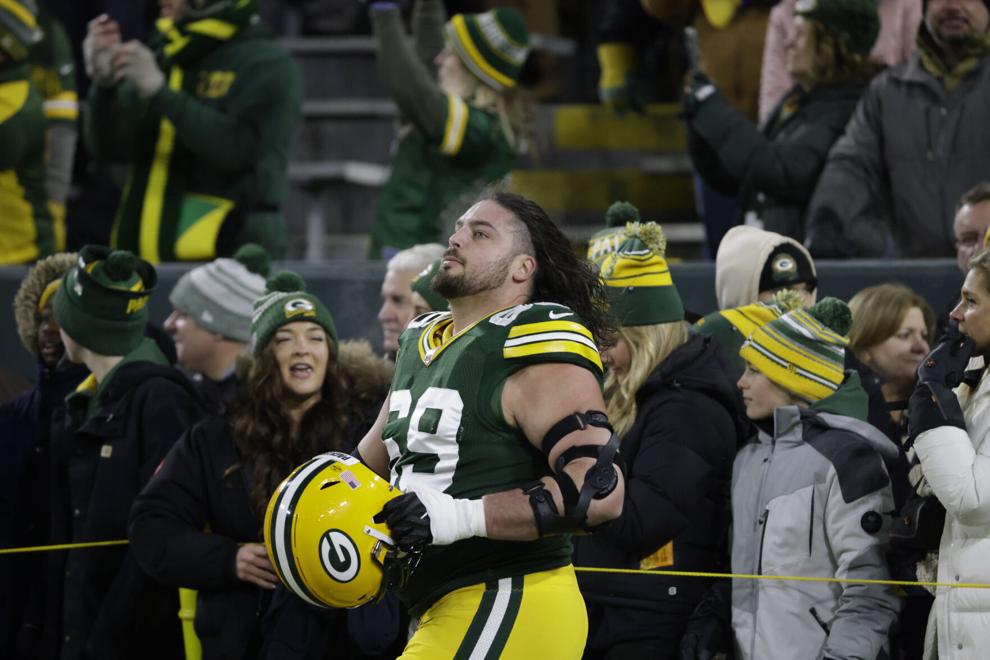 While offensive line coach-turned-coordinator Adam Stenavich is highly regarded and is viewed as eminently qualified for the coordinator job, there's still a transition period for coaches working together in different roles and it's hard not to think that played a role in some of the offensive dysfunction. LaFleur said he has "definitely entertained" the idea of bringing Hackett back in some capacity if he wants to do so, and LaFleur's younger brother, Mike, is also on the coaching free-agent market after parting ways with the New York Jets.
Gutekunst reiterated Friday that LaFleur has full final say over the coaching staff, so any changes or additions will come from him. LaFleur, meanwhile, said he's even considered giving up the offensive play-calling job if he thinks it would help him have a greater wide-angle view of the team during a game.
"I think you can never have enough great coaches, and certainly you know how I feel about Nathaniel and the job he did here," LaFleur said. "But again, we're just getting started into the evaluation phase. As far as the play calling's concerned, that's crossed my mind. I want to do whatever's best for us to have success. If we feel like that is the best way for us to win games, then I would 100% hand that over.
"Are there a lot of things that we've got to improve upon? Absolutely. No doubt about it. But it's my intention to try to have everybody back. I think continuity is a big part of having success in this league. When you feel good about the people, then you've got to work hard to improve. We've got to challenge each other. … You've got to try to stay in front of everything. Certainly, we did not do that this year."
Added Gutekunst: "I believe in our group. I really do. I think every year is new, and this is a hard league. But I believe in the players — certainly there's going to be change within our roster, there's no doubt about that — but I believe in the organization, how we do things. I believe in the process. Sometimes things don't go your way and you look at it and you've got to be able to tweak things. But I believe in the people in this building and I'm excited for 2023."
Be the first to know
Get local news delivered to your inbox!