It is unclear why it took Racine County authorities more than six months to complete the investigation into the death of Malcolm James, the 27-year-old man suffering from a mental illness who died in Racine County Jail on June 1, 2021 .
James' family said they had no direct contact with the Racine County Prosecutor, who decided not to press charges on the case until they were brought to a meeting on Wednesday after the investigation was over.
On Thursday, James' mother, Sherry James, said the day before "was the first time I had partnered with an officer regarding my son, and it happened to him on June 1st."
The family learned through social media that he had died after the Racine County Sheriff's Office issued a release regarding James' death shortly after his death. James' death was the second in four days in prison; the first was Ronquale Ditello-Scott Jr. on May 29, a death attributed to a fentanyl overdose. His investigation was officially closed on December 3rd.
People also read …
James' family said they were never contacted by a representative from the Racine County Sheriff's Office, which operates the prison, or the Kenosha County Sheriff's Department, which was conducting the initial investigation.
Video provided by the Racine County Attorney's Office of body camera footage from the Racine County Sheriff's Office, June 1, 2021
Hanson
The KCSD investigation was completed in August and handed over to prosecutor Patricia Hanson that same month.
In November, Hanson received reports from two doctors asking them to give their opinion on what may have caused James' death. It was not disclosed when Hanson solicited these doctors' opinions.
The Milwaukee County Medical Examiner's Office that performed the autopsy concluded that James had died of asphyxiation from the position he was placed in by prison guards while they fought for minutes to get the taser barbs off his back remove. These two doctors, Tom Neuman of the University of California-San Diego Medical Center and Darrell Ross of Valdosta, Georgia State University, concluded that he had died from pre-existing heart disease rather than from suffocation.
Citing this separation, Hanson ruled that no charges should be brought against either party.
CLICK HERE to review all Racine County Attorney General's documents and video releases relating to the death of Malcolm James
On Thursday, The Journal Times asked Hanson, "Can you share why the Kenosha County investigation closed in August but your investigation only closed yesterday?" In an email, along with two other questions about Ross and Neuman.
She answered the questions about Ross and Neuman. When asked why it was taking so long to complete the investigation, she didn't answer.
'His life was important to me' | In March, two families mourn the death of men in the Racine County Jail. died
Pray for strength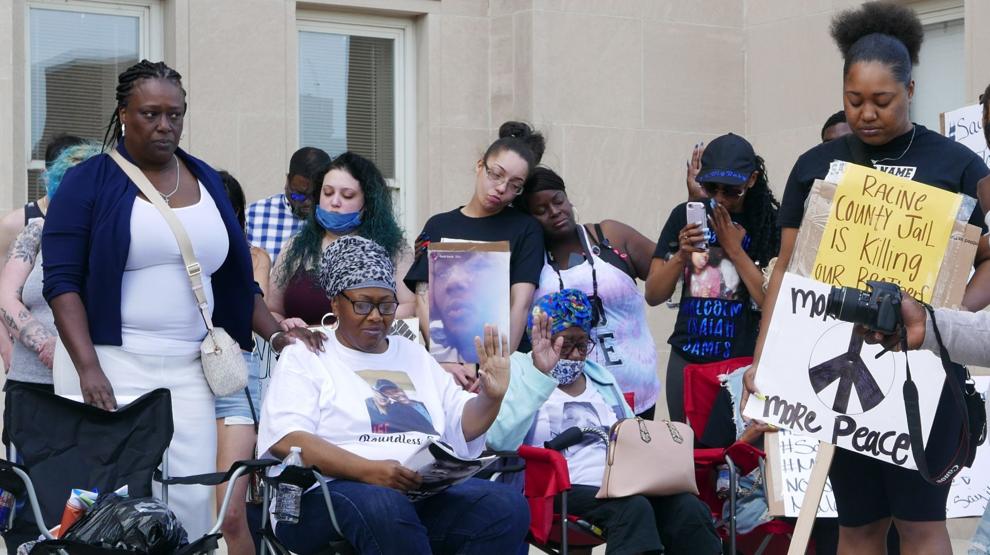 Malcolm James's family and friends lean on each other in prayer.
But never forget it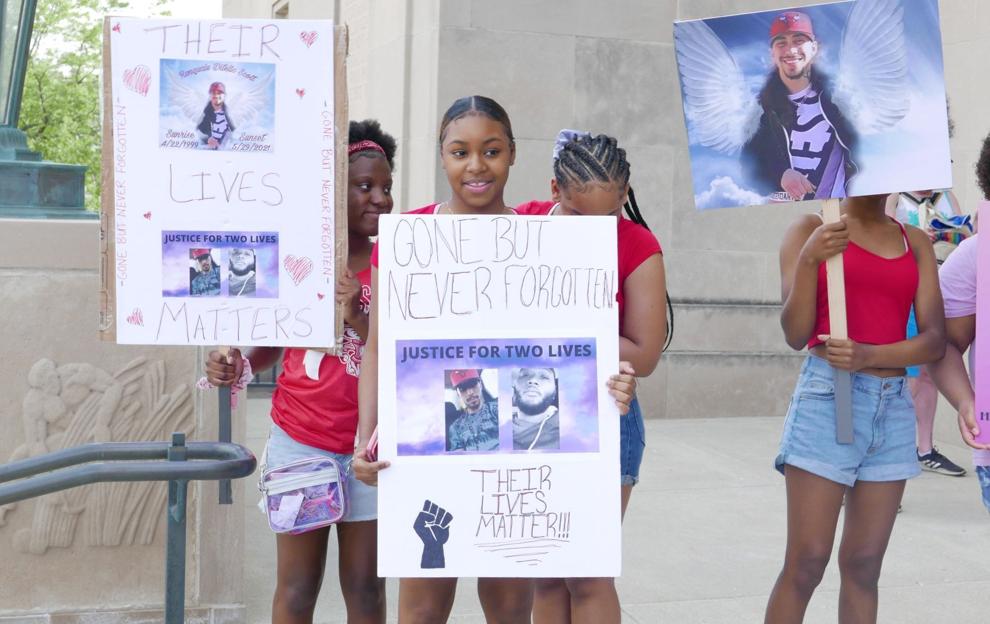 Young friends and family of Ronquale Ditello-Scott Jr. have their own message: "Gone but never forgotten."
Dee Hölzel
"You know his name, not his story."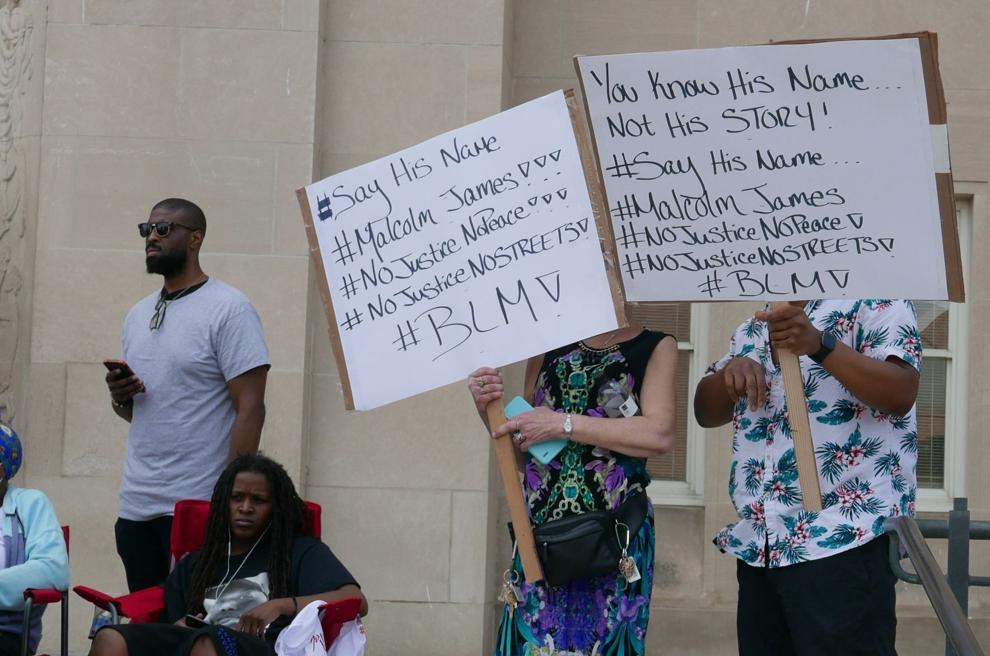 Two of the signs at the protest read: "You know his name, not his story."
Outpouring of grief
In the background of the rally, it was remembered that two families lost a loved one within a week.
United in sorrow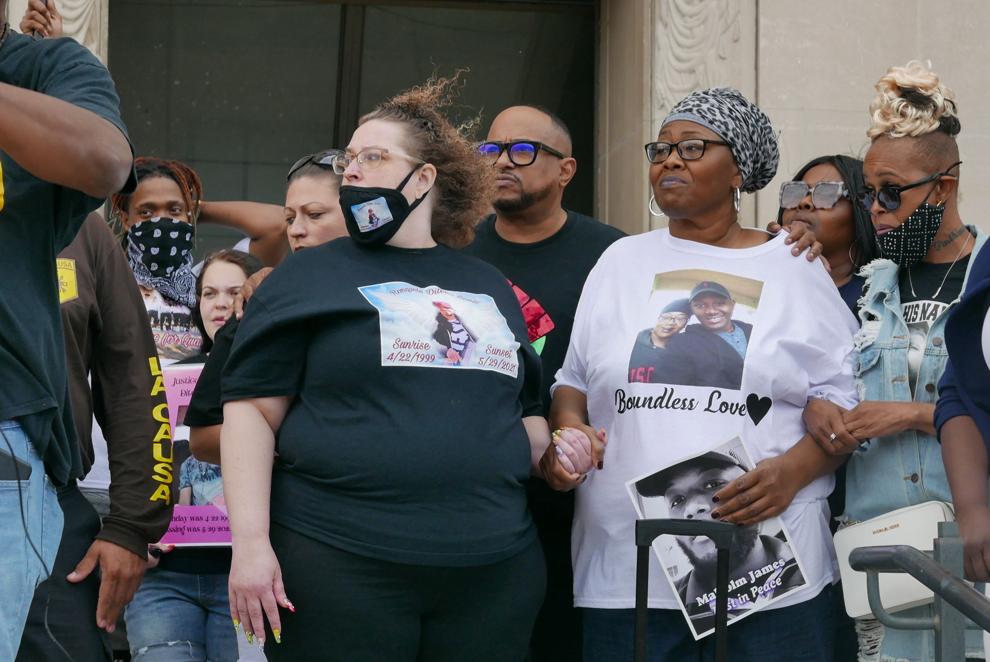 Ronquale's cousin Ditello-Scott Jr. and Malcolm James' mother stand hand in hand, symbolizing the unity that the two families forged in the Racine County Jail after the death of their loved ones three days apart. "We have your back," the crowd chanted.
Remembering Malcolm James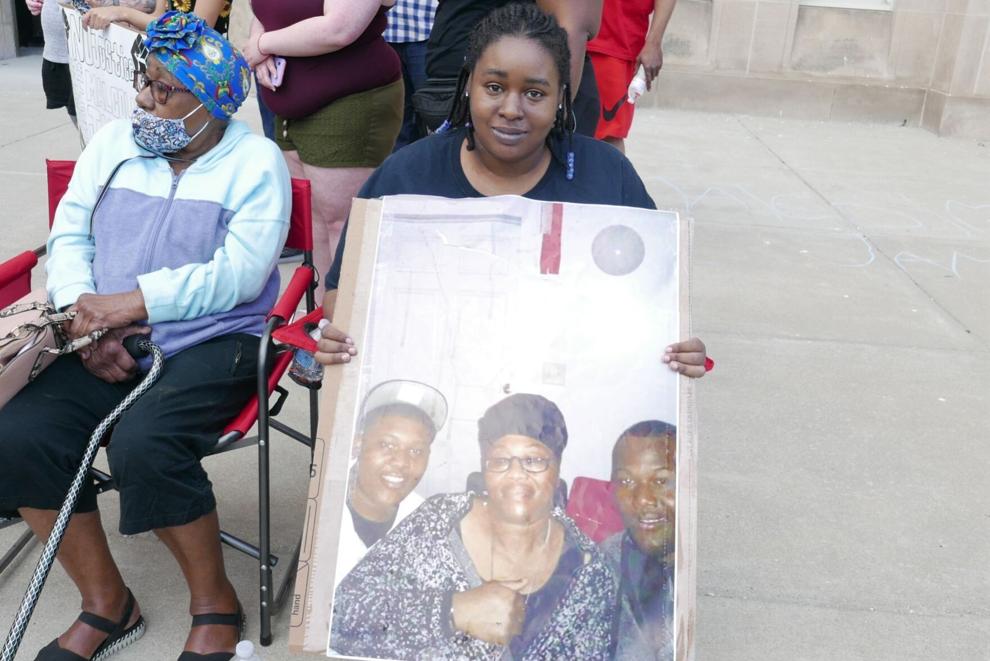 Angela Ellis, a friend of the Malcolm James family, holds a photo of better times in her hand.
Supporters marched through the Racine neighborhoods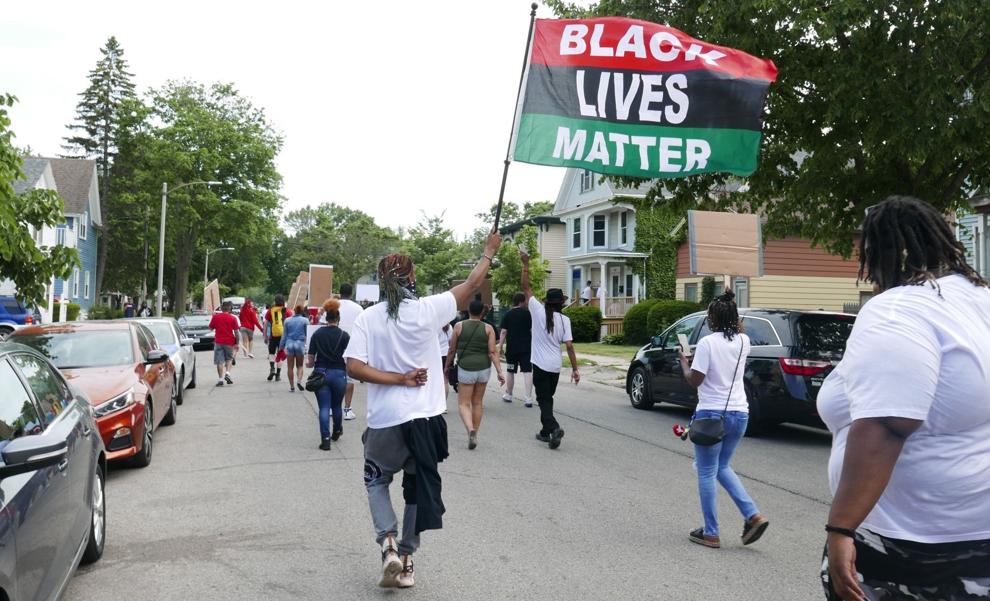 Those who gathered to seek justice for Ronquale Ditello-Scott Jr. and Malcolm James marched through the communities in the immediate vicinity of the Racing County courthouse demanding justice for the two men. The residents left their homes to watch the march. (shown) The man holding a Pan-African flag with the words Black Lives Matter on it called to those in their courtyards, "Come on, come to us."
Noel Carter joins the march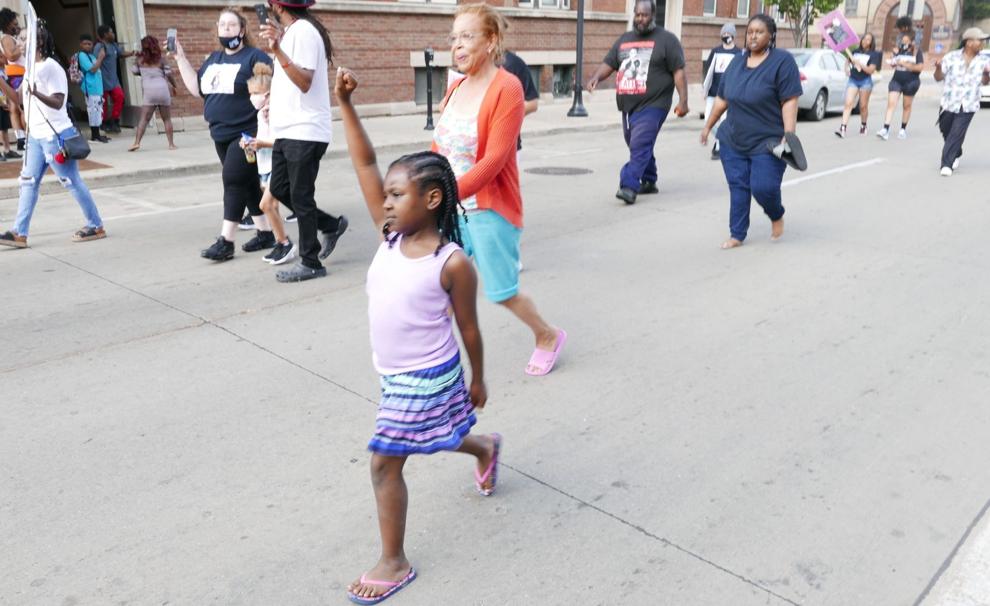 Noel Carter, 8, is featured in her first Racine Justice march on June 6th after the deaths of Malcolm James and Ronquale Ditello-Scott Jr. – both coloreds – at the Racine County Jail. Her grandmother said they were in their car when they saw the march and decided to join. "I just wanted to let her experience that."
DEE WOOD,


Justice for Malcolm James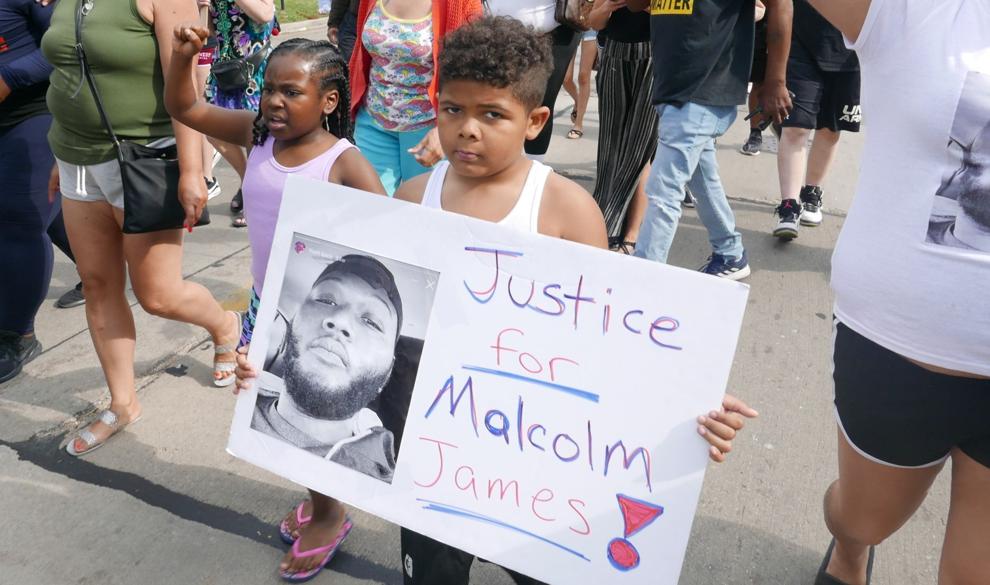 Malcolm James called his friend "Baby Charles" long after he was no longer a baby. On Sunday, Charles, 7, marched in memory of his friend who died in Racine County Jail on Tuesday, June 1st. Friends and family called for an independent investigation by the federal government.
March to Racine County Jail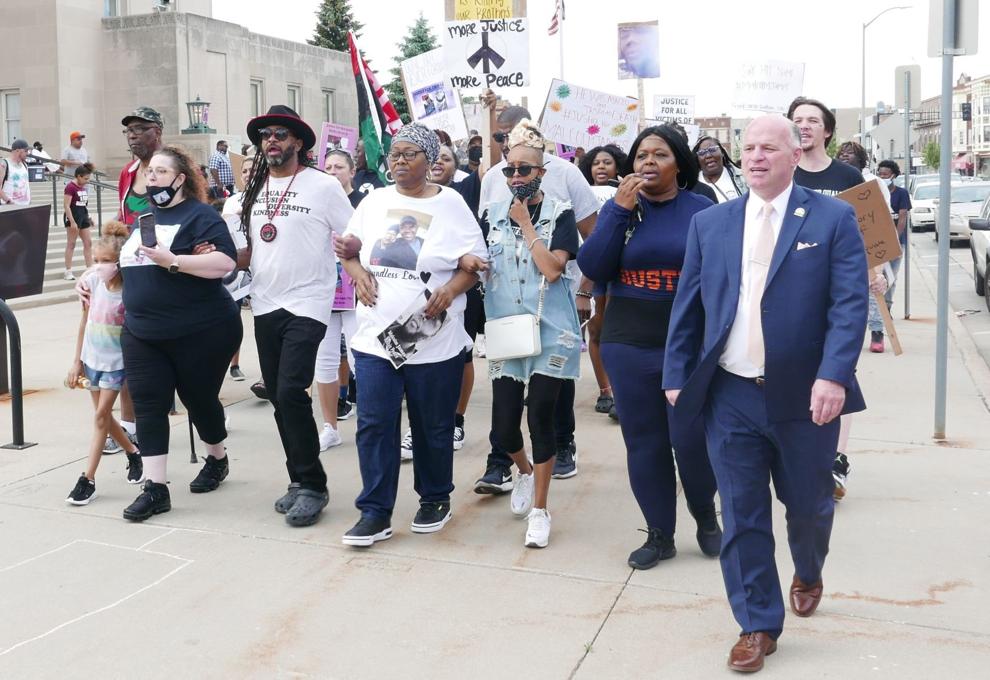 Friends and supporters of the James and Ditello-Scott families pulled their arms together as they marched from the Racine County courthouse to the jail across the street. Kevin O'Connor, pictured far right, is the lawyer representing the two families.
James Malcolm's father attends the justice rally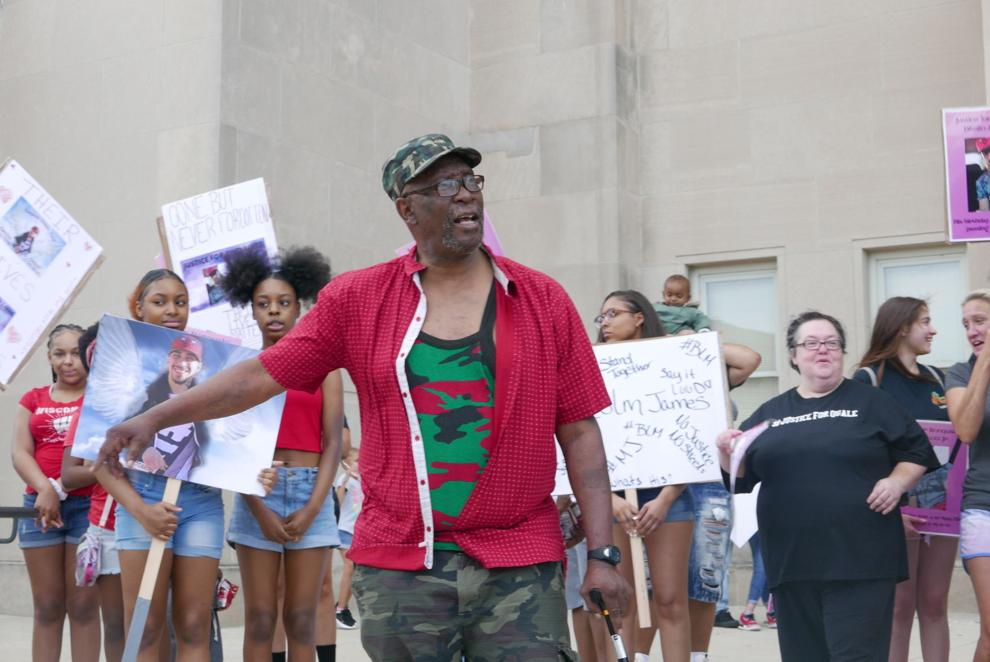 Malcolm James' father was among those who attended the justice rally.
Get the latest news on local public safety with this weekly email.